The Legacy Of One 'Beautiful Mind'
Resume
Remembering a beautiful mind: Nobel –prize winning game theorist John Nash . We'll look at his game theory. His schizophrenia. His genius.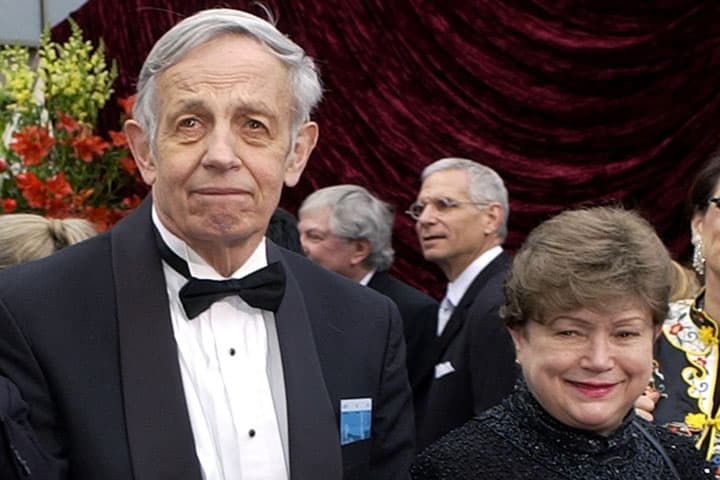 Math genius and game theory superstar John Nash had his greatest insights still in his early twenties. Then he slid into schizophrenia and really didn't come back for many years, until he had a Nobel Prize and his thinking had changed the world of economics, competition, nuclear negotiation. His story was told – made world famous - in the Oscar-winning film "A Beautiful Mind," with Russell Crowe and Jennifer Connelly. Last weekend, John Nash and his wife Alicia died in a taxi crash on the New Jersey Turnpike. This hour On Point: the life and work of John Nash's "beautiful mind."
-- Tom Ashbrook
Guests
Sylvia Nasar, writer and journalist. Author of "A Beautiful Mind," which was made into a film of the same name. Also author of "Grand Pursuit." Professor of business journalism at Columbia University. (@SylviaNasar)
Jörgen Weibull, professor of economics at the Stockholm School of Economics. Author of "Evolutionary Game Theory."
From Tom's Reading List
Washington Post: The author of 'A Beautiful Mind' on the life and death of John Nash — "Sylvia Nasar lay awake many nights in the mid-1990s worrying whether any anxiety caused by the biography she was writing about the Princeton mathematician John Nash would make him lapse back into the schizophrenic episodes that ravaged so many years of his life. But the 1998 publication of the book, 'A Beautiful Mind,' and the Oscar-winning movie of the same name instead became part of the long-running story of Nash's miraculous turnaround.
New York Times: John F. Nash Jr., Math Genius Defined by a 'Beautiful Mind,' Dies at 86 — "Dr. Nash's theory of noncooperative games, published in 1950 and known as Nash equilibrium, provided a conceptually simple but powerful mathematical tool for analyzing a wide range of competitive situations, from corporate rivalries to legislative decision-making. Dr. Nash's approach is now pervasive in economics and throughout the social sciences and applied in other fields as well, including evolutionary biology."
New Yorker: The Triumph (And Failure) Of John Nash's Game Theory --"Before game theory was invented, economists had a workable account of the dynamics of competitive markets with many buyers and sellers, such as the markets for grain and other commodities...but in studying the dynamics of industries where a handful of businesses compete against one another, or how corporations respond to regulation, or how bidders in an auction decide how much to bid, they hadn't made much progress."
Watch The Trailer For "A Beautiful Mind"
This program aired on May 29, 2015.