Zen And The Art Of The Free Throw
Resume
George Mumford, meditation master to the NBA's stars – Kobe, Shaquille, Jordan – brings us his Zen.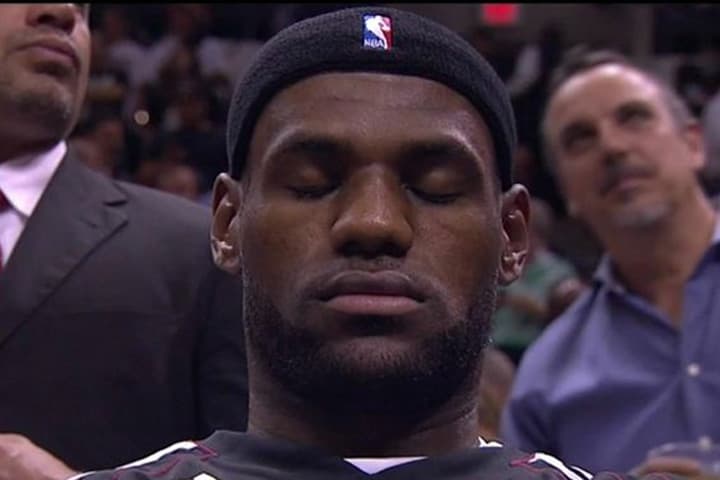 They all fought hard. It was a great series. LeBron was amazing. But the Golden State Warriors took it last night. NBA champions, for the first time in 40 years. My guest today George Mumford watches basketball a little bit differently than most. He's looking for flow, for focus, maybe for Zen. Mumford has taught mindfulness to Kobe Bryant and Shaquille O'Neal and Michael Jordan. Where NBA Zen master Phil Jackson goes, there goes Mumford. These days, almost everyone is looking for mindfulness. This hour On Point: the NBA's master of flow, George Mumford, is in the house.
-- Tom Ashbrook
Guests
George Mumford, sports psychologist. Author of "The Mindful Athlete: Secrets to Pure Performance." (@gtmumford)
Sara Lazar, neuroscientist at Massachusetts General Hospital and assistant professor of psychology at the Harvard Medical School.
Jim Cleamons, assistant coach for the New York Knicks. Retired NBA player. (@Coach_JCleamons)
From Tom's Reading List
Boston Globe: This mindfulness teacher gets results (just ask Kobe) — "Soon Mumford was in Chicago, gathering some of the world's most famous athletes in a darkened room and telling them to focus on their breathing. Mumford spent the next five years working with the Bulls, frequently sitting behind the bench, as they won three more championships. In 1999 Mumford followed Phil Jackson to the Los Angeles Lakers, where he helped turn Kobe Bryant into an outspoken adherent of meditation."
New York Times Magazine: The Muddied Meaning of 'Mindfulness' — "Most newly stylish coinages carry with them some evidence of grammatical trauma. Consider 'affluencer,' 'selfie,' 'impactful.' Notes of cynicism and cutesiness come through. But every now and then a bright exception to this dispiriting routine appears. A rookie word makes its big-league debut, a stadium of pedants prepares to peg it with tomatoes and — nothing. A halfhearted heckle. The new word looks only passably pathetic. Maddeningly, it has heft."
Washington Post: Harvard neuroscientist: Meditation not only reduces stress, here's how it changes your brain — "Mindfulness is just like exercise. It's a form of mental exercise, really. And just as exercise increases health, helps us handle stress better and promotes longevity, meditation purports to confer some of those same benefits."
Read An Excerpt Of "The Mindful Athlete" By George Mumford
https://www.scribd.com/doc/267801321/Excerpt-from-The-Mindful-Athlete-by-George-Mumford
This program aired on June 17, 2015.