Charleston Shaken By Deadly Church Shooting
Play
This article is more than 7 years old.
Nine killed in a church in Charleston.  We go to South Carolina for the latest on what the FBI is calling a hate crime.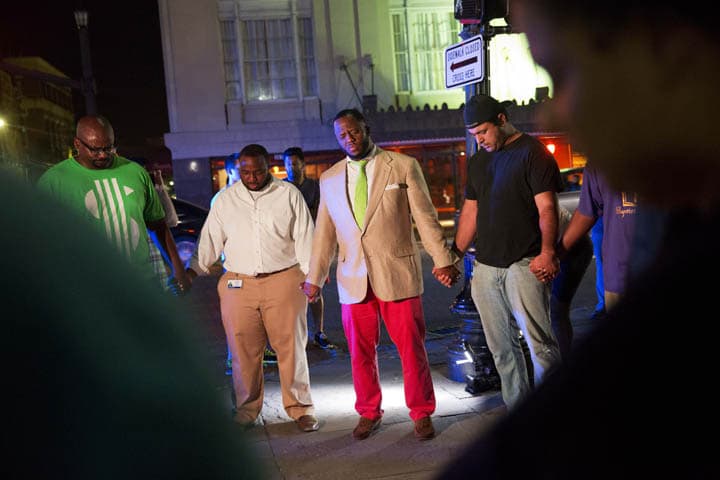 Reports are that the shooter in Charleston, South Carolina sat with the bible study, prayer meeting parishioners of Emanuel African Methodist Episcopal Church for more than an hour before he stood up and began killing. By the time the call came in to police at 9 o'clock last night, eight were dead. Another would die en route to the hospital. Charleston is in shock and uproar today. This church has deep history. A founder tried to organize a slave revolt. Whites burned it down. Now it's at the heart of a new meeting of race and violence. This hour On Point: we go to the church and Charleston.
-- Tom Ashbrook
Guests
Patricia Mazzei, political reporter for the Miami Herald. (@patriciamazzei)
Rep. Justin Bamberg (D), State Representative for South Carolina's 90th District.
Andy Brack, editor and publisher of the State House Report. (@acbrack)
J. Denise Cromwell, community activist and organizer in Charleston, SC.
Richard Cohen, president of the Southern Poverty Law Center.
From Tom's Reading List
The State: 6 females, 3 males were killed at church — "The shooter who opened fire at the historic Emanuel AME church in Charleston Wednesday night killed six female and three male victims, Charleston Police Chief Gregory Mullen said Thursday morning. He also spent about an hour with the group before pulling out his weapon. Mullen would not release the ages or identities of the victims, saying the coroner was working to release that information."
Huffington Post: Charleston Shooting Causes Sadness, Shock, Anger, Frustration -- "There's never a good time for a tragedy, especially one of this magnitude that cuts to the core of how a community interacts and relates. But now, just 10 weeks after a white police officer in nearby North Charleston shot an unarmed black man to death after a traffic stop, there's not been enough time for healing from that tragedy before the assault of another."
Washington Post: For Charleston's Emanuel A.M.E. Church, shooting is another painful chapter in rich history — "When a gunman opened fire on Charleston's Emanuel A.M.E. Church Wednesday, spraying bullets into a group of worshippers gathered for a mid-week prayer meeting, it was as though history repeated itself. This historic congregation, the oldest of its kind in the South, had already seen more than its fair share of tumult and hate. It was founded by worshippers fleeing racism and burned to the ground for its connection with a thwarted slave revolt."
This program aired on June 18, 2015.