"The Fall of the Princes," "Eileen," "Hold Still," — we're talking best summer reads of 2015.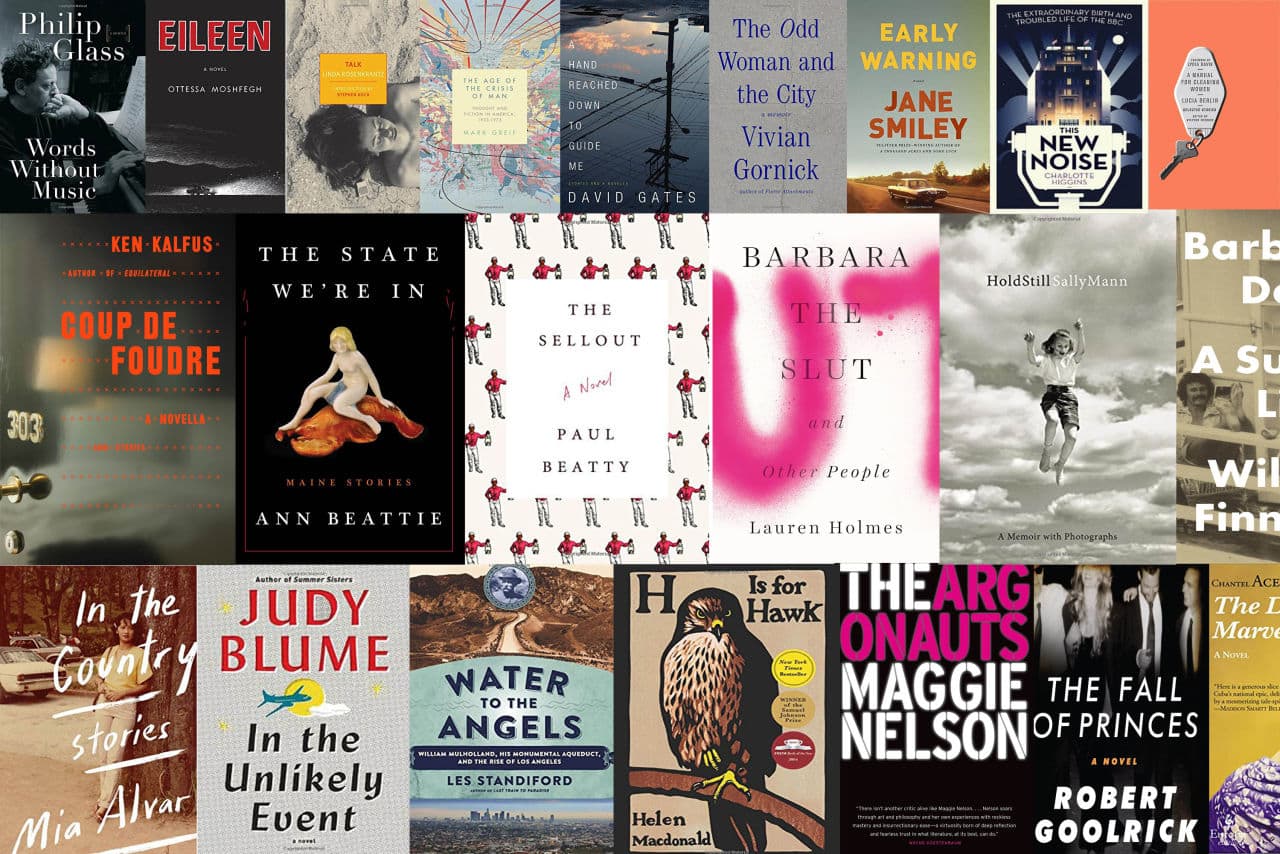 Summertime — if you're lucky, if you're determined, if your book bag doesn't get soaked at the lake, the beach, the pool, the hydrant — is a great time for reading. Lose yourself in a great story. Let your mind travel whether or not you leave the porch. We want to be swept up, swept away, overtaken, enlightened and, yes, massively entertained. If it's timely and new, so much the better. This summer, the books are raining down onto tablets and shelves. We've got three great readers with us to share their top picks. The best. This hour On Point: great summer reads, 2015.
-- Tom Ashbrook
Guests
Lorin Stein, editor of the Paris Review.
Kevin Nguyen, editorial director for the book-on-demand app Oyster, where he runs the Oyster Review. (@knguyen)
Cristina Nosti, director of events and marketing at Books and Books Bookstore in South Florida. (@cristinanosti)
From Tom's Reading List
Los Angeles Times: Summer reading guide: The 136 books you'll want to read -- "Another summer, another chance to draw up the perfect reading list to see you through those languid, sun-drenched days. Whether you're stretched out by the pool or nestled in a coffee shop, clutching a hardcover, paperback or e-book, we've got more than enough titles to keep you reading through Labor Day."
New Yorker: What We're Reading This Summer — "I abandon New York for the West Coast every summer, and I like to pull at least some of my summer reading from west of the Mississippi, too. There's a lot of really wonderful Western and so-called regional writing out there, much of it undersung—like my best find from last summer, James Galvin's "The Meadow," a lovely little hundred-year history-in-novel-form of a little patch of land in southern Wyoming."
Oyster Review: Girls Gone — "A lot of mysteries start with a missing woman, but what if it was Lady Gaga? Okay, in The Ghost Network it's not Lady Gaga per se, but Catie Disabato's debut novel opens with the disappearance of the fictitious Molly Metropolis, who, like Gaga, is often either a pop-art enigma or a stunt-driven attention seeker.
See Our Guests' Top 10 Summer Book Picks
Lorin Stein's Top 10
Kevin Nguyen's Top 10
Cristina Nosti's Top 10
Your Picks From During Our Show
"The Invisible Bridge" by Julie Orringer
"Case Histories" by Kate Atkinson
"The Fever" by Megan Abbot
"Pulphead" by John Jeremiah Sullivan
"Go Set A Watchman" by Harper Lee
"The Guns at Last Light" by Rick Atkinson
"The Wright Brothers" by David McCullough
"The Invention of Wings" by Sue Monk Kidd
"Loving Day" by Mat Johnson
"His Dark Materials" by Philip Pullman
"The Fish That Ate the Whale" by Rich Cohen
"Etta and Otto and Russell And James" by Emma Hooper
"Outlander" by Diana Gabaldon
"Natchez Burning" by Greg Iles
"Dandelion Wine" by Ray Bradbury
"This Changes Everything" by Naomi Klein
"God Help The Child" by Toni Morrison
"Under Tiberius" by Nick Tosches
"The Book of Aron" by Jim Shepherd
"Seveneves" by Neal Stephenson
"The Way of the Fight" by Georgess St. Pierre
"The Female of the Species" by Lionel Schriver
This program aired on June 19, 2015.