Race And Violence In America
Resume
After Charleston. So much progress in this country, but race and hate and guns still haunt us. Where do we go from here?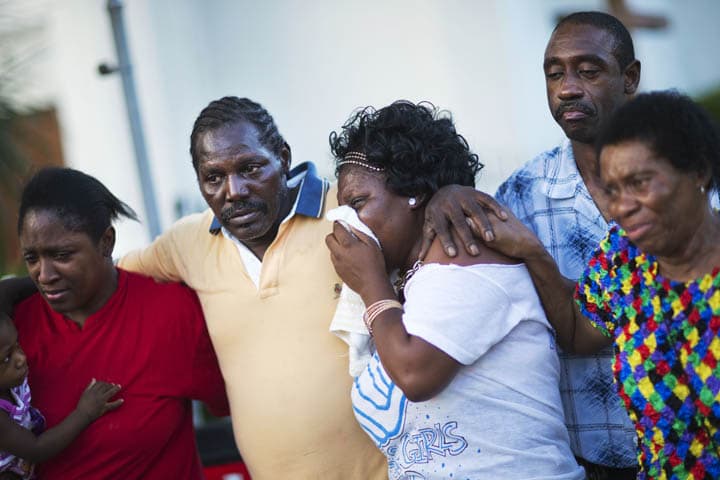 Dylann Roof could not have been much more clear about his motives. He chose one of the most prominent black churches in America for his night of terror. He shot nine black church members in cold blood. Eyewitnesses quote him saying you're "taking over our country. You have to go." He has reportedly confessed he wanted to start a race war. His online selfie features a Confederate battle flag. What fed all that? What is this nut of hatred? And what about the rest of us? This Hour, On Point: Race in America now and what needs to be said, what needs to be done, after Charleston.
– Tom Ashbrook
Guests
Mark Anthony Neal, professor of African and African American studies at Duke University. Author of the book "New Black Man." (@newblackman)
Anthea Butler, associate professor of religious studies at the University of Pennsylvania. Author of "Women in the Church of God in Christ," among others. (@antheabutler)
William McKenzie, editorial director for the George W. Bush Institute at the George W. Bush Presidential Center. Former Dallas Morning News editorial columnist.
From Tom's Reading List
Washington Post: Shooters of color are called 'terrorists' and 'thugs.' Why are white shooters called 'mentally ill'? — "U.S. media practice a different policy when covering crimes involving African Americans and Muslims. As suspects, they are quickly characterized as terrorists and thugs, motivated by evil intent instead of external injustices. While white suspects are lone wolfs — Mayor Joseph Riley of Charleston already emphasized this shooting was an act of just 'one hateful person' — violence by black and Muslim people is systemic, demanding response and action from all who share their race or religion."
The Atlantic: Take Down the Confederate Flag—Now — "Moral cowardice requires choice and action. It demands that its adherents repeatedly look away, that they favor the fanciful over the plain, myth over history, the dream over the real. Here is another choice. Take down the flag. Take it down now."
The New Republic: Our Racist History Isn't Back to Haunt Us. It Never Left Us. — "In recent years, especially the years during which Barack Obama has occupied the White House, there have been many valuable meditations on the ways in which American policy structures that were shaped in and informed by the slave-holding and Jim Crow chapters of our nation's story, continue to define today's racial power imbalances."
This program aired on June 22, 2015.