Russia, NATO And A New 'Cold War'
Resume
Are we looking at a "new" Cold War? Russian bombers in the air. US tanks to Eastern Europe. We'll look at the new shivers of a bad old time. Plus: the latest saber-rattling from China.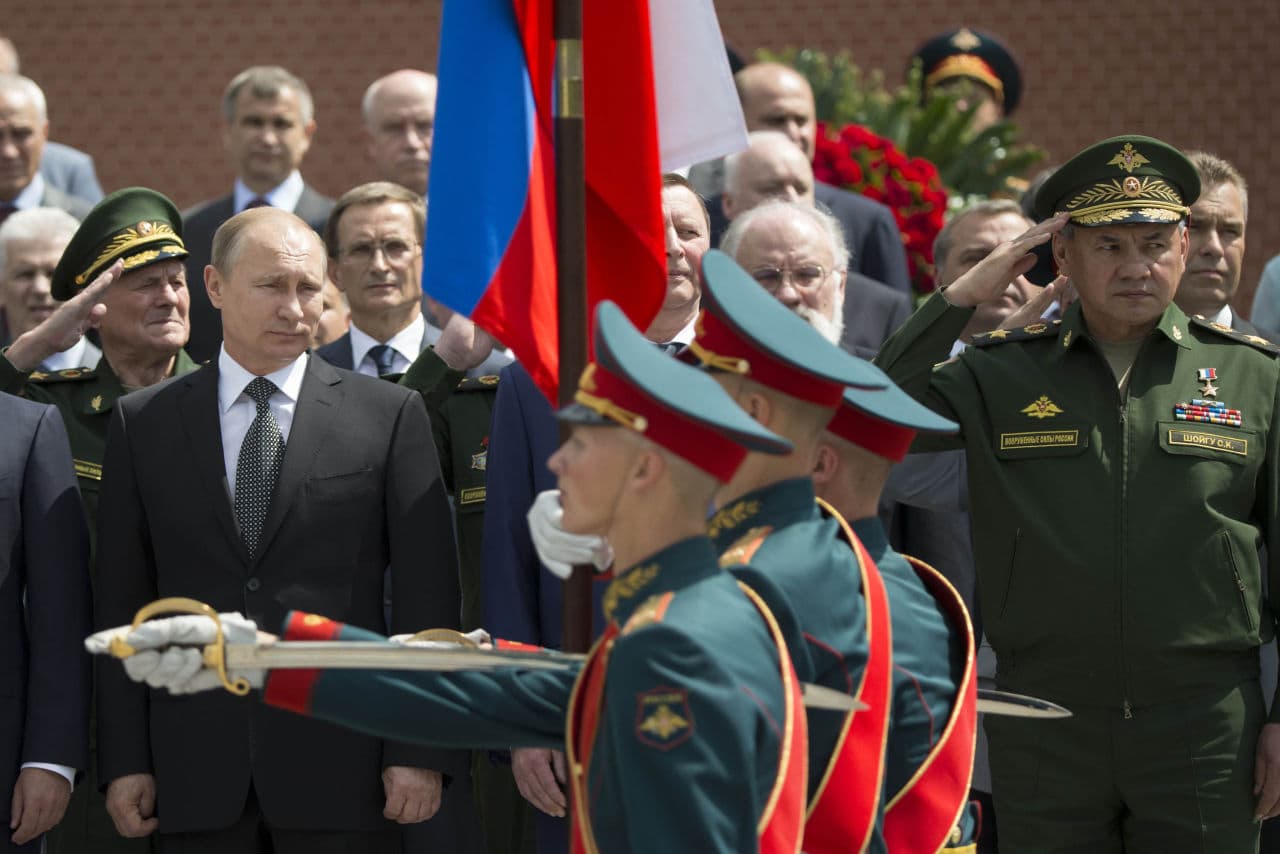 No sensible person who lived through the Cold War would want to go back to that. High tension. Hair triggers. Nuclear menace. Fear. And no one is saying they want to go back. But the news has put Cold War shivers in the air. Russia flying bombers around Europe, bragging on its nuclear might, announcing 40 new inter-continental ballistic missiles. The US sending new tanks, armored vehicles and more to Eastern Europe. B-52s to the Baltics. NATO ramping up readiness. And then there's China. This hour On Point: Cold War echoes in a time of peace, and what they mean.
-- Tom Ashbrook
Guests
Neftali Bendavid, European correspondent for The Wall Street Journal. (@naftalibendavid)
Angela Stent, director of the center for Eurasian, Russian and East European Studies at Georgetown University. Senior fellow at the Brookings Institution. Author of "The Limits of Partnership: US -Russian Relations in the Twenty-First Century." (@AngelaStent)
Dmitry Gorenbrug, Russia analyst at CNA Analysis and Solutions, a Federally-funded military think tank. Associate at Harvard University's Davis Center for Russian and Eurasian Studies. (@russmil)
From Tom's Reading List
The Wall Street Journal: Just Five of 28 NATO Members Meet Defense Spending Goal, Report Says — "Most NATO countries are boosting their military spending by small amounts if any, despite the concern over Russia's growing assertiveness, according to a report released Monday by the alliance. Only Poland this year joined the four other countries, out of 28 total NATO members, that are meeting the alliance's goal of spending 2% of their gross domestic product on defense. The other four are the U.S., Great Britain, Greece and Estonia."
BBC News: Moving ever closer to a new Cold War — "The US Defence Secretary, Ash Carter, arrived in Europe saying he was not looking to start a new Cold War. But, in reality, both Nato and Russia are stepping up their rhetoric and strengthening their military posture. Last week President Vladimir Putin announced he was adding another 40 long-range ballistic missiles to his nuclear arsenal. In return, Nato accused Moscow of 'sabre rattling'."
NPR News: Russian Relations 'Extremely Tense' As U.S. Sends Armor To Eastern Europe — "The thing is that up until now, since the end of the Cold War, we haven't been focusing on Russia, and there's a general sense that China is going to be the threat of the future. For the Russians, part of the problem is that they would actually prefer that we see them as a threat than that we ignore them. They like the idea that they have our attention. But the truth of the matter, though, is that, you know, Russia has a weak economy, a shrinking population, an aging population."
China Ratchets Up Global Posturing
Ken Lieberthal, senior fellow in foreign policy and global economy and development at the Brookings Institution. (@chinakenl)
Bloomberg Business: China, U.S. Emphasize Common Ground Over Tensions in Summit — "The dichotomy of pleasantries and tensions was on display throughout the opening session. 'We do not fear China's rise; we want to see China rise,' U.S. Vice President Joe Biden said. 'A rising China can be a significant asset for the region and the world, and selfishly, for the United States.' At the same time, Biden said the U.S. is and would remain a Pacific power."
This program aired on June 25, 2015.