The Supreme Court: What To Make Of The Rulings, And What's Next
Resume
With guest host Jane Clayson.
Same-sex marriage. Obamacare. Lethal injection. Voting rights. Redistricting. A big look at the Supreme Court term.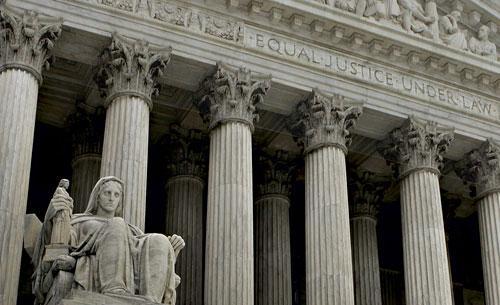 An historic term at the Supreme Court. On Friday, the court made same sex marriage legal in all fifty states. Big celebration over the weekend at gay pride events around the country. And, big push back. One county in Alabama isn't issuing any marriage license—gay or straight. And, the day before, Chief Justice Roberts saved Obamacare — for a second time —from ruin. Two cases capped off a long list of big decisions: from redistricting to the Confederate flag to religious discrimination.  With more rulings today. This hour On Point: digging in to the big rulings by the Supreme Court.
-- Jane Clayson
Guests
Emily Bazelon, staff writer for the New York Times Magazine and senior research fellow at Yale Law School. Host of Slate's Political Gabfest.(@emilybazelon)
John McGinnis, professor of Constitutional Law at Northwestern University. Author of "Originalism and the Good Constitution." (@joldmcginn)
Kenji Yoshino, professor of Constitutional Law at New York University. Author of the new book, "Speak Now: Marriage Equality on Trial." (@kenji_yoshino)
From The Reading List
New York Times: The Roberts Court's Surprising Move Leftward — "The court has issued liberal decisions in 56 percent of the cases in which it had announced decisions as of June 25, according to the Supreme Court Database, using a widely accepted standard developed by political scientists. If that trend holds, the final percentage could rival the highest since the era of the notably liberal court of the 1950s and 1960s led by Chief Justice Earl Warren."
USA Today: Justices' pointed dissents to gay marriage ruling show unusual discord — The Supreme Court's conservative dissenters do not merely disagree. In a remarkable show of discord, they each took turns Friday accusing their colleagues of overstepping their roles and ignoring the Constitution by striking down same-sex marriage bans
Library of Law and Liberty: Why Democratic justices are more united than Republicans — "The more interesting question is why Republican justices tend to fracture while the Democrats stay united. The first reason is that Supreme Court opinions implicate not only ideology, but jurisprudential methodology and Republicans are more divided on jurisprudence."
This program aired on June 29, 2015.