This article is more than 7 years old.
For years in office, he was "No Drama" Obama. That's changing. We'll look at the new, more candid, more free-wheeling Obama presidency. Plus, a look at the arrest and death of Sandra Bland.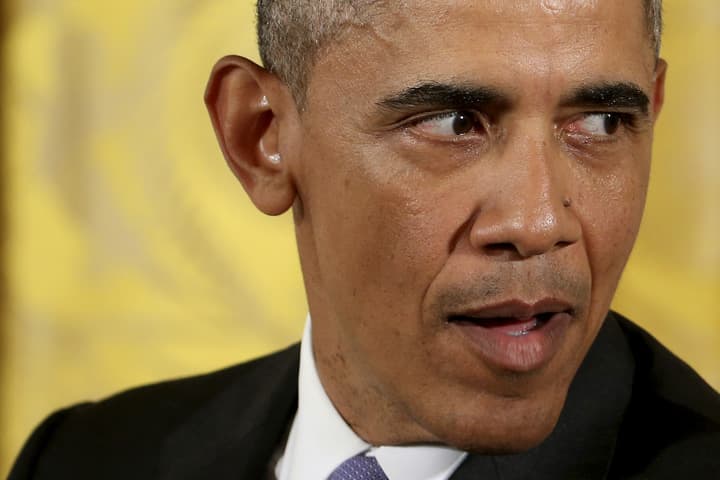 Barack Obama was full-throated as a young candidate for the presidency. In office, he often buttoned up. Got careful. Played it cool. The president was called "no-drama Obama" for a reason. But lately, with a string of policy wins and the clock ticking down on his time in office, Barack Obama is opening up big time. On prison, on Cosby, on Iran. Not just talking race and grace, but singing it. Amazing Grace. Up next On Point:  the cool president lets loose in the final chapter of his presidency. Plus, we will look at the deeply disturbing roadside arrest of Sandra Bland, now dead in Texas.
-Tom Ashbrook
Guests
Glenn Thrush, chief political correspondent for POLITICO. (@GlennThrush)
Cynthia Tucker Haynes, political columnist, formerly of the Atlanta Journal-Constitution. (@ctuckerprof)
Michael Warren, staff writer for the Weekly Standard. (@MichaelRWarren)
From Tom's Reading List
POLITICO: Meet 'Drama' Obama — "Barack Obama rode into the White House 6½ years ago on a wave of hope-and-change chill, but that guy was nowhere to be seen in the East Room on Wednesday, replaced by a graying, grinding, overachieving and visibly anxious second-term president desperate to secure what could well be his final legacy accomplishment, a landmark Iran nuclear deal." (POLITICO)
New York Times: Obama Lowers His Guard in Unusual Displays of Emotion — "President Obama, whose cool, no-drama style has for years set him apart from the extroverted politicians so common in Washington, has been getting emotional lately. It has happened at the White House and on Capitol Hill as he makes the case for parts of his legacy that are at risk, like his health care law and trade agenda, or when he speaks about slain hostages, civilians killed by drones and racially motivated shootings." (New York Times)
Washington Post: From Obama, a More Confident Tone — "It is part of a shift that the president and his wife, Michelle, have undergone in the past few months. They are talking more openly about controversial issues — race, first and foremost — and in deeply personal terms. It is unclear how this approach will translate into concrete policy measures. Aides hold out hope that Congress will take up criminal justice, which has bipartisan support, but most other proposals Obama has offered to address racial disparities in the United States have met with resistance on Capitol Hill. "We don't need more talk" on race, the president said in Charleston." (Washington Post)
What Happened To Sandra Bland?
Last week, 28-year-old Sandra Bland was pulled over for a traffic stop in Prairie View, Texas. The African-American woman was ordered out of the car after she refused to put out her cigarette. She ended up face down on the ground in handcuffs. Three days later, she was found dead hanging in her jail cell. Texas Rangers and the FBI have opened a murder investigation, and on Tuesday dashboard camera video of the confrontation between she and the arresting officer was released.
Guest
Gloria J. Browne-Marshall: associate professor of Constitutional Law at the John Jay College of Criminal Justice. She teaches Constitutional Law, Race and the Law, and Evidence (@gbrownemarshall)
This program aired on July 22, 2015.