Do Background Checks For Gun Sales Really Work?
Resume
Guns, background checks, and mass shootings. A new outcry over the system that decide who gets a gun and who doesn't.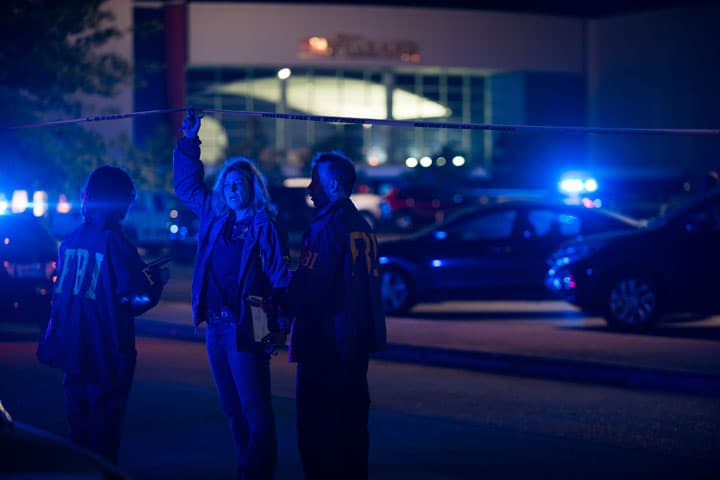 Gun buyer background checks should have stopped Dylann Roof – charged with killing nine in a church in Charleston. They didn't. Gun buyer background checks could have stopped John Houser, who killed two and wounded nine in a movie theater in Lafayette, Louisiana. He wasn't stopped either.  un control is hard in the United States. Let's at least make the background checks work, say advocates, so that criminals and the psychologically ill can't go into any gun shop and buy. But even that gets pushback. This hour On Point: guns, background checks, American politics, and how to get it right.
-- Tom Ashbrook
Guests
James Burnett, editorial director for the Trace. (@traceburnett)
Richard Pérez-Peña, national reporter for the New York Times. (@perezpena)
Arkadi Gerney, senior vice president at the Center for American Progress, focusing on crime, gun policy, immigration, data innovation and data privacy. Former special adviser and first deputy criminal justice coordinator for former New York City Mayor Michael Bloomberg. (@agerney)
Larry Pratt, executive director of Gun Owners of America. (@larrypratt)
From Tom's Reading List
New York Times: Problems Plague System to Check Gun Buyers — "His family called him unstable and violent, so John R. Houser was ordered by a judge to be taken against his will to a mental hospital in 2008. Despite that sign that Mr. Houser was mentally troubled, he passed a background check and was able to legally purchase the gun he used last week to kill two people in a Louisiana movie theater, because that hospital stay was not defined by officials as an involuntary commitment."
The Hill: Manchin: 'I need Republican help' to fix gun sale checks — "One of the Senate's biggest supporters of firearm background checks is renewing calls for Congress to fix the system in the light of a deadly theater shooting in Lafayette, La. Sen. Joe Manchin (D-W.Va.) said Sunday that Congress should 'shut down the loophole' that allows some mentally ill people, like the Louisiana movie theater shooter, to slip through the government's system for vetting gun sales."
USA Today: Improve gun background checks: Our view — "In America these days, you never have to wait long for the next mass shooting — or for the next revelation that someone who should never have had a gun somehow got one anyway. The latest is the 59-year-old man with a long history of mental and legal problems who shot up a movie theater in Lafayette, La., last Thursday. Authorities said John Houser had walked into an Alabama pawn shop last year and legally purchased the .40-caliber handgun he used to kill two and wound nine before shooting himself."
This program aired on July 29, 2015.