This article is more than 7 years old.
From "Straight Outta Compton" to rap right now, we'll look at the evolving politics of hip-hop.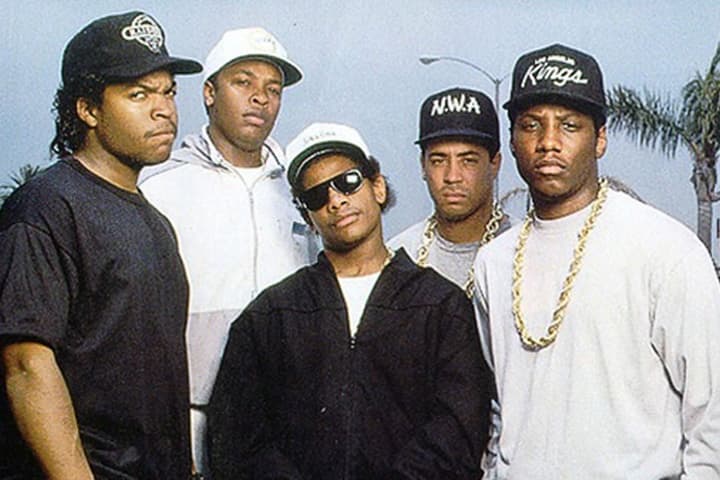 "Straight Outta Compton" is all over right now, with the new movie out bringing back the story of N.W.A. and its blunt, angry, tell-it-like-it-is rap music from the streets of LA in the 1980s. But the politics of that music can feel relevant to streets straight out of all over the place right now. Ferguson. Baltimore. Cleveland. North Charleston. Staten Island.  Last night, St. Louis. From NWA to J. Cole  Run the Jewels. Kendrick Lamar. This hour On Point: the politics of rap and hip hop, from "Straight Outta Compton" to right now.
-- Tom Ashbrook
Guests
Frannie Kelley, co-host of NPR's hip-hop podcast, Microphone Check and an editor for NPR Music. (@frannie_kelley)
Bakari Kitwana, fellow at the Jamestown Project. Author of the forthcoming "Hip-Hop Activism in the Obama Era." Also author of "The Hip-Hop Generation: Young Blacks and the Crisis in African American Culture" and "The Rap on Gangsta Rap." Director of "Rap Sessions: Community Dialogues on Hip-Hop." (@therealbakari)
From Tom's Reading List
Pitchfork: Who Got The Camera? N.W.A's Embrace of "Reality", 1988-1992 -- "With Straight Outta Compton, N.W.A instigated for rap's ascent to pop-culture ubiquity a still-active thread of controversy about the connection between rap lyrics and the lived realities of urban black citizens. Before N.W.A, threats of violence on the mic were metaphors for skills on the mic. After N.W.A, the controversies surrounding rap started falling in two camps, as rappers struggled to negotiate the pressures and expectations of a rapidly maturing form of pop music."
New York Times: Straight Outta History, the Rage That Makes Movies — "Those who have already seen the film have been quick to make a connection with the recent unrest in cities including Baltimore and, again this week, Ferguson, Mo. The moderator of Tuesday's event, MC Lyte, spoke of the Black Lives Matter movement, and pressed the cast members about their experiences with the police."
The Atlantic: Straight Outta Comptonand the Social Burdens of Hip-Hop -- "Straight Outta Compton reminds viewers that N.W.A. became famous for not holding back about what it was like to be young and black and terrorized by the police. And they did so at a time when the music industry was beginning to figure out how to sell rap music to a broader audience. In tracing the history of N.W.A., the film also highlights a divide that has since sprung up in mainstream hip-hop between the more explicitly political rappers, whose music could alienate many white consumers, and the rappers whose music doesn't overtly tackle social issues and is agreeable to large swaths of listeners."
Playlist
https://open.spotify.com/user/onpointradio/playlist/6reesGvhhbgEkgO7iqrgTM
This program aired on August 20, 2015.