The Changing Definition Of Sexual Assault
Resume
A verdict in the New Hampshire prep school rape trial. And calls for changing sexual assault laws.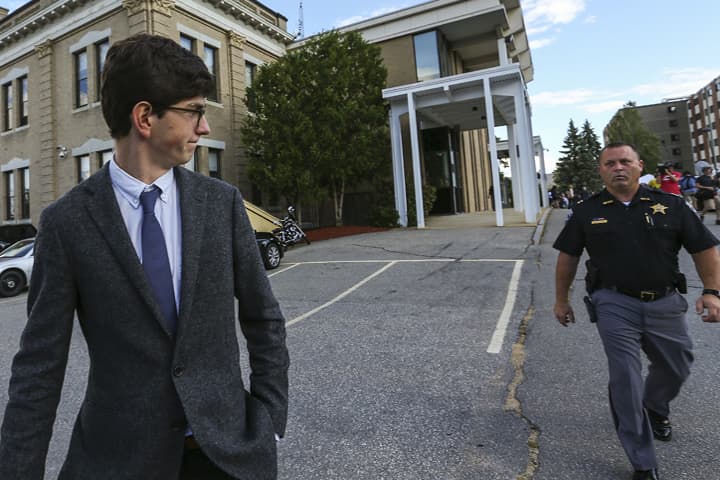 Rape sounds clear and bad. In the courtroom, it can get messy. On Friday, a New Hampshire jury found 19-year-old now prep school grad Owen Labrie guilty of misdemeanor statutory rape of a 15-year-old girl, a schoolmate. But the jury found prosecutors did not prove he acted without her consent. He may face jail time, but not on the most serious felony sex charges. Across the country, standards are all over the place. Where should they be? At force? At "no means no?" Or at "yes means yes?" Affirmative consent? This Hour, On Point: drawing clearer lines on rape.
- Tom Ashbrook
Guests
Dale Vincent, Court and crime reporter for the New Hampshire Union Leader.
Emily Bazelon, staff writer for the New York Times Magazine. Co-host of the Slate "Political Gabfest" podcast. Truman Capote Fellow at Yale Law School. (@emilybazelon)
Deborah Terkheimer, professor at the Northwestern University School of Law. Former assistant district attorney in New York, specializing in sex crimes and domestic violence. Co-author, with Cynthia Bowman, Kim Yuracko and Laura Rosenbury, of "Feminist Jurisprudence."
John Banzhaf III, professor of law at the George Washington Univeristy School of Law. (@profbanzhaf)
From Tom's Reading List
Concord Monitor: Owen Labrie not guilty on most serious charges — "Former St. Paul's School student Owen Labrie was found not guilty Friday of the most serious sexual assault charges he faced during a two-week trial, but guilty of several lesser crimes. A jury found Labrie guilty of having sex with a minor and using a computer to lure her. The girl was 15 and a freshman at the elite prep school at the time."
New York Times Magazine: The St. Paul's Rape Case Shows Why Sexual-Assault Laws Must Change — " A majority of states still erect a far higher barrier to prosecution and conviction by relying 'on the concept of force in defining rape,' as the Northwestern University law professor Deborah Tuerkheimer writes in a forthcoming article in The Emory Law Journal."
Emory Law Journal: Rape On and Off Campus — "The need for institutional reform to address the problem of sexual assault, particularly on college campuses, is widely acknowledged. Unnoticed, however, is a profound disconnect between cultural norms around sex and the legal definition of rape."
This program aired on August 31, 2015.