Journalists Under Pressure
Resume
Three Vice News journalists arrested in Turkey. A wave of journalists in prison. In graves. We'll look at journalists worldwide under pressure.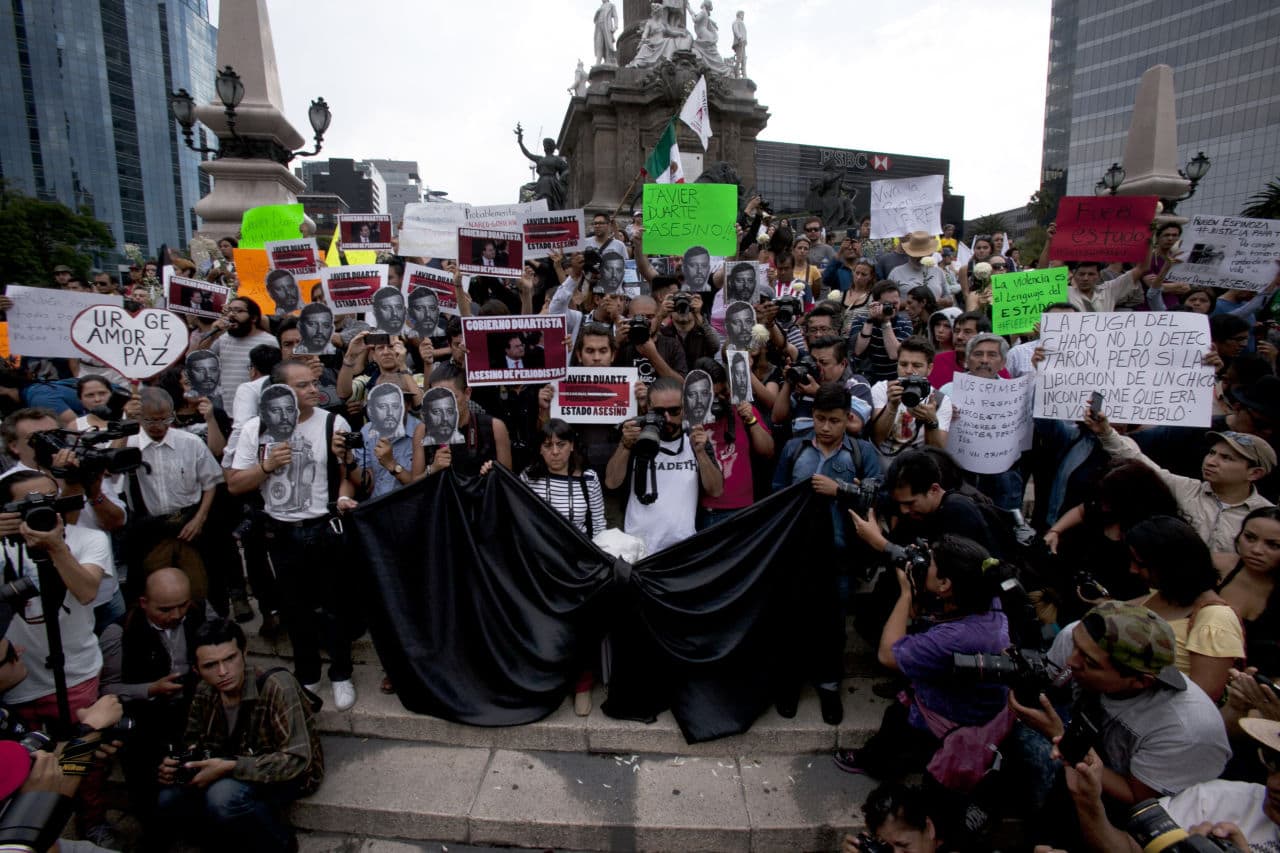 We all know journalists take risks to bring us the news. Think of casualties in war. Beheadings by ISIS. Lately, established governments have become a greater and greater threat to reporters. Look at the headlines from just the last week. Vice News reporters jailed in Turkey. Al Jazeera reporters in prison in Cairo. The Washington Post's Jason Rezaian still held in Iran. A top finance reporter detained in China. A top photojournalist murdered — executed — in Mexico. A seven-year sentence in Azerbaijan. On and on. Even in the USA. This hour on On Point: Journalists under pressure, worldwide.
- Tom Ashbrook
Guests
Joel Simon, executive director of the Committee to Protect Journalists. He is the author of "The New Censorship: Inside the Global Battle for Media Freedom." (@Joelcpj)
Steven Ellis, director of advocacy and communications at the International Press Institute. (@steven_m_ellis)
Nancy Youssef, senior national security correspondent for the Daily Beast. (@nancyayoussef)
Tom's Reading List
Vice News: VICE News Journalists Transferred To Prison Hours From Legal Help - "Increased government censorship includes efforts to temporarily shut down social media websites like Twitter and YouTube — both mediums widely used during the Arab Spring uprisings across the Middle East and North Africa in 2011. Media suppression has reportedly intensified after Turkish President Recep Tayyip Erdogan failed to win a majority in the June election."
New York Times: Egypt Defends Ruling Against Two Al Jazeera Journalists - "The case centers on allegations that Mr. Fahmy, Mr. Mohamed and Mr. Greste, who worked together for the English-language division of Al Jazeera, conspired with the Muslim Brotherhood to broadcast false news in order to destabilize Egypt. But the prosecutors have not presented any evidence of either collaboration with the Brotherhood or erroneous broadcasts."
Washington Post: After 13 Months In Iranian Jail, Post Reporter 'Steeling Himself' For Verdict - "During months of negotiations with Iran over its nuclear program, the United States repeatedly pressed Tehran to release Rezaian, 39, and at least two other Americans of Iranian heritage imprisoned there, plus provide information on a fourth man who disappeared during a 2007 visit."
The Guardian: 'Journalists Are Being Slaughtered' - Mexico's Problem With Press Freedom - "Journalists and press freedom groups have expressed growing anger at Mexican authorities' failure to tackle escalating violence against reporters and activists who dare to speak out against political corruption and organised crime."
Digital Media And Unionizing
Peter Sterne, reporter for Politico Media. (@petersterne)
Politico Media: News Guild Starts $500,000 Campaign To Organize Digital Newsrooms - "The News Guild — known until recently as the Newspaper Guild — has traditionally been the union for American journalists who produce written work. Lately, though, in the digital-media business, it has been overshadowed by the Writers Guild of America-East union, which has organized the editorial staffs at digital-only news outlets Gawker Media, Salon and Vice Media."
This program aired on September 3, 2015.