American Islamophobia
Play
This article is more than 7 years old.
From the campaign trail to a Texas high school, the United States wrestles with Islamophobia.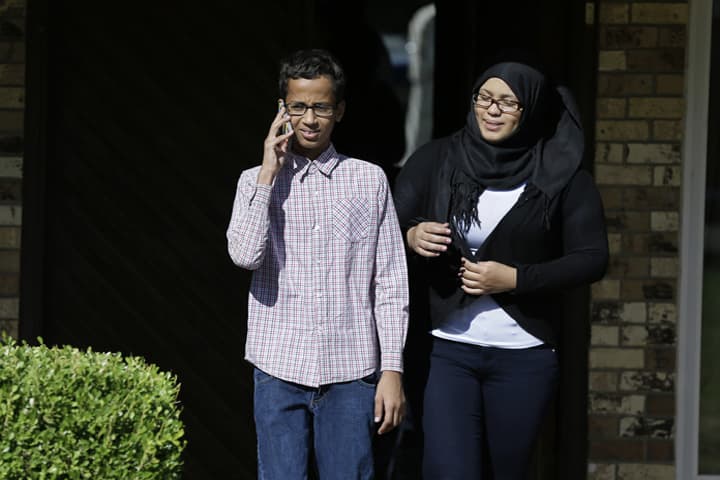 The US Constitution is crystal clear that there shall be no religious test for public office. Republican presidential candidate Ben Carson said Sunday a Muslim should not be president. At a rally in New Hampshire, a Donald Trump supporter says "We have a problem in this country and it's called Muslims."  Asks, "When can we get rid of them?"  Trump says: "We're going to be looking at that." Yes, 9/11 happened. And yes, it's a messy world out there. But suddenly it seems like political open season on Muslim-American citizens. This hour On Point, Islam, American politics, and Islamophobia in America.
-- Tom Ashbrook
Guests
Igor Bobic, associate editor for Politics for the Huffington Post. (@igorbobic)
Sheikh Dr. Yasir Qadhi, Sunni cleric and dean of academic affairs at the Al-Maghrib Institute. Professor of religious studies at Rhodes College. (@yasirqadhi)
Sandy Rios, host of "Sandy Rios in the Morning" on America Family Radio Talk. Director of governmental affairs for the American Family Association and longtime Fox News contributor. (@SandyRiosTweet)
Todd Green, associate professor of religion at Luther College. Author of "The Fear of Islam" and editor of "Islam, Immigration and Identity." (@toddhgreen)
From Tom's Reading List
The Guardian US: Ben Carson's anti-Muslim comments: what have the other candidates said? — "Presidential candidates from both parties have weighed in after leading Republican Ben Carson said no Muslim should be president of the United States of America, with some criticising the former neurosurgeon but many giving a more equivocal response. In an interview with NBC for broadcast on Sunday morning, the retired neurosurgeon said: 'I would not advocate that we put a Muslim in charge of this nation. I absolutely would not agree with that.'"
The Economist: Some stand with Ahmed — "Politicians, Mr Bahloul says, perhaps optimistically, do not realise the damage they cause. And yet he and many other Muslims in the South have experienced America's manifold benefits—ultimately fair courts, a robust constitution, mostly responsible law-enforcement, a quietly tolerant majority—as well as rancour. Their communities demonstrate how far the old, parochial South has changed, as well as some ways in which it hasn't. The discrimination they suffer also illustrates the myopia of some politicians, who seem adept at compromising their own interests as well as ordinary Muslims'."
Huffington Post: Will Islamophobia Give Republicans Keys to The White House? — "Mind you, it's doubtful Carson knows what Sharia is. Many Americans don't either. That's o.k. All you are supposed to know is that it's a scary word that is meant to keep you trembling in your boots. This is not intended as highbrow intellectual discourse on the intricacies of Islamic law, and it's certainly not intended to address an actual problem in the U.S. Our time would be better spent mediating leprechaun labor disputes or trying to reduce the unicorn population."
This program aired on September 23, 2015.