Election 2016 Is 'Feeling The Bern'
Resume
Senator Bernie Sanders joins us to make the case for why he should be the next President of the United States. We will "Feel the Bern" with Bernie Sanders.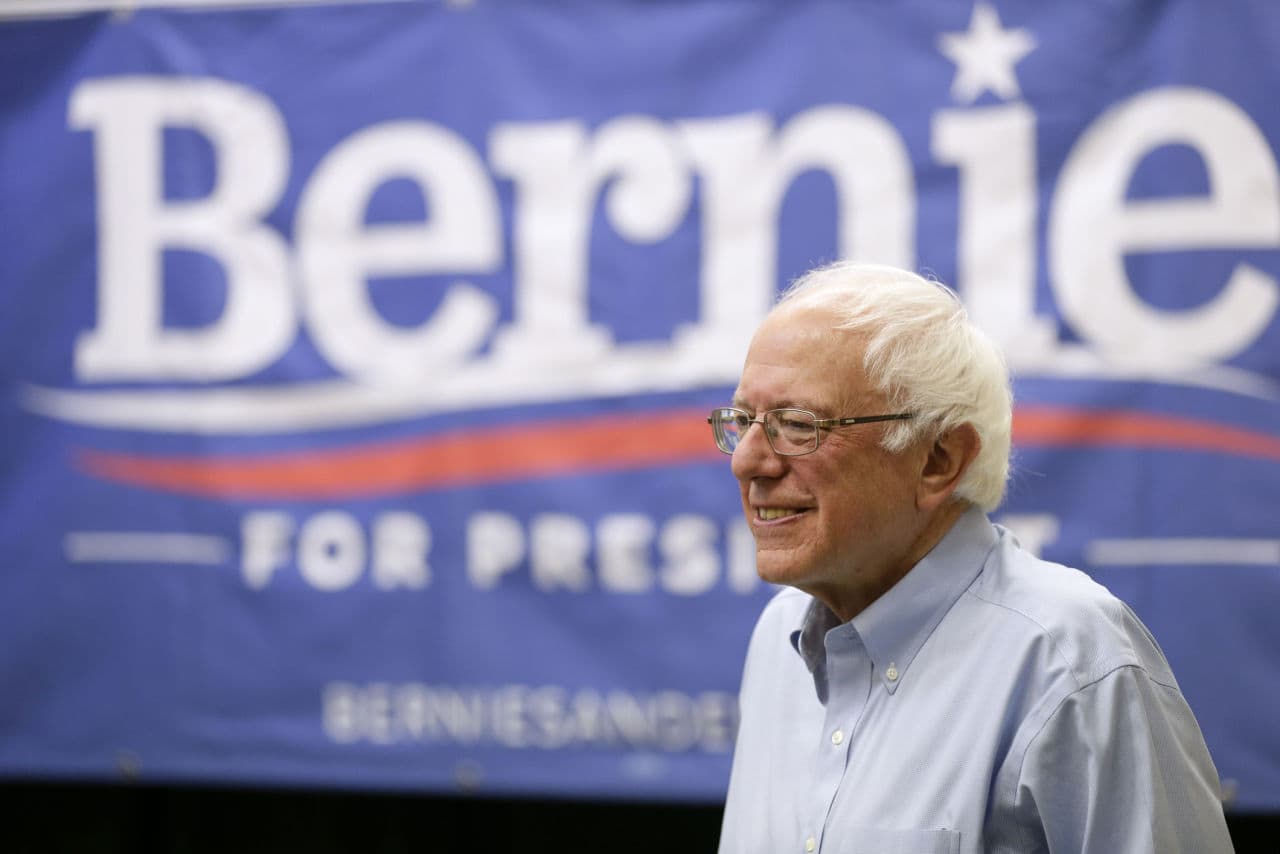 Latest news out of the Democratic presidential nomination contest: Bernie Sanders is raising almost as much money now as Hillary Clinton. In the quarter ending yesterday, Sanders raised $26 million to Clinton's $28 million. Hers is way down. His is way up. She did it with 58 personal fundraising appearances. He did it almost all online. Senator Bernie Sanders, self-described Democratic Socialist from Vermont, just keeps whupping the expectations of the party elite. Says he wants a political revolution. He's with us. This hour On Point, we talk with Bernie Sanders.
-- Tom Ashbrook
Guests
Sen. Bernie Sanders (I-VT), junior US Senator for the state of Vermont. Candidate for the 2016 Democratic nomination for President. (@BernieSanders)
Howard Fineman, global editorial director for the Huffington Post Media Group. Author of "The Thirteen American Arguments." (@howardfineman)
Katrina Vanden Heuvel, editor and publisher of the Nation. (@KatrinaNation)
From Tom's Reading List
POLITICO: Sanders campaign raises over $24 million in third quarter — "Sen. Bernie Sanders' presidential campaign raised over $24 million in the third quarter of 2016, the campaign confirmed Wednesday. Sanders campaign spokeswoman Symone Sanders said the Vermont senator expected to report raising over $24 million over three months in his run for the Democratic nomination, a hefty total given that Sanders has proudly touted his refusal to endorse supporters forming a super PAC."
Boston Magazine: Bernie Sanders is Cold As Ice — "Sanders, it turns out, has little patience for reporters—or, for that matter, anyone who disagrees with him. Among his faults, this could be the one that most weakens his presidential bid. Former aides have called him strident and never satisfied, to the point of being abusive, especially during his first years in Congress. 'Bernie is a very demanding guy,' Fiermonte tells me. 'He has very high expectations, and he expects people to meet them. But he's a good boss. I wouldn't be with him otherwise.' Or, as more than one Vermont politician told me, 'Bernie's an asshole, but he's our asshole.'"
The Nation: Sanders and Trump Offer Two Roads Out of Establishment Politics—Which Will We Follow? -- "Sanders is selling universal hope and inclusiveness. Earnestly explaining what government must do to restore economic equity and security, Sanders talks concretely about who's to blame: the One Percent at the top, who got all the money. Some of his proposals are broad intentions, others are precisely focused on how oligarchs looted Washington. In every event, Bernie is pumping up his crowds with optimism and energy. No time for cynics or despair."
This program aired on October 1, 2015.