Education Reform, After Arne Duncan
Play
This article is more than 7 years old.
Arne Duncan's headed out as U.S. Education Secretary. What's next for America's school kids?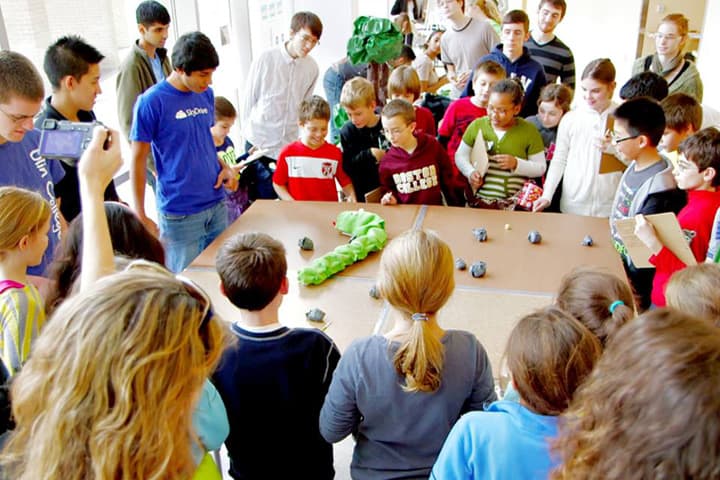 For years now, American K-12 education has been tied hard to the testing track. No more "soft bigotry of low expectations," said President George W. Bush. "Race to the top," said the Obama administration. And teachers and schools have got the message. High stakes tests. Teaching to the test. Mixed results. Now, US Education Secretary Arne Duncan has announced he will step down in December. Voices are calling for a new way. Freer. Healthier. Better, they say. This hour On Point, a call to redirect American K-12 education.
-- Tom Ashbrook
Guests
Vicki Abeles, producer and director of the new documentary film, "Beyond Measure" and author of the new book "Beyond Measure: Rescuing An Overscheduled, Overtested, Underestimated Generation." Producer and co-director of the film, "Race To Nowhere." (@BeyondMeasureEd)
Paul Reville, professor of practice of educational policy and administration at the Harvard University Graduate School of Education. (@PaulReville)
From Tom's Reading List
Los Angeles Times: Education Secretary Arne Duncan will step down in December — "Duncan, an original member of the Obama Cabinet, influenced a wide range of programs from preschool to PhD programs. His emphasis on standardized testing in K-12 education proved divisive from the left and the right. And he angered teachers unions with proposals to change the way instructors are evaluated, among other things. He pushed to expand federal financial aid for low-income college students and his department cracked down on for-profit colleges taking large amounts of federal funding but graduating few students."
Washington Post: Reactions to Arne Duncan's departure illustrate national divide over education -- "Former California congressman George Miller, a Democrat who worked closely with Duncan as chairman of the House education committee, called Duncan's departure 'a huge loss,' and said no one has been more committed to improving the education of the nation's most disadvantaged children. Gus Morales, a Massachussetts teacher and member of the Badass Teachers Association, a fierce critic of Duncan's policies, called him 'one of the most destructive people to hold the title of Secretary of Education.'"
US News & World Report: 5 Things to Know About the New Education Secretary — "Like his predecessor Duncan, King had to stand up to teachers unions while commissioner of New York's public schools, a stance that hasn't historically been the norm for Democrats. In 2014, the state teachers union called for his resignation, and he's not exactly being welcomed into his new role with open union arms, either."
Read An Excerpt Of "Beyond Measure" By Vicki Abeles
https://www.scribd.com/doc/283885055/Excerpt-From-Beyond-Measure-by-Vicki-Abeles
Watch A Trailer For "Beyond Measure"
This program aired on October 7, 2015.