The Legal Fallacies Of Fantasy Sports
Resume
Fantasy football scandal, and the wild, booming betting world of fantasy sports.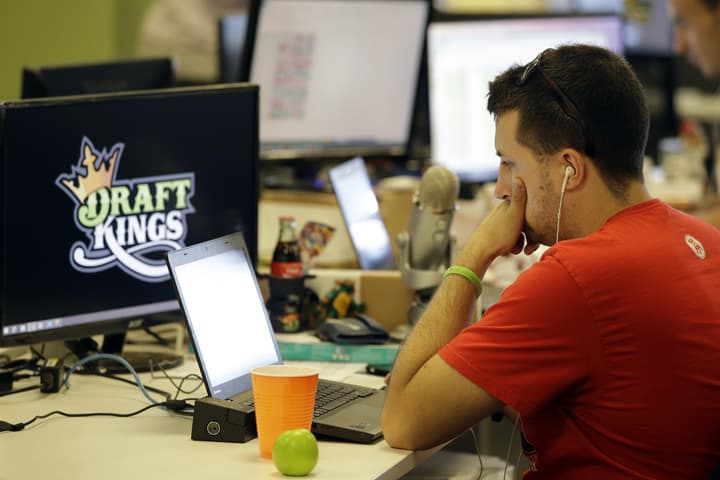 It's just fantasy sports. A bunch of guys and some gals anteing up to bet on teams they conjure up from professional rosters. But these days that's like saying Vegas is just a fantasy or Powerball is just a fantasy. Millions are playing. Billions are being paid out in winnings. There's no regulation. And this week, the headlines are all about scandal. A betting employee at one of the biggest fantasy sports companies walking off with $350K after an early release of data. It all started as good fun. Is it still? This hour On Point, DraftKings, FanDuel, big money, and the future of fantasy sports.
-- Tom Ashbrook
Guests
Noah Davis, freelance journalist and sports writer. (@noahedavis)
Nancy Armour, columnist for USA Today Sports. (@nrarmour)
Ben Mezrich, author and journalist. Contributor to the Boston Globe. Author of "Bringing Down The House," "The Accidental Billionaires" and "Once Upon a Time in Russia," among many others. (@benmezrich)
From Tom's Reading List
Improper Bostonian: Royal Rumble — "Two companies dominate the space, claiming more than 96 percent of the market share. FanDuel, founded by entrepreneur Nigel Eccles, essentially invented the category when it debuted in 2009. In 2014, FanDuel had $57 million in revenue and collected $622 million in entry fees, a figure that executives expect to more than triple this year. Boston-based DraftKings came online in 2012, headed by CEO Jason Robins, COO Paul Liberman and CRO Matt Kalish. They're hoping to catch up to FanDuel, having pulled in $40 million in revenue and $304 million in entry fees last year."
USA Today Sports: Long-overdue, changes coming to daily fantasy sports industry — "The daily fantasy sports industry has two choices right now: Take steps to regulate itself in strict and transparent fashion, or start writing goodbye notes. It's that simple. Unless the powers that be recognize they're no longer working out of somebody's basement or the back room of a bar, where rules and regulations are more a suggestion than actual practice, the fallout over DraftKings' recent data breach and the accompanying questions it raised about possible insider trading could be the demise of the industry."
Boston Globe: The inevitability of fantasy sports — "Full disclosure: I wish I had come up with the idea of daily fantasy sports. I've watched the rise of DraftKings and FanDuel with awe and a little jealousy. I've gotten to know Jason Robins, the CEO of DraftKings — and I think he's a brilliant local entrepreneur who is essentially creating a multibillion-dollar industry out of thin air."
This program aired on October 9, 2015.