Houston's Failed H.E.R.O. And National Transgender Civil Rights
Play
This article is more than 7 years old.
With guest host Jane Clayson.
Is America ready for transgender rights? By its vote this week, Houston is not. We'll look at the push, and pushback.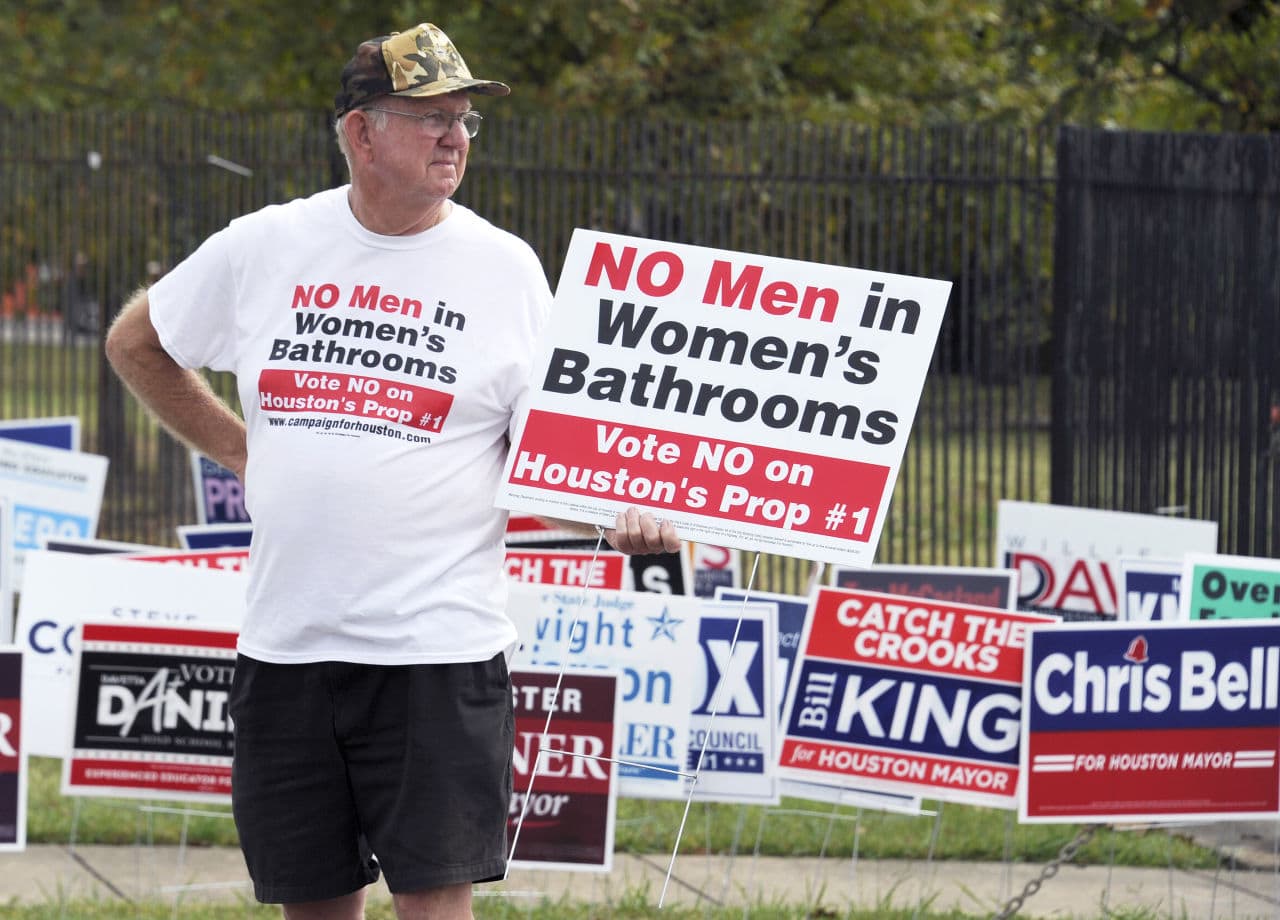 This week, Houston voters rejected, by a landslide, an equal rights ordinance that would have provided more protections for gay and transgender people. What was at stake was a lot more than transgender men and women using public bathrooms. It was about discrimination in housing, at work, in city contracts. Houston's openly gay mayor said, "No one's civil rights should be subject to a vote." The battle over transgender rights is happening all over the country, perhaps where you live. This hour On Point: After gay marriage, the new battle for LGBT rights.
-Jane Clayson
Guests
Katherine Driessen, city hall reporter for the Houston Chronicle. (@KatDriessen)
Dominic Holden, national LGBT reporter for BuzzFeed News. (@dominicholden)
Ed Whelan, president of the Ethics and Public Policy Center and a lawyer. (@EdWhelanEPPC)
Jennifer Pizer, law and legal policy project director at Lambda Legal.
From The Reading List
Houston Chronicle: Voters soundly reject equal rights ordinance — "Houston voters soundly rejected the city's embattled equal rights ordinance Tuesday in one of the most heated local political contests in recent memory that drew national scrutiny and sparked months of impassioned back-and-forth about social issues, particularly transgender rights."
BuzzFeed News: Why Is The LGBT Movement Struggling To Uphold A Simple Law In Houston? — "The vote comes at an especially critical moment for the LGBT movement. After winning marriage at the Supreme Court in June, leaders of top organizations vowed to use the wind at their backs to pass laws prohibiting discrimination in cities, states, and eventually the whole country. A bill in Congress, the Equality Act, was introduced in July but has stagnated without a single Republican co-sponsor."
National Review: With Its Bathroom Ordinance, Houston Takes Leave of Its Municipal Senses — "Instead of a competent city-builder who is also gay, Houston got a culture warrior whose parting gift to the city is a deeply stupid fight over 'HERO' — the Houston Equal-Rights Ordinance — which among other things would create a new body of local civil-rights law (the lawyers cheer with one voice) covering transgender/transsexual people in the matter of public accommodations, meaning public toilets and the like."
This program aired on November 5, 2015.