Thanksgiving And Holiday Apps And Podcast Recommendations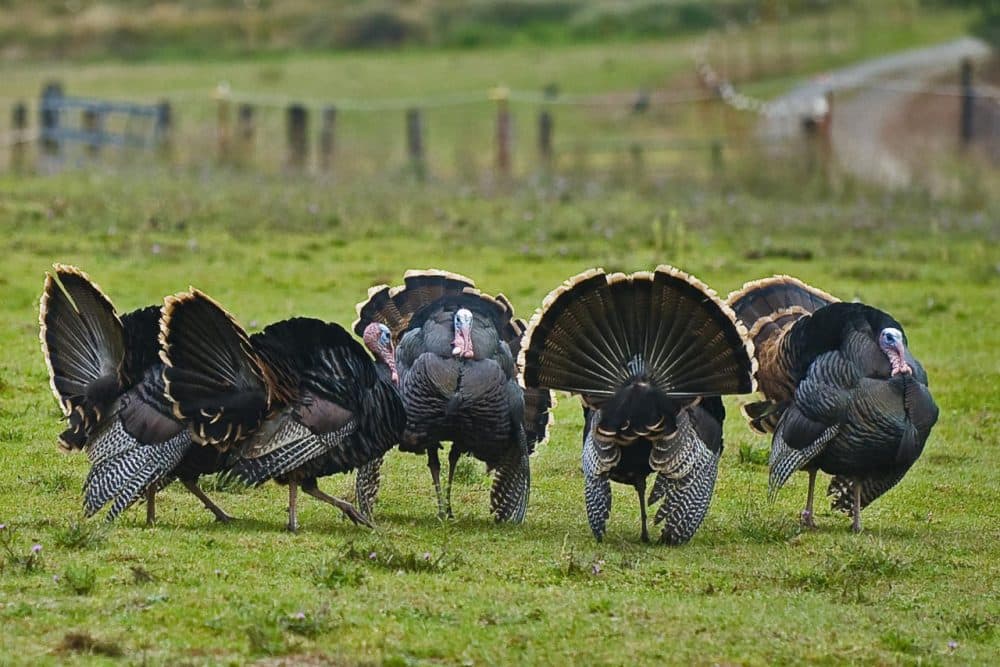 This article is more than 5 years old.
If you're travelling long distances this coming holiday season — or any distance at all, really — it might seem like the miles between where you live and where you're going are endless and chock full of traffic jams, messy airport terminals and anxious family members.
Can you go the distance? We think you can! And with this list of suggested holiday travel smart phone apps, tech gadgets and great podcast, audio book and music tips from our Friday, November 20th guests Scott Steinberg and Julia Turner, you'll arrive at the holiday family table in calm, collected style.
(Apps and Tech by Scott Steinberg; Podcast, audio book and music recommendations by Julia Turner)
SAMPLE APPS
Along the Way - Traveling a specific route on your road trip, but wonder what cool stuff can be found along the way? This app provides all sorts of recommendations for awesome side trips, points to stop off and relax at, unexpected landmarks you'll find to make the trip more fun and memorable.
GateGuru - Hey, I'm stuck at an airport - where's the best restaurant in my terminal, or a massage parlor because I'm dealing with a 3 hour unexpected layover - this one will point you to all the best hotspots in your terminal, nearby... a real lifesaver.
Hotel Tonight - You're stuck due to a snowstorm or flight got canceled - you need a room now! This one helps you find a place to crash RIGHT NOW and has 24/7 support so you can get the job done even if your family's freaking out - plus get great deals since it's usually on unsold inventory from hotels.
SkyScanner and Kayak - The one-stop shops for searching dozens of airlines if you need to book a flight immediately, on the cheap, and even right from your smartphone - SkyScanner can actually help you quickly locate the cheapest dates/times to travel, too.
Gogobot  - Are you a foodie? An adventure traveler? An outdoorsy type? You can use this app - featuring photos, recommendations, and ratings from fellow travelers - to check out cities and locations, find cool places to eat, explore or play, and note places that will be of interest to you.
Tripomatic - Freak out when you crash land in a city and have no plans? For us OCD types, this sucker lets you check out hundreds of hotspots in each city on the fly and plan in advance or spur of the moment and build entire itineraries around it.
TV Food Maps - Love watching Food Network but forget to visit all the hotspots? Here's an interactive guide to awesome ones featured on TV in numerous cities, so you can check out all the famous places and have some stories to tell the folks back home.
MenuPages - Where do I want to eat, what's on the menu, and how much will it cost? You can get all the info you need to dine in major cities, so you don't pull up at a top rated spot only to find you'll have to leave your first born behind in order to afford chowing down there.
DoStuff - What's going on tonight in this city you've just landed in? Boom - here's an instant rundown of where to go to catch a show, see an art opening, etc. on command.
SAMPLE GADGETS
Surface Pro 4 - It's a tablet and you can use it during takeoff and landing, but it's as powerful and compatible as a full-fledged PC laptop - so basically you get everything you'd have from your notebook PC, minus most of the travel-specific drawbacks.
Olloclip Lens - Snap this thing onto your iPhone 6, and you can actually transform it so your camera acts like a wide-angle lens, basically letting you capture twice width/space in photos as normal for panoramic holiday shots - also some 4-in-1 type stuff with other lens for cool effects.
Wi Fly! - Traveling internationally and don't want to pay a fortune for WiFi or data on the go? Ret one of Xcom Global's personal wireless hotspots and you can stay connected almost anywhere without blowing thousands in euros or having to hunt for a decent hotel lobby.
Brenthaven Broadmore Backpack - Forget having to unpack your laptop or take stuff out to go thru security - just use this TSA preapproved sucker and unzip and you can leave everything inside and just walk thru
Contigo Travel Mugs and Water Bottles - Latest units (e.g. Metra, West Loop, Autospout Gizmo) are specially designed to prevent leaks and spills, so you don't have to worry about dropping your coffee or your toddler's juice taking a dive on anyone's shirt on the plane.
Legend of Zelda Tri Force Heroes - The favorite video game series of all time is back - and up to three kids can link up and play the dungeon-crawling adventure together on Nintendo 3DS!
Logitech Keys to Go - Argh, trying to work from a tablet PC usually sucks - unless you've got this .25 inch thick keyboard which attaches to iOS and Android gizmos and makes it possible to have the equivalent of a PC without packing a PC along so you can finish up all those reports and recaps.
Tylt Energi 5K Battery Pack - Your family needs power fast - but don't want to hunt around an airport for an outlet? Voila - here's a super slim and compact one that can charge *3* devices simultaneously and holds enough juice for multiple recharges.
Dell XPS 13 - Crazy good 13-inch laptop that has pretty much no bezel, so it has a TON of screen real estate, basically crams a much bigger display into a smaller form size, has great battery and pricef
Drop Kitchen Scale - Can't cook, but want to do your part this Thanksgiving dinner? Take this connected kitchen scale and recipe app along - it basically walks you step-by-step through the process of baking everything from cookies to pies and stuffing so you can do your part this holiday.
Go Pro HERO4 - High-def waterproof action camera - whatever adventure tours your going this portable video camera can grab all the insane action from a first person perspective at top speed in high definition.
Panasonic Lumix TS6 - Because everyone loves underwater cameras for pool shots up to 40+ feet deep.
Bose QuietComfort 25 Headphones - What seatmates? Fire up these noise-canceling puppies and you can peacefully drift off while the rest of the plane disappears, catch up on your beauty sleep.
Dell Chromebook 13 - Super fast loding laptop with great battery life and solid performance and a great touchscreen, lower-end models can be had for a reasonable price at $400, too.
iPad Pro - Just out, the mother of all tablet PCs - larger, faster, higher-resolution, and capable of killer multimedia performance for movies, music and games.
Samsung Galaxy Note 5 - Best of the best new Android smartphones - super powerful, super easy to use, runs TONS of helpful travel friendly apps.
SAMPLE KIDS FUN APPS
Lazoo Art Box - Interactive coloring book that PBS made - kids can basically transform their drawings into animated sequences, basically watch their art come to life.
Toca Nature - Keeps kids entertained by letting them create entire landscapes, add animals and critters, and then see how the sandbox world comes to life and interacts once built
Barefoot World Atlas - An interactive encyclopedia to go.
Hoopa City - Like The Sims, only for younger children - you can build towns, schools, entire living breathing worlds.
Reading Rainbow - Yes, -that- Reading Rainbow - offers thousands of books for kids to check out and enjoy.
Drawing Pad - Why bring markers and coloring books when you can do it all on your iPad with once of the most full and engaging art sets to hit the market?
Stack the States  - Trivia and fact-based game that combines puzzles and questions to teach kids more about the places you're going to visit, and may be driving through as you head off to the relatives' house this holiday season.
PODCAST RECOMMENDATIONS
"You Must Remember This", "Charles Manson's Hollywood" —  It is amazing. Not something you need to listen to with you family, although, maybe if you have a certain kind of family you are reuniting with this Thanksgiving, this is perfect. I can't endorse a piece of audio more. It is great.
"WTF with Marc Maron," Michaela Watkins — Thought this was great. She talks about getting on, and then getting booted from "Saturday Night Live."
AUDIO BOOK RECOMMENDATIONS 
"Unfaithful Music" by Elvis Costello — Elvis Costello's audiobook is great! He reads it himself.
"H is for Hawk" by Helen Macdonald" -- is also a good audio book.
"Modern Romance: An Investigation" by Aziz Ansari and Eric Klienberg -- Aziz Ansari reads his book, as well.
MUSIC RECOMMENDATIONS 
"Hamilton" Original Broadway Cast Album -- Good for all ages. Kids learn about history. It is funny and enjoyable.
Adele, "25" -- I don't think anyone needs me to tell them about Adele, but she is one of those artists that crosses all generations and her album is very fresh.