Karl Rove On The Campaigns of 1896 And 2016
Resume
Republican political strategist Karl Rove is thinking about the McKinley 1896 campaign and the GOP field right now. Karl Rove is with us.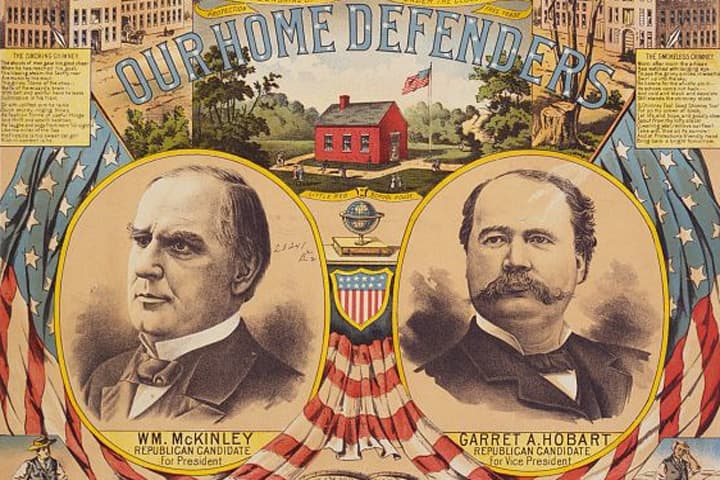 Talk about masterminds. Karl Rove was a big one for the Republican Party in the years of President George W. Bush. He's still swinging a ton of Super PAC money and "dark money" in GOP politics right now. The front-runners may not be his best buds. Donald Trump tweeted that Rove was a "total moron." But Karl Rove is taking the long view. All the way, right now, back to 1896 and the election of Republican William McKinley over young William Jennings Bryan. There are lessons there for the 2016 campaign, he says. This hour On Point, Karl Rove on Trump, Carson, 2016 – and how the GOP needs to change.
-- Tom Ashbrook
Guest
Karl Rove, Republican political strategist and founder of the American Crossroads Super PAC. Author of the new book, "The Triumph of William McKinely: Why The Election of 1896 Still Matters." Former political advisor and deputy chief of staff to President George W. Bush. (@KarlRove)
From Tom's Reading List
Fort Worth Star-Telegram: Karl Rove's 'The Triumph of William McKinley' --"McKinley was a Midwestern governor who recognized the need to expand his party's base by embracing immigrants, who more and more were providing the manpower for an economy undergoing dramatic change with new technologies in the era of industrialization. He reached out to expand the diversity of his party by seeking the endorsement of Catholic leaders and advocating the expansion and protection of black voting rights."
POLITICO: Jeb Bush vs. Karl Rove -- "Rove's group, as it prepares for the 2016 campaign, has been taking steps to distinguish itself from Bush's, which has centered its appeals to donors around the former governor's vision for the country. In its pitches, American Crossroads promotes itself as a hub of anti-Hillary Clinton activity, tapping into a desire among the party's benefactors to go on the offensive against the presumptive Democratic nominee at a time when Republican candidates are busy jostling for position in a crowded GOP field."
The Wall Street Journal: The Path to a Wild GOP Convention — "At the past 16 Republican National Conventions, the party's presidential nominee has been selected on the first ballot. That long streak might end next year. For the first time since 1948, when the GOP nominated Thomas E. Dewey for president after three rounds of voting, Republicans might take more than one ballot to settle on their nominee."
Read An Excerpt Of "The Triumph Of William McKinley" By Karl Rove
https://www.scribd.com/doc/290889799/Excerpt-from-The-Triumph-of-William-McKinley-by-Karl-Rove
This program aired on November 24, 2015.