Marilynne Robinson On Hope In A Time Of Fear
Resume
On the day before Thanksgiving, we talk with Marilynne Robinson – one of America's greatest authors, thinkers, moralists — about fear and hope in a hard, frightening time.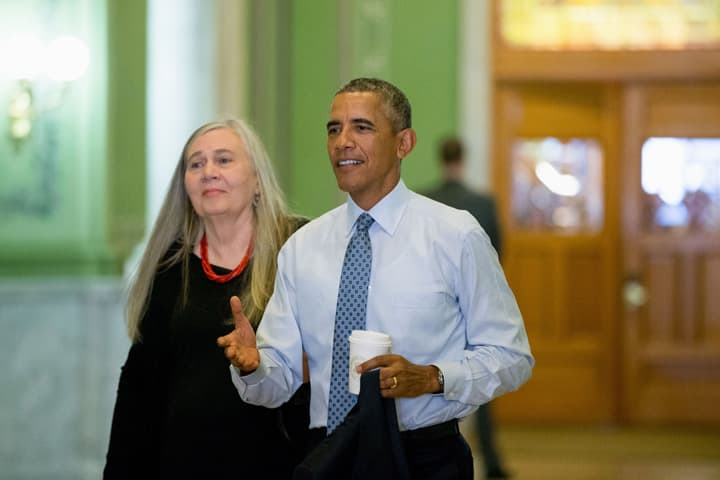 The day after the terrible news of mass killing in Paris, more than one person asked me, "What is happening to humanity?" Today, with the video of a teen killed in the street in Chicago, the question comes again. And right alongside it, on this day before Thanksgiving, the question of how we keep our own humanity in a fraught time of fear and anger. We reached out to famed novelist, essayist, moral thinker Marilynne Robinson – author of "Gilead" and more - to talk with us about exactly that. She's with us. This hour On Point,  Marilynne Robinson, on faith, hope and hanging on to our humanity now.
-- Tom Ashbrook
Guest
Marilynne Robinson, Pulitzer Prize-winning novelist, essayist and author. Professor of English and creative writing at the University of Iowa's Iowa Writers' Workshop. Author of "Gilead," "Home," "Lila" and the new essay collection, "The Givenness of Things."
From Tom's Reading List
New York Review Of Books: Fear — "Granting the perils of the world, it is potentially a very costly indulgence to fear indiscriminately, and to try to stimulate fear in others, just for the excitement of it, or because to do so channels anxiety or loneliness or prejudice or resentment into an emotion that can seem to those who indulge it like shrewdness or courage or patriotism. But no one seems to have an unkind word to say about fear these days, un-Christian as it surely is."
Paris Review: Marilynne Robinson, The Art of Fiction No. 198 — "In person, even when clad in her favorite writing attire—a pair of loose pants and a sweatshirt—Robinson carries herself with a regal elegance. While she is humble about her accomplishments and the acclaim they have brought her, the force of her intellect is apparent. In her nonfiction books, as well as in her recent novels, she passionately engages public policy as well as philosophical and theological scholarship."
The Atlantic: The Power of Grace — "Marilynne Robinson tracks the movements of grace as if it were a wild animal, appearing for fleeting intervals and then disappearing past the range of vision, emerging again where we least expect to find it. Her novels are interested in what makes grace necessary at all—shame and its afterlife, loss and its residue, the limits and betrayals of intimacy."
This program aired on November 25, 2015.