Fresh Ideas For Your Thanksgiving Feast
Resume
Bring your appetite! We're gathering around the radio table with three chefs and new Thanksgiving recipes.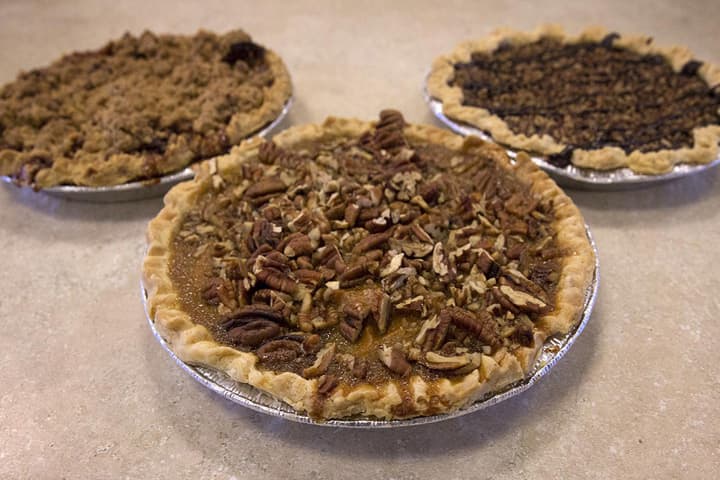 In the dream, Thanksgiving is the balm that binds us. Good home cooking and gratitude. It doesn't get much better than that  And still, we like to mix it up. Keep it fresh. Your turkey may be deep in the brine, or still at the store. Your stuffing, dressing, may be a family fave or made up as you go. But we've got more for you. Two hot chefs and a baker to enliven your Thanksgiving menu. And we want to hear how you do that. This hour On Point, roasted squash and collard greens and chocolate bourbon pie - and your Thanksgiving table
-- Tom Ashbrook
Guests
Sara Foster, chef, restaurateur and celebrated cookbook author. Owner of Foster's Market in Durham, NC. Author of the new cookbook, "Foster's Market Favorites." (@fostersmarket)
Stacy Cogswell, executive chef at Boston's Barcelona South End. Author of the new cookbook, "The New New England Cookbook." (@chefstacycogs)
Renee McLeod, baker and founder of Petsi Pies in Somerville and Cambridge, MA. (@petsipies)
From Tom's Reading List
Boston Magazine: Stacy Cogswell Breaks Down a Heartbreaking Top Chef 'First Thanksgiving' -- "If you're a Top Chef fan, you learn to grow wary of contestants staring wistfully through a window, Skyping with loved ones, or getting a suspicious amount of airtime. Cogswell hit upon that maudlin trifecta as the chefs headed into the Elimination Challenge at Plimoth Plantation where the nine remaining contestants were saddled with creating a Thanksgiving feast using nothing but open fires, wooden utensils, and ingredients the pilgrims brought over on the Mayflower."
Cambridge Chronicle:Renee McLeod talks pastry, Petsi Pies' expansion to East Cambridge — "Petsi Pies founder and owner Renee McLeod said she's a shy person outside of her Somerville and Cambridge bakeries. But in her element, serving people home-baked goods, nothing could be further from the truth."
Foster's Market Blog: Announcing Foster's Favorites: The 25th Anniversary Collection -- "Now 1990 seems like a lifetime ago, when small upscale food markets in New York and Connecticut inspired me to bring the concept to the south. In the unlikely space of a former lawn mower repair shop on a short stretch of highway in Durham, my vision of a charming market quickly took shape. Power washing oil and grease from the basement and replacing old lawn mowers with sugar and flour bins was the beginning of putting Foster's on the map."
This program aired on November 25, 2015.