In San Bernardino, Yet Another Mass Shooting
Resume
With guest host Jane Clayson.
The mass shooting in San Bernardino. The latest developments on the ground. All the latest information and analysis from every angle.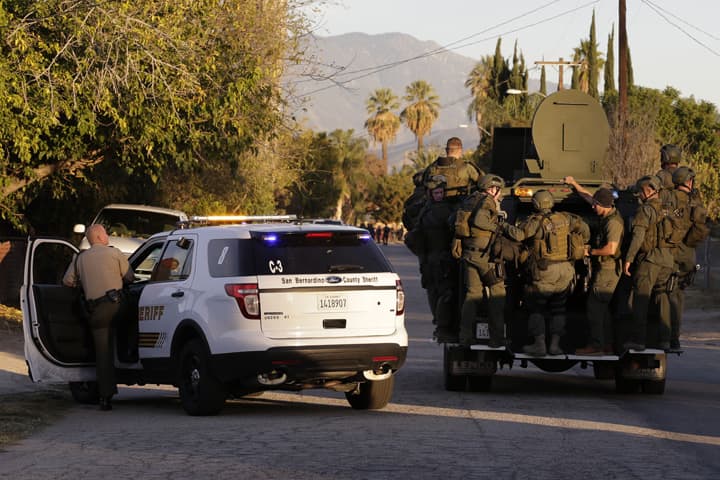 Another mass shooting rocks the nation. This time in San Bernardino, California. A heavily armed man and woman dressed for battle opened fire on a holiday banquet for his co-workers. They killed 14 people and seriously wounding 21 others in a precision assault. Hours later, they died in a shootout with officers. The shooters were married. With a baby. Their motive unknown. And so many other questions. And So many fears stirred up. About guns. About terrorism. About homegrown terror. We'll take it all on-board. This hour On Point, the San Bernardino shootings.
-- Jane Clayson
Guests
Claudia Peschiutta, reporter for KNX 1070 News Radio, the CBS Radio affiliate in Los Angeles. (@ReporterClaudia)
Adam Lankford, criminal justice professor at the University of Alabama. Author of "The Myth of Martyrdom."
J.M. Berger, research analyst and writer. Non-residential fellow at the Brookings Institutions' Project on U.S. Relations With the Islamic World. Co-author, with Jessica Stern, of "ISIS: The State of Terror." Author of "Jihad Joe." (@intelwire)
Sheikh Dr. Yasir Qadhi, Sunni cleric and dean of academic affairs at the Al-Maghrib Institute. Professor of religious studies at Rhodes College. (@yasirqadhi)
From The Reading List
KPCC News: San Bernardino shooting update: 2 suspects ID'd as Syed Farook and Tashfeen Malik — "Police have identified two people killed 2 people during a shootout in San Bernardino as suspects in an attack that left at least 14 people dead at a center for the developmentally disabled in Wednesday. At a news conference Wednesday night, officials said Syed Rizwan Farook and Tashfeen Malik targeted a holiday party at the center. It's not clear what the motive may have been, though police are not ruling out that it was intended as a terrorist attack."
Los Angeles Times: Horror in San Bernardino: The U.S. infatuation with guns is bordering on a society-wide suicidal impulse — "Fourteen dead and 17 wounded in San Bernardino, according to the early reports. And that follows just five days after the attack on a Planned Parenthood clinic in Colorado Springs, Colo., in which three people died and nine were wounded. A month earlier, nine people were slain at Umpqua Community College in Roseburg, Ore. In August, eight people were shot dead in a house outside Houston. In June, nine people were gunned down at a prayer meeting in a Charleston, S.C., church. In May, nine people were killed in a shootout among police and bikers in Waco, Texas. And on it goes."
Washington Post: Here's the inspiring work done at the disability center, site of the Calif. shooting — "The regional nonprofit founded in 1971 provides resources and programs for developmentally disabled children and adults in Riverside and San Bernardino counties. On Wednesday, gunmen targeted the center, killing and wounding  dozens of people inside, authorities said."
This program aired on December 3, 2015.