SCOTUS Tackles Affirmative Action, Again
Resume
The Supreme Court once again takes up affirmative action on college campuses in a season of campus activism. We will weigh the oral arguments.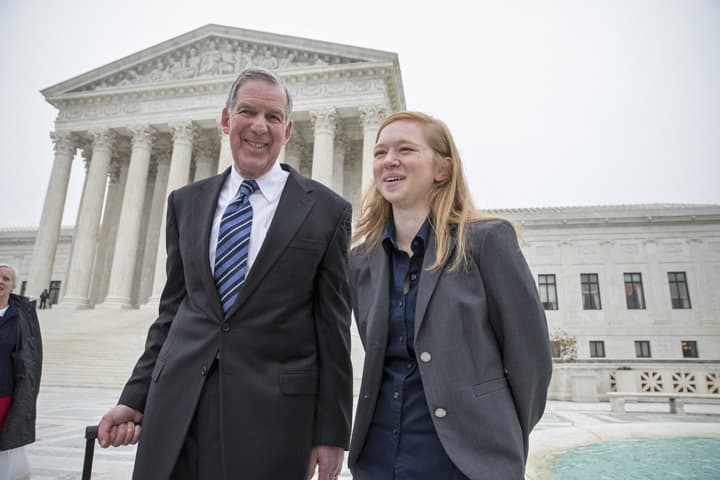 The U.S. Supreme Court is back in the middle of affirmative action. It's the University of Texas case again. White Abigail Fisher says she was cut off from admission by policies that consider race. And not, she says, in her favor. Oral argument was testy yesterday. Justice Scalia saying straight up that some black students might be better off at "slower track" schools. Nobody likes that affirmative action was needed. Is it needed now? Is there a better way, in this year of racial tension on American college campuses? This hour On Point, race, America, and affirmative action before the high court.
-- Tom Ashbrook
Guests
Joan Biskupic, legal affairs editor at Reuters. Author of "Breaking In," "American Original" and "Sandra Day O'Connor." (@joanbiskupic)
Stuart Taylor, writer and journalist. Senior fellow at the Brookings Institution and contributing editor at the National Journal. Co-author, with Richard Sander, of "Mismatch." (@staylor5448)
Randall Kennedy, professor at Harvard Law School. Author of "For Discrimination" and "The Persistence of the Color Line."
From Tom's Reading List
Reuters: U.S. top court revisits affirmative action in university admissions — "The U.S. Supreme Court on Wednesday again took up the highly charged question of race in admissions to public universities, hearing arguments for the second time from a white woman who claimed that a University of Texas policy caused her to be rejected in favor of less qualified blacks and Hispanics."
CNN Politics: Supreme Court divided in University of Texas affirmative action case — "Supporters of affirmative action in higher education are fearful that the court might issue a broad ruling in the case that will curtail a public university's ability to consider race in order to produce a more diverse student body. The case comes at a time when students across the country are showing signs of racial unrest. Protests at the University of Missouri broke out earlier this fall over racial concerns that eventuallydrew the resignation of the school's chancellor and university system president. At other universities there have been sit-ins and demonstrations."
Washington Post: To fight racial isolation on campus, start with admissions — "Student protests have not been linked to the Texas affirmative action case. But the claims of marginalization and isolation, and the sustained demands for change, offer a timely window into the precise phenomenon that university officials in Texas sought, in part, to address through the admissions plan they created in 2005."
This program aired on December 10, 2015.