The best books of 2015: "Fates and Furies," "Between the World and Me," "Purity" and a whole lot more.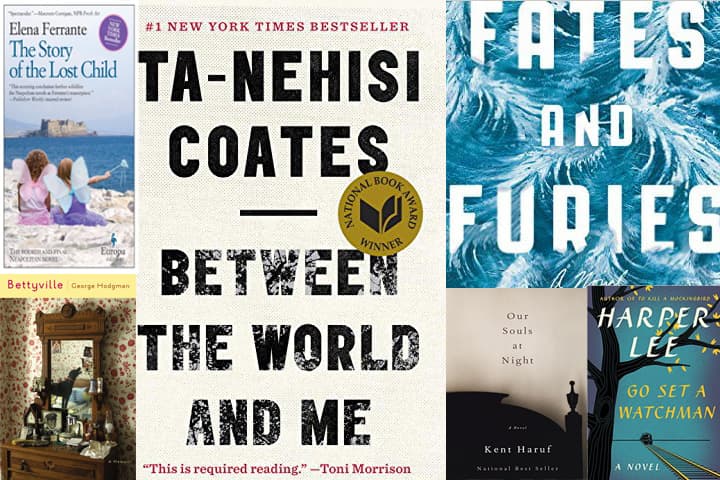 Every December we bring in book readers and sellers and critics and ask them to share their favorite books of the year. Some years there is lots of overlap on those lists. Some years, they're all over the place. This is one of those sprawling years. Look around. Ta-Nehisis Coates makes lots of lists with "Between the World and Me." Elena Ferrante is up there. Helen Macdonald, with "H is for Hawk."  Then it's a free-for-all. But a rich free-for-all. Full of great reads. This hour, On Point, we put our net in the river for the best books of 2015. And it's a good catch. Stay tuned.
-- Tom Ashbrook
Guests
Maggie Galehouse, book editor at the Houston Chronicle. (@MaggieGalehouse)
Amanda Nelson, managing editor for Book Riot. (@ImAmandaNelson)
Kris Kleindienst, co-owner of Left Bank Books, an independent book store in St. Louis, MO. (@kriskleindienst)
From Tom's Reading List
NPR Books: NPR's Book Concierge Returns With More Than 260 Recommended Titles — "The whole point of the Concierge is - it's a book discovery tool. And this is a book I actually discovered through the Concierge. I haven't read it yet, but it looks really cool. It's a social satire about a world in which a mysterious plague makes blonde women into rabid killers, which, you know, as a redhead, I find very interesting."
The Wall Street Journal: Best of the Best-of Lists — "The Journal reviewed best-of lists from 12 sources to discover the most-cited books of 2015. Among the year's best novels, Lauren Groff's Fates and Furies came out on top with seven mentions."
The Guardian: The best fiction of 2015 — "This was the year that fiction made headlines. To Kill a Mockingbird was a world-altering debut followed by 55 years of silence. In February it was announced that an earlier manuscript had been unearthed in Harper Lee's archive, and in July Go Set a Watchman was published amid a storm of controversy about elder abuse, literary intentions and whether the book was actually any good."
Maggie's Pick's
Amanda's Picks
Kris's Picks
Your Picks From Our Comment Section And Calls
"The Orenda" -- Joseph Boyden
"M Train" — Patti Smith
"The Death and Life of Zebulon Smith" — Daniel Kraus
"Saving Capitalism" — Robert Reich
"Submission" — Michel Houellebecq
"The Peripheral" — William Gibson
"Soil" — Jamie Kornegay
"You're Never Weird On the Internet — Almost" — Felicia Day
"Down Don't Bother Me" — Jason Miller
"The Oregon Trail" — Rinker Buck
"The Rocks" — Peter Nichols
"The Girl on The Train" — Paula Hawkins
"Uprooted" — Naomi Novik
"The Japanese Lover" — Isabel Allende
"The Road Not Taken" — David Orr
"Malevolent Muse" — Olivier Hilmes, transl. Donald Arthur
This program aired on December 11, 2015.