Week In The News: G.O.P. Debate, Fed Rate Hike, Baltimore Mistrial
Resume
Mistrial in Baltimore. The Fed hikes rates. The Republicans debate. Saudi Arabia's counterterrorism coalition. A deal on spending. Our weekly news roundtable goes behind the headlines.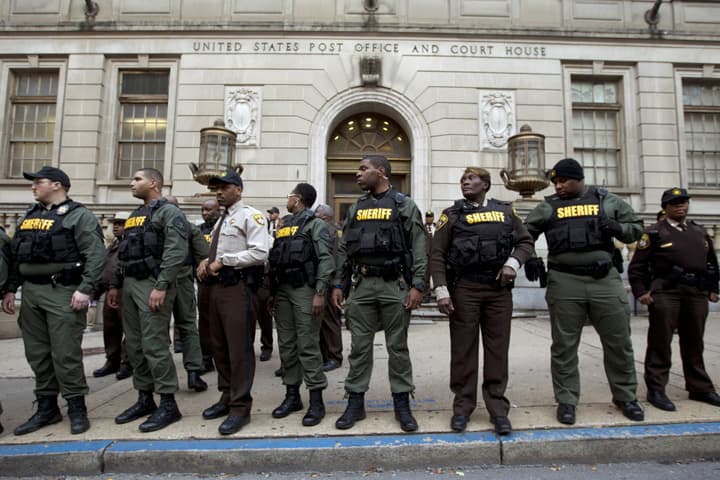 You can feel the holidays coming this week. Everybody pushing to get things squared away. Paris is a wrap, with an historic climate agreement. We'll see how it plays out. Congress is pushing hard to wrap up a federal spending package. Nobody happy but everybody wants to go home. John Kerry, trying to negotiate a Syria path with Moscow. The President, summing up his year, heading to San Bernadino and Hawaii. We've got a hung jury in Baltimore. Fed moves. And the force of "Star Wars" all over. This hour On Point, our weekly news roundtable goes behind the headlines.
-- Tom Ashbrook
Guests
Robert Costa, national political reporter at the Washington Post. (@costareports)
Nancy Youssef, senior national security correspondent at the Daily Beast. (@nancyayoussef)
Jack Beatty, On Point news analyst. (@JackBeattyNPR)
From Tom's Reading List
Washington Post: Will GOP candidates' strikingly hawkish stances alienate swing voters? -- "The presidential debate here this week crystallized the Republican Party's growing consensus on national security and its strikingly hawkish response to threats at home and abroad, with the candidates vividly channeling the alarm and fear coursing through the GOP base."
The Daily Beast: Pentagon Officers: We Quit if Trump Wins — "Spend enough time with a service member, and the topic of Trump comes up, always unsolicited. It is far less political than it sounds. Trump's attack plans for the so-called Islamic State widely known as ISIS—his call to ban Muslims from the United States, his suggestions that cutting off the flow of information through the Internet can protect the homeland—many said, are an affront to the values they vowed to die to defend.
NPR News: Judge Declares Mistrial In Baltimore Police Case After Jury Deadlocks -- "One day after jurors in the trial of Baltimore Police Officer William Porter announced they were deadlocked, the judge in the case has declared a mistrial. The jury couldn't reach a verdict on involuntary manslaughter and three other charges Porter faced over the death of Freddie Gray last April."
This program aired on December 18, 2015.