Flint Faces Water Crisis Now, And For Years To Come
Play
This article is more than 6 years old.
With guest host Jane Clayson.
Dangerous lead levels in drinking water in Flint, Michigan. We'll look at the crisis there and the country's troubled water infrastructure.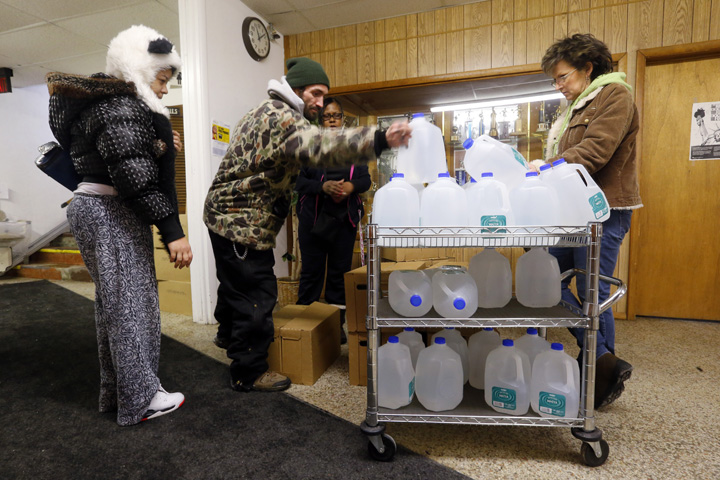 It's a ritual we all do every day: turn on the tap and fill up a glass with water. In Flint,  Michigan the consequences are catastrophic. The drinking water is contaminated by lead. Four percent of Flint's children have been poisoned. The Governor declared a state of emergency. State police ready to go door-to-door with bottled water. The White House is monitoring. Parents are up in arms. This hour On Point, infrastructure, water safety, and the crisis in Flint.
-- Jane Clayson
Guests
Lindsey Smith, west Michigan reporter for Michigan Radio, where she's also been the lead reporting on the Flint water crisis. Producer of Michigan Radio's documentary, "Not Safe To Drink." (@lzsmitty)
Dr. Mona Hanna-Attisha, program director for pediatric residency at the Hurley Children's Hospital at Hurley Medical Center in Flint, Michigan.  (@MonaHannaA)
Nancy Kaffer, political columnist and editorial board member at the Detroit Free Press. (@nancykaffer)
Marc Edwards, civil engineering and environmental engineer at Virginia Tech. Expert on water treatment and corrosion.
From The Reading List
Michigan Radio: Gov. Snyder declares a state of emergency after lead continues to be a problem in Flint's water — "Governor Rick Snyder has declared a state of emergency in Genesee County related to lead contamination of the city of Flint's water supply. It's been three months since the state first acknowledged lead contamination in the city's water supply. The scandal cost the state's top environmental regulator his job, and the U.S. Justice Department has joined an Environmental Protection Agency investigation into what happened."
Detroit Free Press: Apology, resignations over Flint are good first steps — "For 18 months, Flint residents were exposed to lead-contaminated drinking water, after the city — while under state oversight and with MDEQ approval — began to draw its drinking water from the Flint River. Since the switch, an increasing percentage of Flint kids have elevated blood-lead levels. Lead poisoning causes irreversible behavioral and developmental difficulties."
Flint Water Study: New FOIA Shows MDEQ Still Mostly To Blame For Water Crisis and Poor Response — "What is also increasingly clear, is that these same MDEQ employees further abused their power and trust, to derail other well-intentioned attempts by state officials to intervene and protect Flint Residents. MDEQ even initiated a 'Flint Water Communications Plan' campaign at DHHS, to promote how safe Flint water was to drink, as a direct response to work by Virginia Tech and Flint residents that were showing otherwise."
This program aired on January 11, 2016.