Five Dictators Of Rome
Play
This article is more than 7 years old.
The dictators at the end of the Roman Republic. Claudius, Caligula, Nero and more. How they ruled.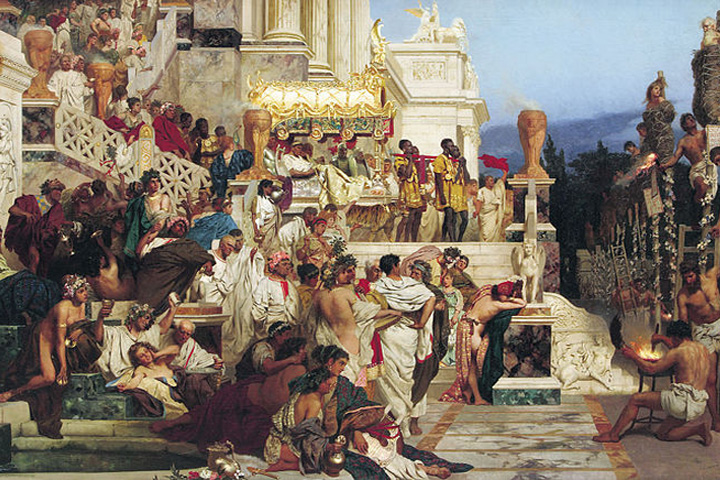 For centuries, Rome was a republic, with proud citizens and limits on the power of any individual. Then came Julius Caesar, across the Rubicon, civil war, and the age of the emperor. A dynasty. Five dictators in the House of Caesar: Augustus, Tiberius, Caligula, Claudius, Nero. Their names still bespeak power and excess. They came with the language of the Republic, but the reality of dictatorship. This hour On Point, historian Tom Holland on these five dictators of Rome.
-- Tom Ashbrook
Guest
Tom Holland, historian. Author of the new book, "Dynasty: The Rise And Fall Of the House of Caesar." Also author of "Rubicon," "Persian Fire" and "The Forge of Christendom." (@holland_tom)
From Tom's Reading List
The Guardian: Dynasty: The Rise and Fall of the House of Caesar review – deft and skilful — "Among the many virtues of Tom Holland's terrific history is that he does not shrink from seeing the Roman emperors for what they were: ;the west's primal examples of tyranny'. He accepts that tales of their paranoid depravity make historians uneasy."
New York Times: Review: 'Dynasty,' Tom Holland's Chronicle of the First Five Emperors Who Ruled Ancient Rome -- "Mr. Holland does not gloss over the holes or uncertainties in his story, but instead uses his knowledge of the period (which starts with the murder of Julius Caesar and concludes with Nero's suicide in A.D. 68) to place early and sometimes disputed accounts in context, and to give the reader a startlingly visceral sense of the violence and brutality and wretched excess of ancient Rome."
Financial Times: 'Dynasty: The Rise and Fall of the House of Caesar', by Tom Holland — "Tom Holland's Dynasty opens with the massed ranks of Roman legionaries standing on the seashore awaiting the emperor Caligula's orders to fill their burnished helmets with shells, spoils of the mighty victory that their deranged commander-in-chief claimed to have won over the ocean. This well-chosen vignette, splendid in its absurdity, encapsulates the recurrent theme of Tom Holland's rollicking account of the Julio-Claudians, the first imperial dynasty to rule over Rome: namely, the use and abuse of autocratic power."
Read An Excerpt Of "Dynasty" By Tom Holland
This program aired on January 20, 2016.