New Hampshire Primary 2016: The Politics
Play
This article is more than 7 years old.
We're live in New Hampshire for the first in the nation primary day, with all the latest on how the big vote is shaping up.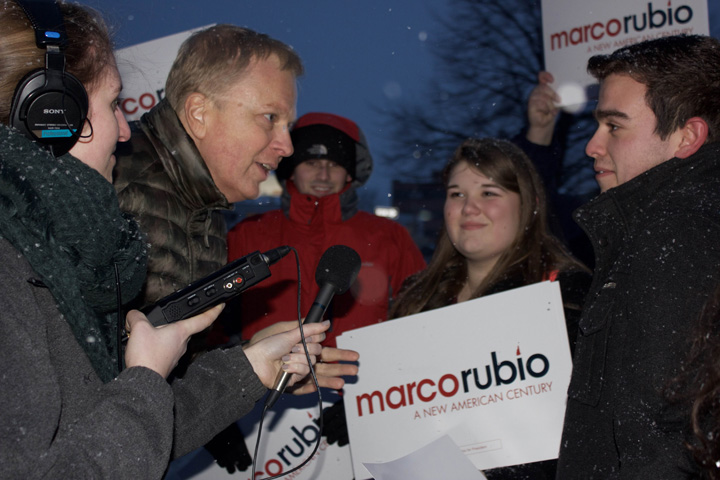 And we are in Manchester, New Hampshire for today's first in the nation primary vote. Iowa had its caucuses. In New Hampshire, it's a full, formal vote. Polling places, early returns, the works. And of course, every presidential candidate wants to win it or at least get a bump, a boost, keep their hopes alive. The snow is fresh and it's crunchy cold here, and we've been out in it, up close and personal with the contenders, with voters. It's a scene. This hour On Point, we are in the thick of New Hampshire's primary vote.
-- Tom Ashbrook
Guests
Lisa Lerer, national political reporter for the Associated Press. (@llerer)
Andy Smith, professor of political science at the University of New Hampshire, where he is also the director of the UNH Survey Center. Co-author, with David Moore, of "The First Primary." (@smithanh)
Jack Beatty, On Point news analyst. (@JackBeattyNPR)
Anthony Brooks, senior political reporter for WBUR. (@anthonygbrooks)
Byron York, chief political correspondent for the Washington Examiner. Fox News contributor. Author of "The Vast Left Wing Conspiracy." (@ByronYork)
From Tom's Reading List
Associated Press: For the Clintons, New Hampshire is the state of 2nd chances — "They are the Clintons. It is New Hampshire. And here we all are again. For nearly 25 years, New Hampshire has been the backdrop for some of the most memorable Clinton comebacks, pleas, denials, hustle, glory and drama. Now those ghosts of primaries past are trailing Hillary Clinton as she tries — perhaps, one last time — to pull off another one for the history books."
WBUR: Why The Ground Game Matters For Presidential Candidates In New Hampshire -- "Across New Hampshire, there are thousands of volunteers from different campaigns heading into neighborhoods with clipboards and smartphone apps trying to locate undecided voters. Others are dialing phones from offices inviting voters to campaign events and asking for support."
Washington Examiner: As vote nears, a more radical Trump emerges — "It's hard to tell how well Trump's appeal is working. He has dipped a bit in New Hampshire polls in recent days. The Plymouth State event had a big crowd, but not a huge one. A lot of people there were still undecided, and I also talked to a number of students — Sanders supporters all — who came to the rally for kicks."
This program aired on February 9, 2016.