Dealing With The Zika Threat
Resume
Taking on the Zika virus, from tackling the disease itself, to killing the mosquitoes that carry it to the challenge of birth control.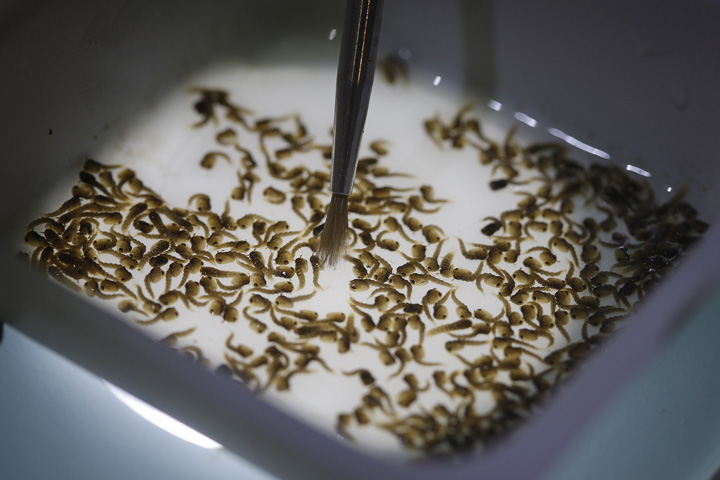 The Zika virus is still on a roll. And getting everybody's attention. U.S. Olympic soccer star Hope Solo says if she had to choose today she would not attend the Rio Olympics this summer. Too much risk to a baby. In Brazil, they're sending 200,000 soldiers out this weekend to try to and knock back the mosquitos. In the US, President Obama has asked for almost $2 billion to fight Zika. This hour On Point, what it's really going to take to tackle the Zika virus, here and abroad.
-- Tom Ashbrook
Guests
Wyre Davies, South America correspondent for BBC News. (@WyreDavies)
Andrew Pekosz, virologist and molecular microbiologist. Director of the Center for Emerging Viruses and Infectious Diseases at the Bloomberg School of Public Health at Johns Hopkins University. (@andrewpekosz)
Megan Wise de Valdez, biologist and zoologist and professor of biology at Texas A&M University-San Antonio. Expert on mosquitoes and vector-borne diseases.
Carl Kendall, professor of public health  and director of the Center for Global Health Equity at Tulane University.
From Tom's Reading List
BBC News: Zika outbreak: Brazil's race to find a vaccine — "Emphasising the importance of international co-operation in the race to find a Zika vaccine, researchers admit it could take at least 10 years to develop and produce. Easing long-established international protocols, as was the case when dealing with the Ebola outbreak in Central Africa, could reduce that timescale but the outlook isn't good for immediately easing the fears of people in affected areas."
NPR News: Zika In French Polynesia: It Struck Hard In 2013, Then Disappeared -- "Before Zika swept across most of Latin America and the Caribbean, the largest outbreak ever recorded had been in French Polynesia. From 2013 until early 2014, researchers estimate nearly 20,000 people on the cluster of islands in the South Pacific were infected with the virus. French Polynesia's brush with Zika underscores fears that the mosquito-borne virus could cause devastating neurological problems but also offers insights into the disease — and hope that Zika can be contained."
Guardian: WHO warns against rush to link Zika virus to Guillain-Barré syndrome — "The World Health Organisation (WHO) has urged caution about linking the Zika virus with a rare nerve disorder called Guillain-Barré which health officials in Colombia have blamed for three deaths."
This program aired on February 10, 2016.