With the sudden death of conservative Supreme Court Justice Antonin Scalia, a battle looms over who will replace him.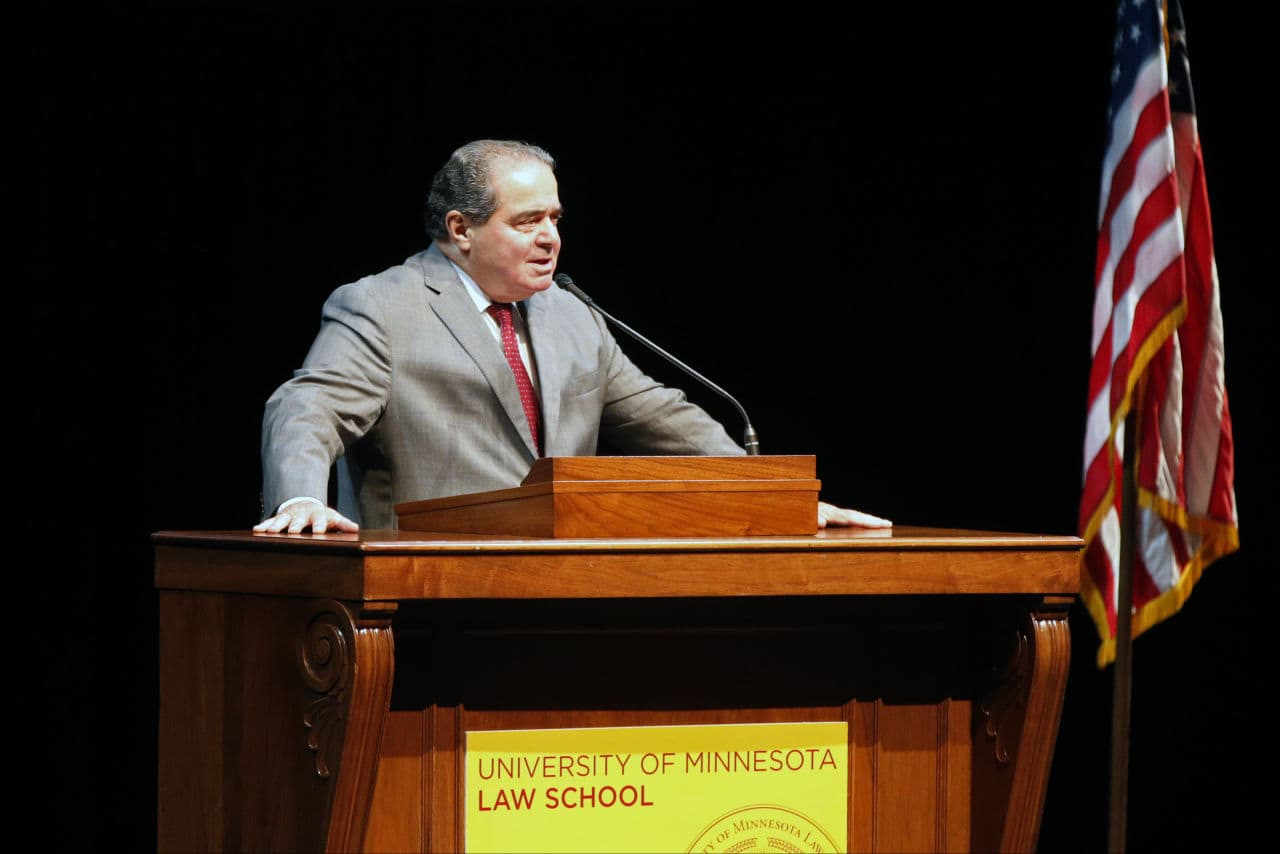 A stunning development for the U.S. Supreme Court this weekend, with news that Justice Antonin Scalia was found dead in his room at a luxury hunting resort near the Mexican border in Texas. He was 79. Natural causes, says a local judge. Scalia was the fiery leader of the conservative wing of the court, where frequent 5-4 decisions make any change of membership hugely consequential. President Obama says he will nominate a successor. Republicans say, "Don't."  This hour On Point, after Scalia.
-- Tom Ashbrook
Guests
Ryan Grim, Washington Bureau chief for the Huffington Post. (@ryangrim)
David Savage, Supreme Court reporter for the Los Angeles Times. (@davidgsavage)
Laurence Tribe, professor of Constitutional law at Harvard Law School. Author, with Joshua Matz, of the book "Uncertain Justice," among many others.
From Tom's Reading List
Los Angeles Times: Justice Antonin Scalia's death shifts balance of high court, creates major election issue -- "The death of Justice Antonin Scalia, the Supreme Court's most acerbic conservative voice, immediately changes the balance of the nation's highest court and thrusts its future into the center of the already intense presidential campaign."
Vox: Replacing Antonin Scalia will be a profound test of the American political system — "The test is simple. Can divided government actually govern, given today's more polarized parties? In the past, it could. In 1988, a presidential election year, a Democratic Senate unanimously approved President Ronald Reagan's nomination of Anthony Kennedy to the Supreme Court. The Senate wasn't passive; it had previously rejected Reagan's initial nominee, Robert Bork, and his second choice Douglas Ginsburg dropped out of the running. However, it ultimately did its job — even amidst an election and divided party control of the government."
POLITICO Magazine: How the Supreme Court Became a Hot-Button Issue -- "it's silly to pretend that the brouhaha over Scalia's replacement is about anything other presidential politics. Ask yourself what would have happened had a conservative justice died or resigned just after the Republicans had taken control of the Senate in January 2015. It's highly likely that no Obama nominee could have been confirmed. That's why Justice Ruth Bader Ginsburg, an 81-year-old cancer survivor, says she didn't resign. From a conservative viewpoint, a 4-4 court is far better than putting a more liberal justice on the bench for the next few decades."
This program aired on February 15, 2016.