Week In The News: Sanders' Michigan Surprise, Sharapova Stunner, Remembering Nancy Reagan
Play
This article is more than 7 years old.
Michigan feels the Bern.  Trump rolls on. Peyton Manning bows out. Farewell to Nancy Reagan. Our weekly news roundtable goes behind the headlines.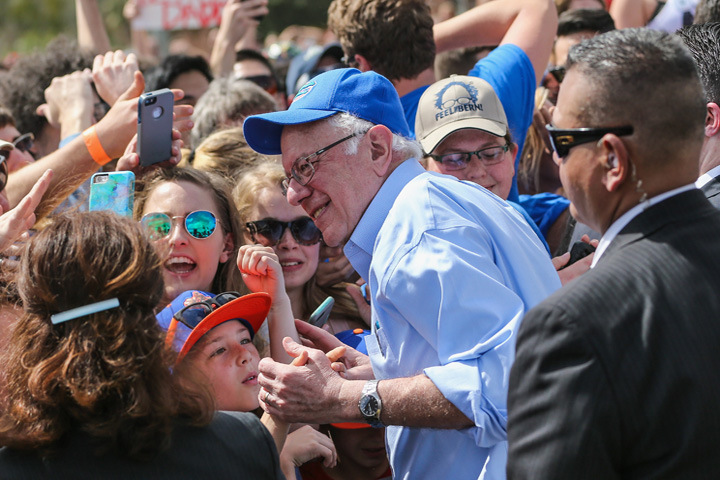 Primary politics getting down to more and more serious moves this week. Bernie Sanders with a big must-win win in Michigan.  illary Clinton notching more delegates. Republicans sobering up in debate last night as key Ohio and Florida votes loom. The word "civil" was used. Amazing. We've got Canada's Justin Trudeau in Washington. ISIS files on 20,000 fighters. Peyton Manning all done. Nancy Reagan dies. This hour On Point, our weekly news roundtable goes behind the headlines.
-- Tom Ashbrook
Guests
Kristen Welker, NBC News correspondent covering the 2016 race. (@kwelkernbc)
Henry Gomez, chief political reporter for Cleveland.com and the Cleveland Plain Dealer. (@HenryJGomez)
Jack Beatty, On Point news analyst. (@JackBeattyNPR)
From Tom's Reading List
Cleveland.com:Michigan primary gives John Kasich a bit of confidence as presidential race shifts to Ohio -- "As John Kasich took the stage here Tuesday, he theatrically kissed the ground. The meaning of the gesture was clear: There's no place like home. Meanwhile, Michigan voters were lending the Ohio governor a little neighborly sugar. With 97 percent of the ballots counted, Kasich trailed Texas Sen. Ted Cruz in a very close race for second — behind front-runner Donald Trump — in the state's Republican presidential primary."
NBC News: Ted Cruz to Get First Senate Endorsement from Utah's Mike Lee -- "Republican Presidential candidate Ted Cruz will pick up his first Senate endorsement Thursday when Sen Mike Lee, a Republican from Utah, will announce he's backing Cruz, sources familiar with the decision tell NBC News. The endorsement comes just days before key contests in Ohio and Florida, and it gives the Texas Republican momentum after winning Idaho on Tuesday and receiving the endorsement of former Republican candidate Carly Fiorina on Wednesday."
Washington Post: Nancy Reagan dies at 94; first lady was a defining figure of the 1980s — "As first lady from 1981 to 1989, Mrs. Reagan had a knack for inviting controversy — from her spending habits to her request that the White House abide by an astrologer when planning the president's schedule. But the controversies during her years as first lady often obscured her profound influence on one of the most popular presidents in modern history. They were a universe of two, and their legendary devotion helped define the Reagan presidency."
Watch Video Of A Trump "Voter Pledge" Rally In North Orlando, FL
This program aired on March 11, 2016.