The Boston Globe Imagines — And Rejects — A President Trump Front Page
16:56
Play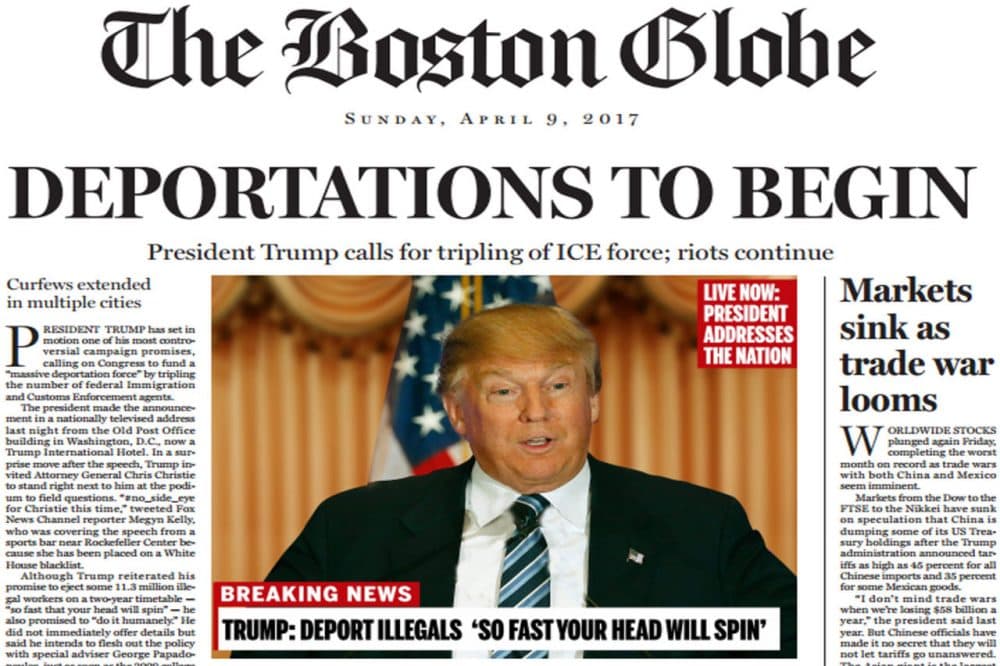 This article is more than 5 years old.
It is not April 10, 2017, and the U.S. presidential election is still well in play. But that didn't stop the Ideas section of the Boston Globe from imagining a future under President Donald Trump. Their scathing editorial and satirical front page mock up drew many eyes this weekend — and our attention, as well.
Kathleen Kingsbury, the deputy managing editor of the Boston Globe editorial page and editor of the paper's Ideas Section, joined us today to explain her paper's choices.
"We did this an exercise in taking Donald Trump at his word," Kingsbury said. "Frankly, his vision of America promises to be as appalling in real life as it does in black and white on the page."
Among the imagined future headlines? Mass deportations and broad public riots, a global trade war and even an Ambassador Kid Rock.
"This is one way we are doing our jobs — we are commenting on the news through opinion to get people talking about what the future of America looks like with Donald Trump in the White House," Kingsbury said. Listen to her conversation with us — and our callers — above.
This segment aired on April 11, 2016.