The Threat To Grauer's Gorillas
Resume
Great gorillas being wiped out by war and poaching. We'll go to the mountains of Africa. Plus, after the Ivory burn in Kenya- we look at the state of the world's elephants with paleoanthropologist Richard Leakey.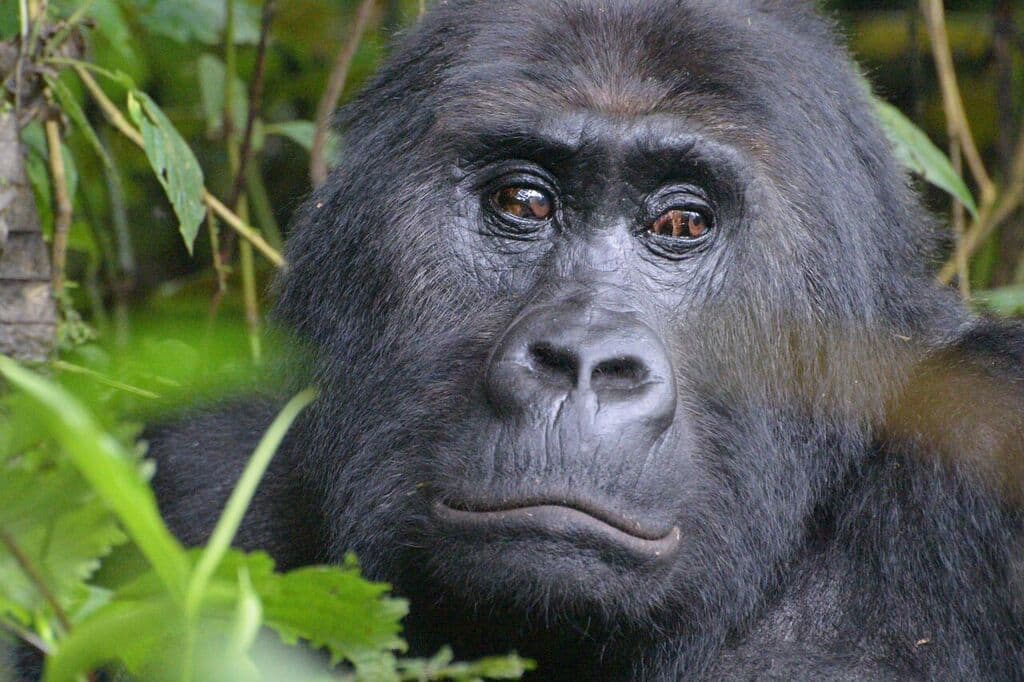 Africa's great wildlife– like species all over the world now– is under tremendous assault. The great apes, mountain gorillas, have with huge efforts inched back from the mere 250 remaining in the 1980s. But the Grauer's gorilla, the world's largest primate, has seen its numbers plummet under the weight of war, and charcoal burns, and miners eating bush meat while they dig minerals for your cell phone. This hour On Point: We're tracking endangered gorillas in the mists of Africa.
-Tom Ashbrook
Guests
Stuart Nixon, field program coordinator at England's Chester Zoo. Co-author of a new study on Grauer gorillas and Chimps in Eastern Congo, funded by the Wildlife Conservation Society and Fauna & Flora International.
Holly Dranginis, senior policy analyst at the Enough Project, a non-profit that studies the impact of economics and war on the environment focusing mostly on Congo, Sudan and the Central African Republic. Expert on conflict minerals and issues wildlife poaching and trafficking.
From Tom's Reading List
Grauer's Gorillas May Soon Be Extinct, Conservationists Say — "Researchers finally have an updated gorilla head count — one that confirms their fears. According to findings compiled by an international team of conservationists, Grauer's gorilla populations have plummeted 77 percent over the last 20 years, with fewer than 3,800 of the animals remaining." (New York Times)
Grauer's gorilla: world's largest great ape being wiped out by war — "The subspecies of gorilla - also known as the Eastern lowland gorilla - is only found in the eastern Democratic Republic of Congo (DRC). Weighing up to 180kg, they are closely related to mountain gorillas. War in the region has affected wildlife through increased deforestation, and the area has seen an increase in the illegal bushmeat trade and illegal mining. Conservationists also blame the expansion in mining for coltan - a key mineral used in the manufacturing of mobile phones - for contributing to the gorilla's decline." (The Guardian)
It Is Up to My Country to Ensure that the Grauer's Gorilla Does Not Disappear — The decline in Grauer's gorillas can be traced back to the Rwandan genocide in 1994, which forced hundreds of thousands of refugees to flee to the DRC. This in turn led to a civil war in my country in 1996. The war continued until 2003 with devastating consequences, including an estimated 5 million people killed. In addition to the human tragedy, the war took a toll on our wildlife as a result of insecurity, heightened illegal bushmeat trade, and increased deforestation. (National Geographic)
The State of the World's Elephants
Richard Leakey, paleoanthropologist, conservationist and politician. Chairman of Kenya Wildlife Services.
Kenya Sets Ablaze 105 Tons of Ivory — By the time the last flames flickered out Saturday night, Kenya will have reduced 105 tons of elephant ivory and 1.35 tons of rhino horn to smoldering ash—the final remains of some 6,500 elephants and 450 rhinos killed for their tusks and horns. As President Kenyatta said in a speech early Saturday, the burn is meant to send a strong and clear statement to the world: "For us, ivory is worthless unless it is on our elephants." (National Geographic)
After 145 years, Ringling Bros. Circus elephants perform for the last time— "Decades of litigation, protest and mounting scrutiny from swaths of animal rights activists, as well as a shifting public opinion toward the captivity and use of wild animals for entertainment, forced the circus to phase out its long-running elephant act for good. Feld Entertainment Inc., the circus's parent company, announced the decision in March 2015, initially planning to retire their remaining touring elephants by 2018. But nearly a year later, the company said their elephants would perform for the final time in May, at least 18 months earlier than expected." (Washington Post)
This program aired on May 6, 2016.