Michael Brown's Mother On Her Son's Life, Death
Play
This article is more than 6 years old.
Michael Brown's death in Ferguson by a white police officer set off a nationwide debate on racial justice. His mother, Lezley McSpadden, is now speaking out in a new book. She joins us. Plus, a closer look at the scrutiny surrounding the black female West Point cadets who posed for a photo with hands raised in fists.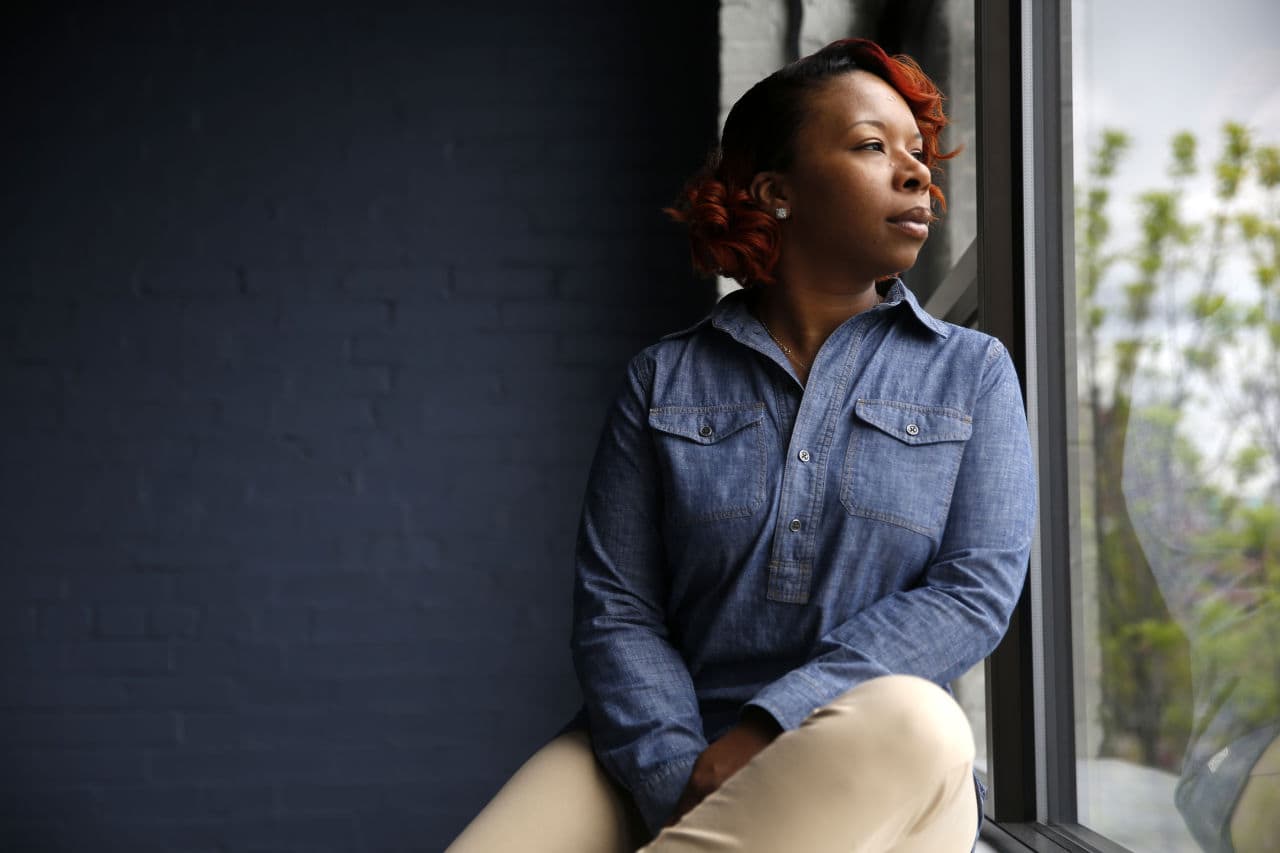 August 9, 2014, young Michael Brown was shot and killed by a white police officer on the street in Ferguson. Missouri. Ferguson blew up. And it didn't stop there. Riot and fires. Hard questions. The Black Lives Matter movement. Tough new awareness. In the thick of it has been Michael Brown's mother, Lezley McSpadden. She raised him as a teenager herself. Got the call as he lay in the street. Stood by his casket. Now she's talking. This hour On Point: the mother of Michael Brown.
-Tom Ashbrook
Guests
Lezley McSpadden, author of Tell the Truth and Shame the Devil: The Life, Legacy, and Love of my Son Michael Brown. Founder of the The Michael O. D. Brown We Love Our Sons & Daughters Foundation. Mother of Michael Brown.
Wesley Lowery, national reporter for the Washington Post covering law enforcement, justice, race, and politics. (@WesleyLowery)
From Tom's Reading List
In new Memoir, Michael Brown's Mother Bares Her Son's Life- and Her Own — "What, she asked, if a police video camera had captured footage of the fatal altercation? 'It would have given me the truth,' McSpadden testified at the time. 'It would have answered a lot of unanswered questions.' Those same unanswered questions seem to comprise the core of McSpadden's new memoir, Tell the Truth and Shame the Devil, which is being released today. Co-authored with Lyah Beth LeFlore, the book spends considerable real estate on McSpadden's tumultuous childhood and relationships with the fathers of her four children. Over 250 pages, McSpadden traces the steps leading up to her son's death." (River Front Times)
Study finds police fatally shoot unarmed black men at disproportionate rates — "In 2015, The Post documented 990 fatal shootings by police, 93 of which involved people who were unarmed. Black men accounted for about 40 percent of the unarmed people fatally shot by police and, when adjusted by population, were seven times as likely as unarmed white men to die from police gunfire, The Post found." (Washington Post)
In fatal shootings by police, 1 in 5 officers' names go undisclosed — "For 2015, reporters obtained the names of officers responsible for 780 of the 990 shootings. In about 600 shootings, officers' names were disclosed by police departments in news reports. In a handful of cases, names came to light through lawsuits or leaks to the news media. Where the names remained unknown, The Post contacted the departments and requested the officers' identities. In 145 fatal shootings, the departments declined to release the names to The Post, citing pending investigations, state or federal records laws, agreements with police unions or department policies. In another 65 fatal shootings, the departments did not respond to multiple requests for information." (Washington Post)
West Point Cadets Raise Fists In Photo
Vanessa DeLuca, editor-in-chief of Essence magazine. @Vanessa_KDeLuca
Mary Tobin, 2003 graduate of United States Military Academy at West Point. She served as a communications officer in the army for 8 years.
Strong, Proud Black Women at West Point — "It is telling that of all the photographs the women took, the one of them with their fists raised was one widely circulated by media outlets. The photo might never have gone viral were it not for online accusations by John Burk, a white male Army veteran, who associated the raised fists with the "Black Lives Matter" movement and "the deaths of police officers." (Wall Street Journal)
This program aired on May 11, 2016.