Payday Lending Under New Fire
Resume
Google is taking a stand, banning ads for short-term, payday loans. We'll take a deep look at payday lending.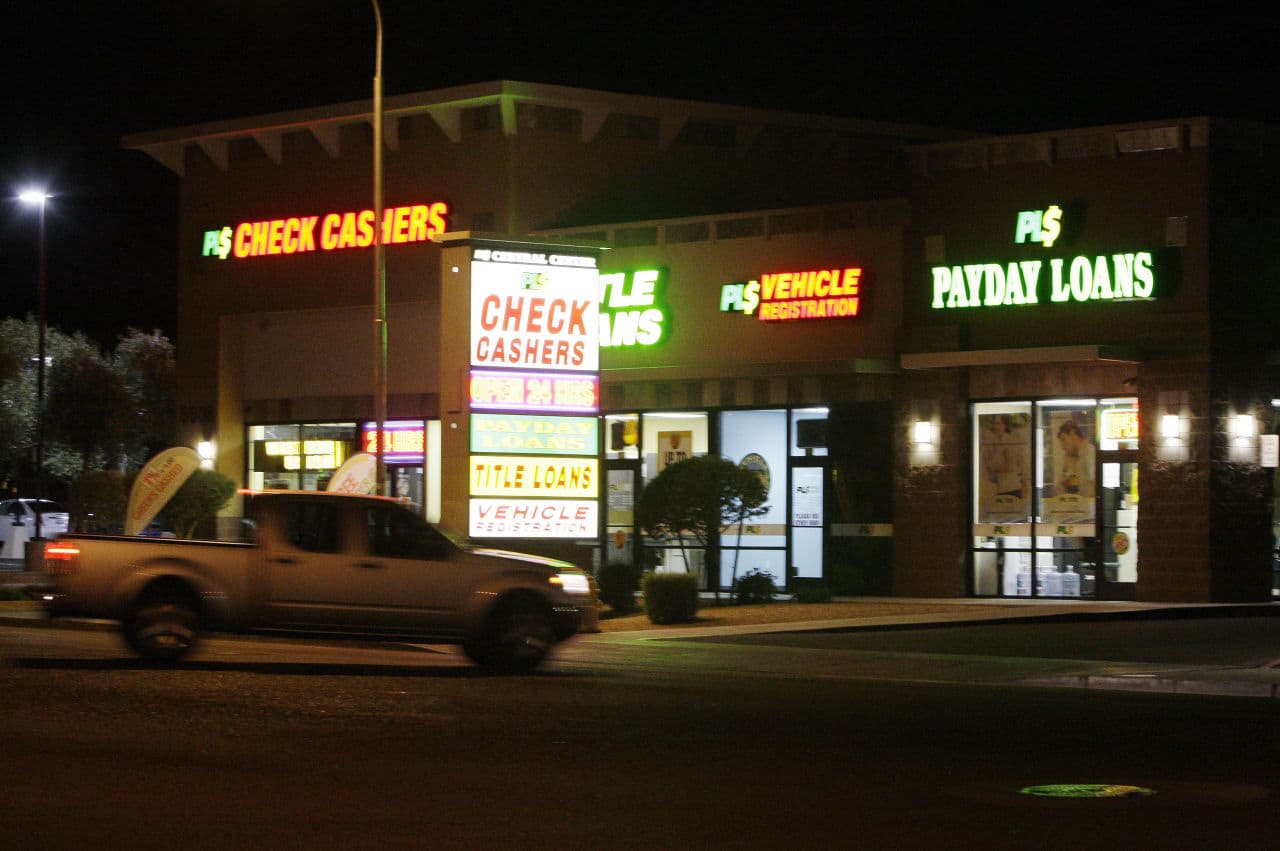 Everybody knows payday loans are a lousy deal. How lousy? So lousy that interest rates for short-term loans run at 300, 400, 500, even 1,000 percent annualized interest. So lousy that last week Google said it will no longer run ads for payday lenders, putting them in the company of guns, fireworks and tobacco. But lots of cash-strapped Americans use them, for a reason. They need the money. To pay the rent. To get by. This hour On Point: the ugly facts of payday lending.
-Tom Ashbrook
Guests
Aaron Rieke, principal at the tech consulting firm Upturn. He was part of a coalition that worked with Google to form the policy banning payday loan ads. (@aaronkbr)
Bethany McLean, contributing editor to Vanity Fair, financial journalist. Her recent piece in The Atlantic is Payday Lending: Will Anything Better Replace It. (@bethanymac12)
Mehrsa Baradaran, law professor at the University of Georgia. Author of How the Other Half Banks: Exclusion, Exploitation, and the Threat to Democracy. (@MehrsaBaradaran)
Dennis Shaul, CEO of the Community Financial Services Association of America, a trade association representing small dollar, short-term, or payday advances.
From Tom's Reading List
Google bans ads for payday loans — "Google is coming at this change from a couple of angles. For one, it's kind of just the right thing to do: it prevents some people from taking out a potentially harmful loan, and it means Google isn't profiting off of their misfortune. Google also benefits by making its other ads more trustworthy. Other types of loans, like car and student loans, can still be advertised. This policy may make Google's visitors more likely to trust the ads they come upon." (The Verge)
Payday Lending: Will Anything Better Replace It? — "The stakes are very high, not just for the lenders, but for the whole "new middle class." It seems obvious that there must be a far less expensive way of providing credit to the less creditworthy. But once you delve into the question of why rates are so high, you begin to realize that the solution isn't obvious at all." (The Atlantic)
Payday Loans — And Endless Cycles Of Debt — Targeted By Federal Watchdog — "Repeat borrowers are the heart of the payday business. Government researchers found that 4 out of 5 payday borrowers had to renew their loans, typically before their next paycheck. And 1 in 5 renewed at least seven times, with the accumulated fees often exceeding the amount originally borrowed. Regulators are also considering alternatives to the ability-to-pay standard, including limits on the number of loan renewals, as well as mandatory repayment plans." (NPR)
This program aired on May 17, 2016.