Predicting Murder In Chicago
Play
This article is more than 6 years old.
Predictive policing. With violence on the rise, Chicago has turned to big data to predict gun and gang violence.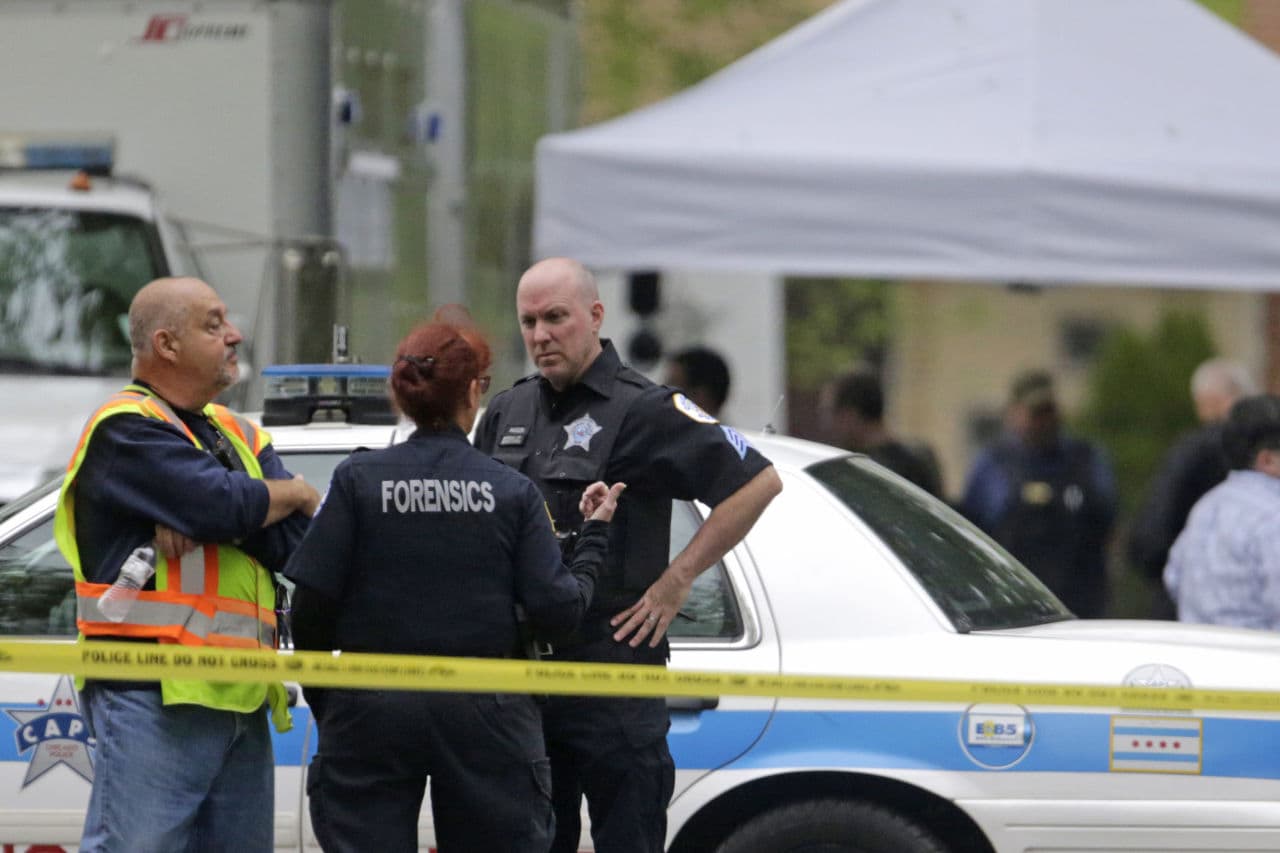 Chicago's murder rate – with gun deaths at the fore – is soaring again. Off the charts. Up another 50 percent from last year this time, and last year was already bad. Chicago police are desperate for an answer. What they've been trying is called "predictive policing." Just 1,400 Chicagoans out of nearly three million are responsible for most of the violence. So, fire up an algorithm and predict who will murder. Who will be murdered. And try to stop it. This hour On Point, predictive policing in Chicago.
-- Tom Ashbrook
Guests
Jeremy Gorner, crime reporter for the Chicago Tribune. (@JeremyGorner)
Simone Weichselbaum, staff writer at the Marshall Project, a non-profit news organization that writes about the American criminal justice system. (@SimoneJWei)
Deputy Chief Jonathan Lewin, deputy chief of the Chicago Police Department's technology and records group, where he oversees mapping and predictive policing. (@cpd_tech)
Norman Livingston Kerr, vice president for violence prevention at UCAN, a Chicago-based anti-violence group.
Eric Piza, professor at the John Jay College of Criminal Law. (@pizaeric)
From Tom's Reading List
The Marshall Project: The 'Chicago Model' of Policing Hasn't Saved Chicago — "Local rappers have branded the city Chi-raq. It's no stretch. Chicago's 2015 citywide homicide rate was 17 per 100,000 residents, compared with a national rate of four. In Chicago's 11th police district the rate is 62. (Iraq's rate is 20.)"
Los Angeles Times: Nearly 1,400 people shot this year as Chicago braces for summer violence -- "The number of people shot in Chicago is running 50% above the figure from this time last year as the city braces for the summer, traditionally its most violent period. So far this year, at least 1,382 people have been shot in Chicago, and at least 244 of them have died of their wounds. Last year at this time, 904 people had been shot, 157 of them fatally."
FiveThirtyEight: We Now Have Algorithms To Predict Police Misconduct — "Many police departments have early warning systems — software that tracks each officer's performance and aims to forecast potential problems. The systems identify officers with troubling patterns of behavior, allowing superiors to monitor these cops more closely or intervene and send them to counseling."
This program aired on May 25, 2016.