The Unofficial (And Ever-Changing) V.P. Shortlist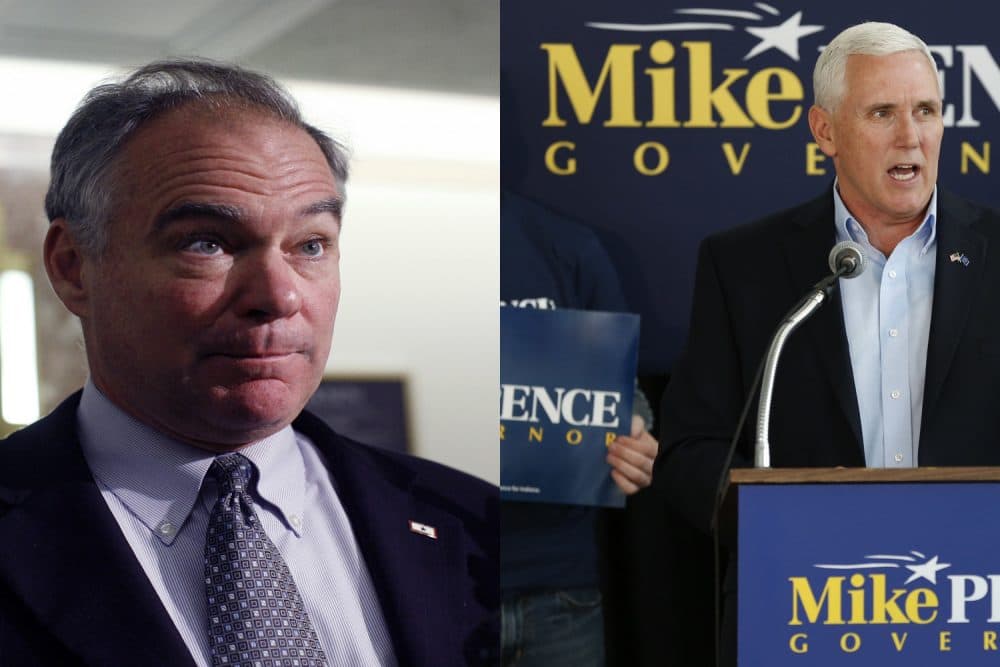 This article is more than 4 years old.
If you missed our July 5, 2016 broadcast, you'd be forgiven for thinking that the vice presidential race, or "Veepstakes," is clear and done with before the upcoming Republican and Democratic National Conventions. It most certainly isn't — and the backroom chatter among Washington, D.C. journalists and political insiders will definitely continue right until the presumptive candidate for each major political party roll out their VP picks in the coming weeks.
So who's on each candidate's shortlist? And why are they a good (or bad) pick? We compiled our guests' best bets here, along with possible pros and cons behind the options.
---
Donald Trump's Possible VP Shortlist 
Gov. Mike Pence (R-IN) -- Social conservative running for re-election in a Midwestern state Trump needs to win in November. (President Obama won in 2008, Mitt Romney won in 2012). Served 10 terms in Congress, and has insider experience Trump might need as president. On July 15, Trump tweeted that he had selected Pence to be his Vice Presidential running mate.
Sen. Joni Ernst (R-IA) -- Her surprise victory in the 2014 Republican Senate primary in her must-win home state drew Ernst national attention as a rising star in the G.O.P. Additionally, her status as a Army National Guard veteran lends her an important military angle. Sen. Ernst suggested in an interview with POLITICO on July 6 that she is no longer being considered for the VP slot.
Newt Gingrich (R-GA) -- The former U.S. Speaker of the House and 2012 presidential candidate has "been very kind" to Trump and said "nice things" about the outsider candidate throughout the 2016 primary cycle.
Gov. Chris Christie (R-NJ) -- The fiery New Jersey Governor is known for his "outsize personality," and has directed the Trump campaign's transition team. Still, our guests note, Christie might be too much of a wild card for a candidate who prizes internal loyalty over all else.
Sen. Bob Corker (R-TN) — The chair of the Senate Foreign Relations committee campaigned with Trump in early July. But it hasn't always been clear how committed Corker was to the Trump vision of the Republican Party.  Sen. Corker officially pulled out of the VP running on July 6 in an interview with the Washington Post.
Sen. Tom Cotton (R-AR) -- The young, Harvard-educated former U.S. Rep. is also a military veteran and active critic of the Obama Administration's foreign policy. He is among several high profile Republican elected officials specifically highlighted by Trump in recent tweets.
---
Hillary Clinton's Possible VP Shortlist 
Sen. Tim Kaine (D-VA) -- The former Virginia governor is bilingual — and, by his own account, rather boring. That predictability moves him to the top of Clinton's list, and also makes him  a possible "fake out."
Sen. Elizabeth Warren (D-MA) — Many Democratic Party progressives wanted the Massachusetts Senator to run for president herself this cycle, and many more see her potential vice presidential bid as a way to tie the party's traditional core with that of the progressive wing who voted in large numbers for fellow Sen. Bernie Sanders. It's not yet clear how the nation would treat a presidential ticket led by two women.
Sen. Cory Booker (D-NJ) — The former mayor of Newark drew raves for his personal approach to governing in the struggling New Jersey city. Any demographic advantage his addition might bring to Clinton's campaign is rendered mostly useless by the unprecedented degree of anti-Trump feelings among most of the nation's ethnic minority groups.
Sec. Julian Castro -- The Secretary of Housing and Urban Affairs regularly made early VP shortlists for the progressive and demographic advantages he could add to Clinton's presidential bid. So his "not too exciting" campaign efforts thus far have pushed him to the back of the pack in recent weeks. (Labor Sec. Tom Perez has a similar lack of enthusiasm problem.)
Rep. Xavier Bercerra (D-CA) -- The longtime California representative draws excitement where many other possible campaign surrogates do not, stumping in both English and Spanish and making a strong case for why Clinton could be the next president of the United States.
Did we miss your pick for Republican or Democratic vice presidential nominee? Tell us in the comments below, or on Twitter or Facebook.