Widespread Judicial Action On National Voting Laws
46:24
Play
This article is more than 4 years old.
With guest host Sacha Pfeiffer.
Voter restriction laws struck down in North Carolina, Wisconsin and Texas. We'll look at the battle over voting rights around the country.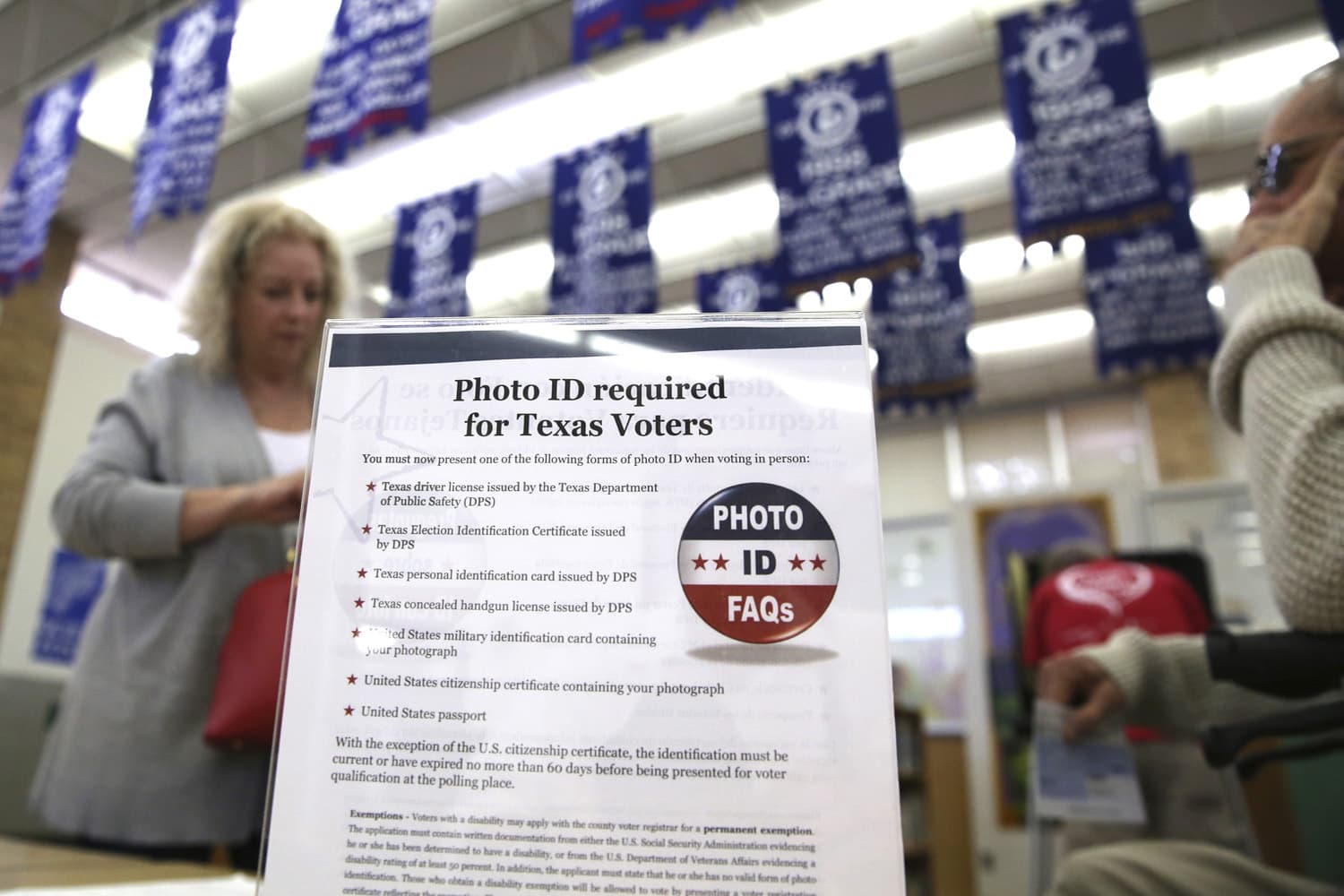 One after another after another, voting laws nationwide that many people claimed were racially discriminatory are being struck down. Federal courts have ruled the laws were designed to make it harder for minorities to vote through tactics like requiring photo IDs or limiting early voting. But critics say some of these were common-sense reforms.This hour On Point, the legacy of race at the polls, and how much oversight is still needed to make sure everyone gets the right to vote. -- Sacha Pfeiffer 
Guests
Kareem Crayton, visiting professor at Vanderbilt University Law School. Founder and managing partner at Crimcard Consulting Services. (@KareemCrayton)
Ari Berman, senior contributing writer at The Nation and fellow at the Nation Institute. Author of the book, "Give Us The Ballot." (@AriBerman)
John Fund, columnist for the National Review. Author of "Stealing Elections" and co-author, with Hans von Spakovsky, of "Who's Counting?" (@johnfund)
From The Reading List
The Nation: 6 Major GOP Voting Restrictions Have Been Blocked in 2 Weeks — "In the past 10 days, courts have issued six major decisions against GOP-backed voting restrictions in five different states. On Friday, an array of new voting restrictions were struck down in North Carolina, Wisconsin, and Kansas. This followed rulings the previous week softening voter ID laws in Texas and Wisconsin and striking down Michigan's ban on straight-ticket voting. When you include a court decision in Ohio from May reinstating a week of early voting and same-day registration, anti-voting laws in six states have been blocked so far in 2016."
The Wall Street Journal: Voter ID and the Real Threat to Democracy -- "The Supreme Court concluded in 2008 that voter ID is constitutional and doesn't impose an unreasonable burden on voters. But the recent decisions of three federal courts throwing out voter-ID laws in North Carolina, Texas and Wisconsin as discriminatory have put opponents of common-sense election reforms in raptures. These erroneous rulings twist the Voting Rights Act from a law intended to stop racial discrimination into one that transfers the power to determine routine election procedures—which the Constitution delegates to the states—to the judiciary."
Raleigh News & Observer: 4th U.S. Circuit judges overturn North Carolina's voter ID law -- "Federal appellate judges on Friday struck down a 2013 law limiting voting options and requiring voters to show photo ID at the polls, declaring in an unsparing opinion that the restrictions 'target African Americans with almost surgical precision.' The three-judge panel of the U.S. 4th Circuit Court of Appeals found that the law was adopted with 'discriminatory intent' despite lawmakers' claims that the ID provision and other changes were designed to prevent voter fraud."
This program aired on August 3, 2016.