Fires And Floods In California And Louisiana
47:09
Play
This article is more than 4 years old.
Wildfires force 82,000 to evacuate in California. Epic flooding in Louisiana. We're on the ground with the big picture.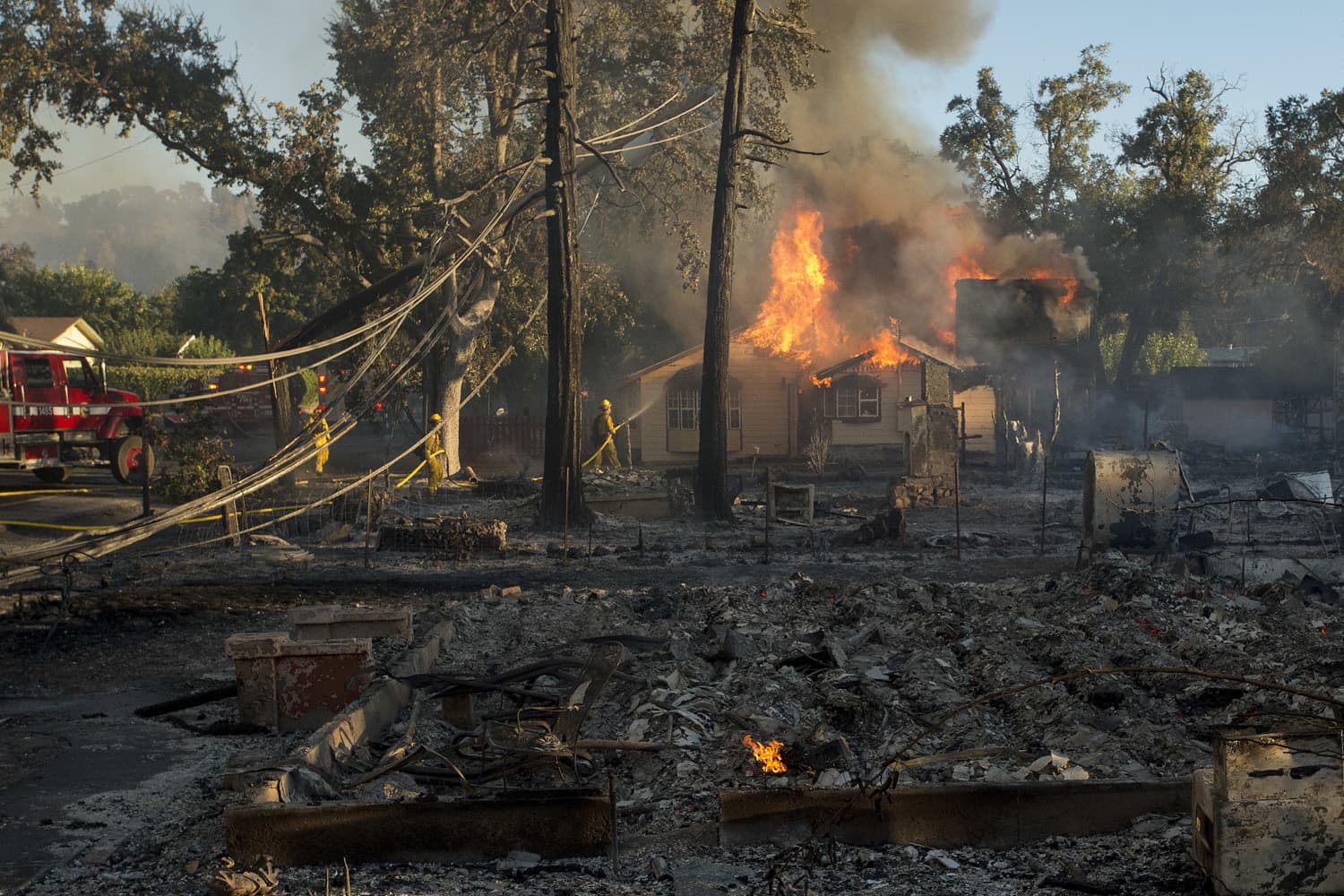 Fire and flood punishing California and Louisiana this week. The images are incredible. The reality is worse. Louisiana's unnamed deluge and flooding is being called the biggest US natural disaster since Superstorm Sandy. We've got storms that should happen once every five hundred or a thousand years happening all the time now. In California, long drought has made the Blue Cut fire explode like a bomb.  80,000 evacuees. This hour On Point, epic fire and rain, and what we're up against now. — Tom Ashbrook
Guests
Sharon McNary, infrastructure reporter for Southern California Public Radio. (@KPCCsharon)
Bill Patzert, climatologist at NASA's Jet Propulsion Laboratory in Pasadena, California.
Sue Lincoln, reporter for WRKF in Baton Rouge, Louisiana.
Barry Keim, professor at Louisiana State University in Baton Rouge. State climatologist for Louisiana.
Andrew Logan, director at Ceres, a network of investors and companies focused on sustainability. (@ALoganCeres)
From Tom's Reading List
KPCC: Blue Cut Fire explodes in size overnight to 47 square miles — "A wildfire burning out of control in the mountainous Cajon Pass that has prompted evacuation orders for more than 80,000 people exploded in size overnight, consuming nearly 47 square miles in less than 24 hours. By morning, the Blue Cut Fire had burned 30,000 acres in in San Bernardino County and forced school closures and evacuation orders affecting more than 34,000 homes."
Los Angeles Times: Homes burn, thousands flee as out-of-control brush fire chars 30,000 acres in Cajon Pass -- "With the Blue Cut fire heading in several directions since it broke out Tuesday morning, more than 80,000 people in rural San Bernardino County communities have been forced to flee. An unknown number of homes were destroyed, and there is no containment in sight. Firefighters have been put on the defense, and officials are bracing for an immense tally of devastation from flames fed by strong winds, dehydrated tinder and triple-digit heat."
KRKF: Surveying the Flooding in Acadiana — "For many of us here in south Louisiana, the whump-whump-whump of Blackhawks flying overhead is the sound of yet another disaster unfolding. But when Governor John Bel Edwards took the choppers into Acadiana Monday, he was trusting that the sound would bring hope to residents coping with flooding along the Vermilion and Mermentau rivers."
This program aired on August 18, 2016.