The Past, Present And Future Of Sushi
47:53
Play
This article is more than 3 years old.
What's the future of sushi? We look at tradition, sustainability and changing sushi tastes in America.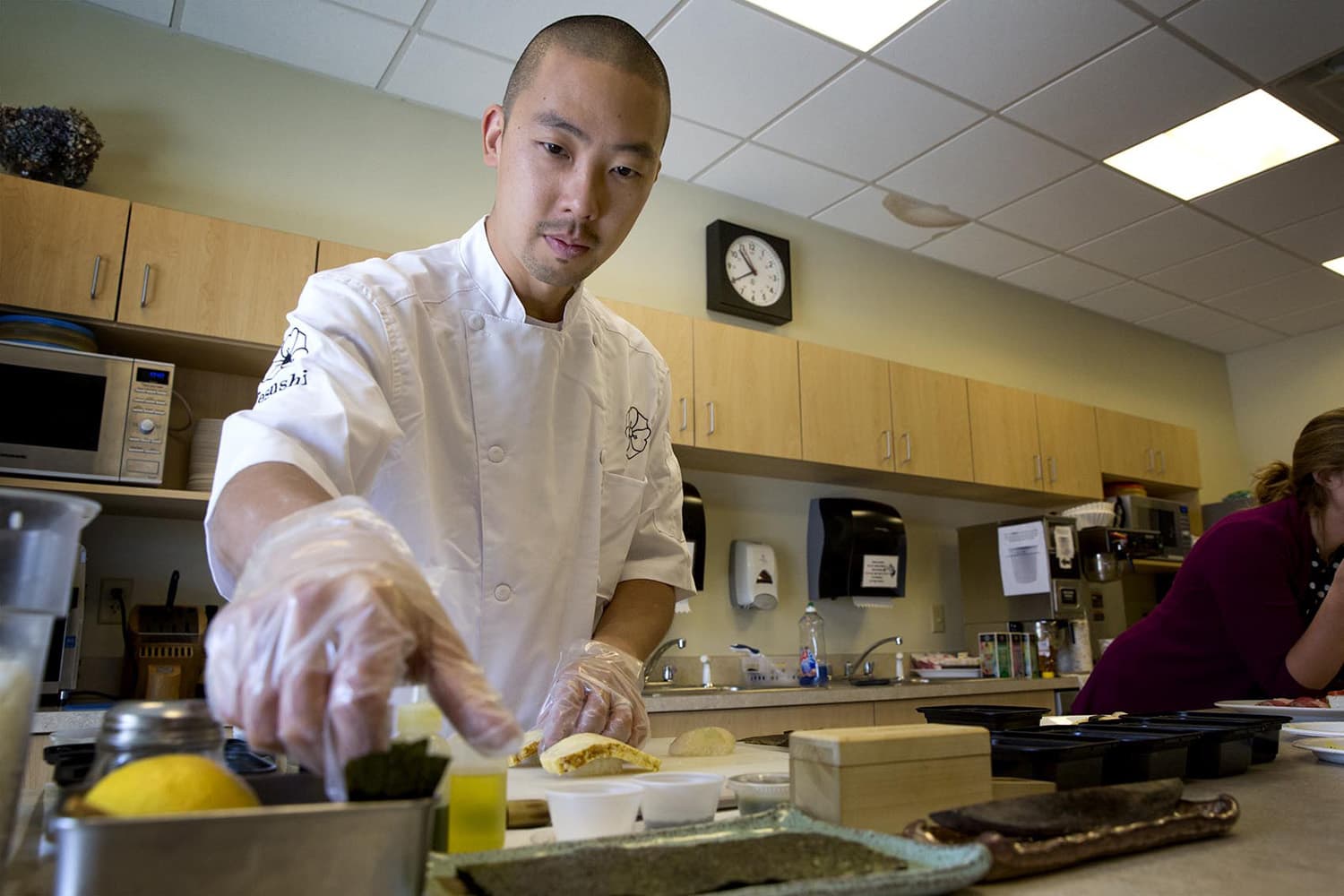 Once, sushi was exotic and simple. Raw fish, vinagered rice, a gift from Japan. Now, sushi is very familiar to many all over the world – certainly in the U.S. - but it has grown exotic in new ways. Wild directions. Sushi burritos. Cajun sushi. Sushi doughnuts! And it's grown endangered, along with global fish stocks of blue fin tuna and more. A lot of culture and questions converging around sushi. This hour On Point, we are rolling out the sushi, with top chefs and your questions. -- Tom Ashbrook
Guests
Seizi Imura, chef at Cambridge, MA's Café Sushi.
Hajime Sato, chef and owner of Mashiko, a fully-sustainable sushi restaurant in West Seattle, WA
From Tom's Reading List
Boston Globe: Cafe Sushi masters the art of raw fish — "Cafe Sushi is two restaurants in one. The first is your typical Japanese joint in America, offering caterpillar rolls and teriyaki. The second is the area's best secret sushi restaurant you've never been to. Of course, it's not much of a secret at all — it won a spot in Boston magazine's Best of Boston issue this year, and seats at the bar can be hard to come by. Earlier this year, chef Seizi Imura brought his food to a new audience, teaming with cocktail bar the Hawthorne for a pop-up dinner. Yet when people talk about where to get their raw-fish fix — your O Yas, your Unis, your Oishiis — Cafe Sushi is rarely on the list. It should be."
Refinery29: Four Weirdly Awesome, Trendy Sushi Hybrids We Did NOT See Coming -- "Until recently, we'd really only ever eaten sushi as rolls or hand rolls. But then a restaurant in New York City started serving a sushi burrito, and the internet never looked back. Since then, there have been countless photos of sushi hybrids (all based on already-trendy foods) posted to Instagram. They include burritos, burgers, cake, and even sandwiches."
Seafood Watch: Your Choices Matter — "Many of the fish we enjoy are in trouble due to desctructive fishing and farming practices. Purchase seafood caught or framed in ways that support a healthy ocean — now and for future generations."
Watch Chef Seizi Imura Demonstrate Some Simple Sushi Tips
This program aired on August 19, 2016.