Colin Kaepernick's Protest And Modern Patriotism
47:28
Play
This article is more than 4 years old.
San Francisco 49ers quarterback Colin Kaepernick's sits during the national anthem. We'll unpack the controversy and message from all sides.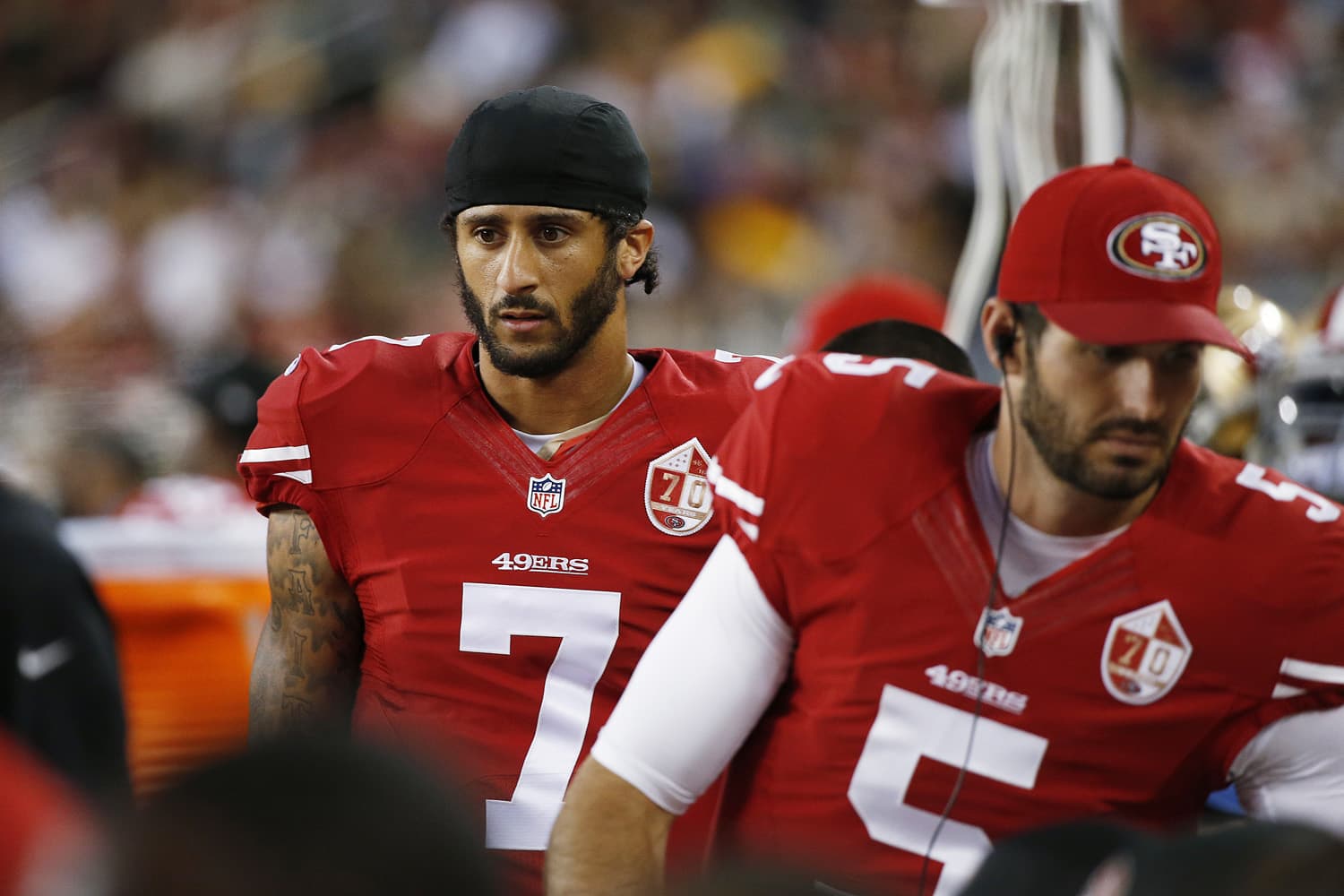 San Francisco 49ers NFL quarterback Colin Kaepernick didn't stand for the national anthem at the 49ers, Green Bay Packers game last Friday night. The fire is still burning over that. Kaepernick says it's a matter of principle. "I am not going to stand up to show pride in a flag for a country that oppresses black people and people of color," says the QB. Critics are harsh. "You stand during the national anthem," we hear. "People died for the flag." This hour On Point, sports, protest, color and Colin Kaepernick. -- Tom Ashbrook
Guests
Kevin Blackistone, regular ESPN panelist and professor of journalism at the University of Maryland.  Sports commentary writer for the Washington Post. (@ProfBlackistone)
Sarah Jackson, professor of communicaton studies at Northeastern University. Author of "Black Celebrity, Racial Politics and the Press." (@sjjphd)
David French, staff writer at the National Review. U.S. Army Reserve Major and veteran of Operation Iraqi Freedom. Co-author, with Jay Sekulow, Jordan Sekulow and Robert Ash, of "Rise of ISIS." (@DavidAFrench)
From Tom's Reading List
Christian Science Monitor: Is Colin Kaepernick the new face of American patriotism? -- "Ever since Mr. Kaepernick began to commit this taboo form of protest Friday, some athletes, fans, and columnists have said the 28-year-old is unpatriotic. But Kaepernick's protest may show a different type of patriotism, one that has become more popular among Millennials than many that came before them: loving your country enough to question it."
The Undefeated: Kaepernick is asking for justice, not peace — "There's an undeniable nobility in what was an impactful — but ultimately harmless — display, even if one disagrees. Kaepernick didn't do this in a crowd, surrounded by thousands. He sat alone, wearing a red, white and blue shield on his jersey. The NFL takes many of its cues from the military and has encouraged the idea that reverence for the military is a citizen's requirement, not choice. The draft is gone, but we've all been conscripted as unquestioning devotees whose gratitude can be demanded by anyone at any time."
National Review: Colin Kaepernick, Meet Henry Johnson -- "To be honest, I don't really care that much about Kaepernick's protest. Why should anyone pay mind to what this quarterback thinks about criminal justice or the facts of any given police shooting? He's indicting an entire nation based on his arbitrary, uninformed conclusions. The freedom our Constitution enshrines and our 'Star Spangled Banner' celebrates means he can voice those conclusions. And we can give them all the consideration they deserve, which is to say: very little. "
This program aired on September 1, 2016.