Apple's iPhone 7 And Beyond: The Future Of Smartphones
Play
This article is more than 6 years old.
What next for smartphones? Apple's got a new one out. Samsung's got a recall. We'll look at the smartphone future.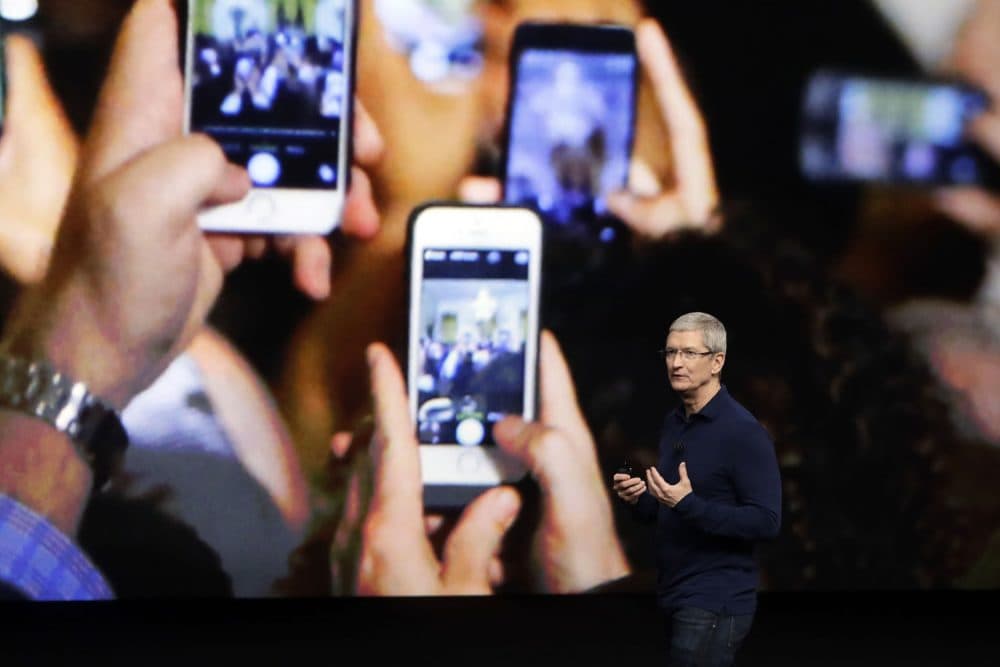 A new smartphone out from Apple yesterday: iPhone 7. No headphone jack. Fancy cameras. New colors. No revolution. But relentlessly in the near-decade now since the iPhone's debut, smartphones – Apple, Samsung and more – have flooded, changed, our lives. For many, they're almost attached to the hand. Constant, engrossing, increasingly powerful companions. This hour On Point: What's the next great evolution of the smartphone? And how are smartphones changing us? The way we live?
Guests:
Elizabeth Woyke, business editor at MIT Technology Review. Author of The Smartphone: Anatomy of an Industry. (@ewoyke)
David Pierce, senior writer at WIRED covering personal technology (@pierce)
Laurence Scott, columnist and essayist on digital life at Arcadia University. Author of The Four-Dimensional Human.
From Tom's Reading List: 
Los Angeles Times: Apple's iPhone 7 Announcement — "Now that the 3.5-millimeter headphone jack is dead and gone, meet the technology that killed it: AirPods. These white wireless earbuds interact with the iPhone and the Apple Watch. Wear them both to watch movies or listen to music, or just pop in a single one for a phone call (kinda like those Bluetooth earpieces people used to wear)."
MIT Technology Review: The next must-have smartphone feature — "Smartphones can tell you when to depart for the airport to make your flight, provide voice-guided directions on the way there, and route around traffic jams. But if you wanted to get audio directions to a specific counter at the airport, you'd be out of luck. That requires a phone to understand its position in great detail, all on its own—even when it is deep inside a building, beyond the reach of GPS signals. Even the most sophisticated phones can't do that."
Reuters: Google shelves plan for phone with interchangeable parts: sources -- "Alphabet Inc's (GOOGL.O) Google has suspended Project Ara, its ambitious effort to build what is known as a modular smartphone with interchangeable components, as part of a broader push to streamline the company's hardware efforts, two people with knowledge of the matter said. The move marks an about-face for the tech company, which announced a host of partners for Project Ara at its developer conference in May and said it would ship a developer edition of the product this autumn."
This program aired on September 8, 2016.