What Presidential Candidates Donald Trump And Hillary Clinton Think About The Environment
Resume
President Obama calls climate change trends "terrifying." But what about Hillary Clinton and Donald Trump? We'll look at their plans for the environment.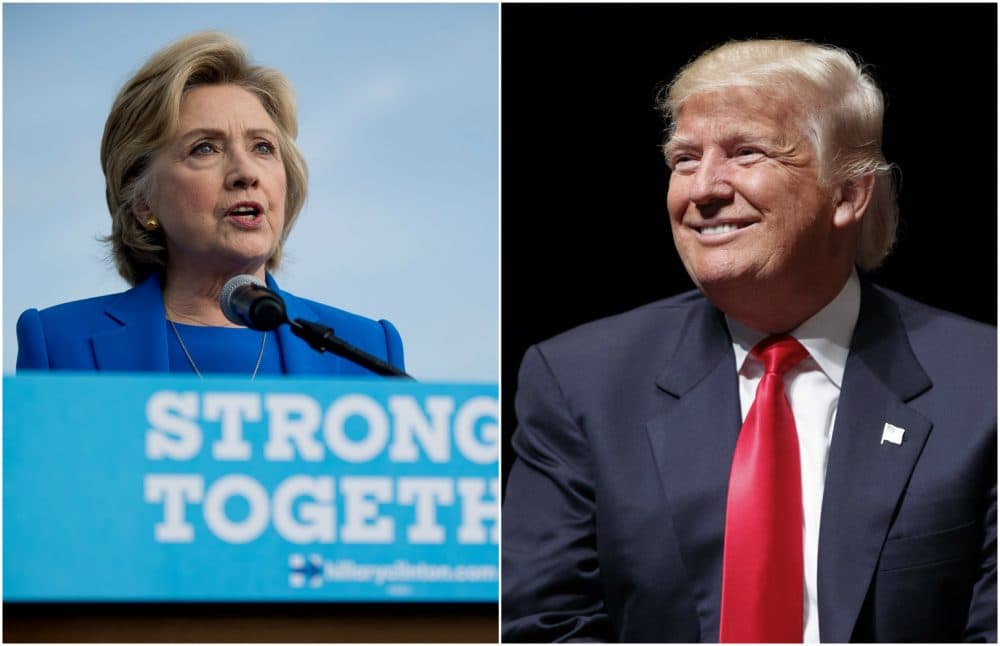 There are so many big forks in the road as Americans prepare now to choose the country's next president. If you want to see a giant one, look at environmental policy, Trump versus Clinton. Hillary Clinton would carry on battling climate change and put solar panels all over. Donald Trump says manmade climate change is a hoax, and would pour on the coal and fossil fuels. President Obama says he already terrified by what's coming. This hour On Point, the huge canyon over climate in the 2016 race. — Tom Ashbrook
Guests
Coral Davenport, reporter covering energy and environmental policy for the New York Times. (@CoralMDavenport)
Jeff Sachs, director of the Earth Institute at Columbia University. Director of the U.N. Sustainable Development Solutions Network. Professor at Columbia University. (@JeffDSachs)
Rep. Kevin Cramer (R-ND, Republican U.S. Representative for North Dakota's At-Large District., Environmental policy advisor for Republican presidential nominee Donald Trump. Serves on the House Committee on Energy and Commerce. (@RepKevinCramer)
From Tom's Reading List
Christian Science Monitor: US Companies Pledged To Fight Climate Change, But Will They Really? -- "What your favorite environmentally friendly company says about its green policies and what it does may be two different things, according to a Reuters' review of public records. Several of the United States' most reportedly environmentally conscious companies are not as green as they claim, with such companies as PepsiCo and Google publicly offering their support for President Obama's environmental policies by signing Mr. Obama's American Business Act on Climate Change Pledge, while donating to political action committees (PACs) that are the most ardent opponents of those policies."
Wall Street Journal: Hillary Clinton Previews Plans To Combat Climate Change — "Mrs. Clinton pledged to take steps as president to ensure that within a decade, the U.S. will produce enough clean, renewable energy to power every home in the country. And she set a target of half a billion solar panels installed in the U.S. by the end of her first term. The announcements Sunday evening were the start of what the Clinton campaign said would be a monthslong rollout of a broader energy and climate strategy. The focus on these issues allows Mrs. Clinton to draw sharp contrasts with GOP presidential candidates and respond to challenges from her left flank."
Inside Climate News: Trump: America First On Fossil Fuels, Last On Climate Change — "Donald Trump vowed Thursday that if elected president he would dismantle the landmark global treaty to tackle climate change endorsed by the whole world in Paris last year. Instead, he promised the domestic fossil fuel industry a no-holds-barred, America-first development policy aimed at maximizing production of coal, oil and natural gas."
This program aired on September 12, 2016.