Election 2016: First Presidential Debate Recap
46:15
Play
This article is more than 4 years old.
Assessing round one of the presidential debates. We'll look at Trump and Clinton and what we saw in their first encounter.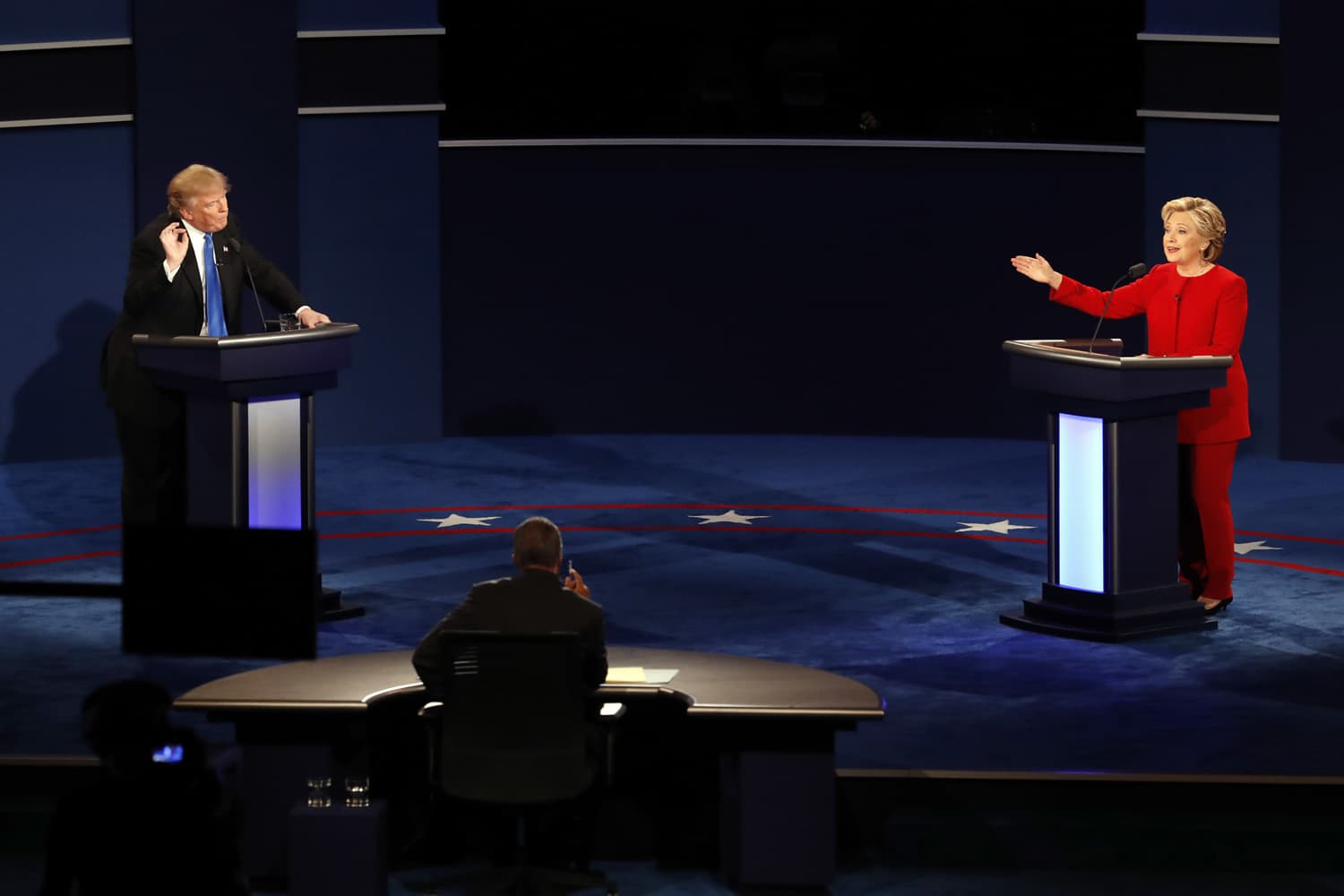 Ok, they've debated.  Donald Trump, stepping in fierce, saying she's had 30 years and hasn't solved the problems. Hillary Clinton, with a tight smile, stepping in tough. Going after "Donald" on his taxes, his "racist lies" she said, his capacity to handle the job. Of president. Who won may depend on where you sit. What you wanted to hear, to see. But it was a battle up there. And it's sinking in today. This hour On Point, we are sizing up the first presidential debate. — Tom Ashbrook
Guests
Molly Ball, national political writer for the Atlantic. (@mollyesque)
Sam Sanders, political reporter for NPR News, covering the 2016 presidential campaign. Co-host of the NPR Politics podcast. (@samsanders)
Glenn Thrush, chief political correspondent for POLITICO and host of the Off Message podcast. (@GlennThrush)
From Tom's Reading List
NPR News: Clinton And Trump Clash Early On In First Presidential Debate  -- "The first presidential debate was a tense affair between Hillary Clinton and Donald Trump as they clashed over their economic and trade plans, national security and race relations in the U.S. The Republican nominee came out aggressively against Clinton, often interrupting her and talking over her, but the Democratic nominee didn't pull her punches either."
POLITICO: Is Donald Trump qualified to be president? — "H.L. Mencken declared there was only one way to look at a politician — 'down.' Likewise, there's really only one way to look at the first presidential debate on Monday: as the first serious job interview for potential President Donald John Trump — an opaque candidate who has hidden behind a steel curtain of one-liners, faux familiarity and universal celebrity."
The Atlantic: 'There's Nothing Better Than a Scared, Rich Candidate' -- "These are boom times for political consultants—by one rough estimate, more than $6 billion will go to or through consulting firms during this year's elections—and the scene at the conference was befitting of an industry awash in cash. Booths showcased the wares of campaign-literature printers, data-acquisition specialists, automated-phone-call vendors, online-fund-raising experts, and social-media-analytics firms. Whole companies exist just to manufacture the throwaway trinkets campaigns hand out, from stress balls with a candidate's name on them to red-white-and-blue fingernail files."
This program aired on September 27, 2016.