'Saturday Night Live' Hits A Home Run On Political Satire
Resume
"Saturday Night Live" has had some of the best political comedy this year. We look at how SNL has taken on the election.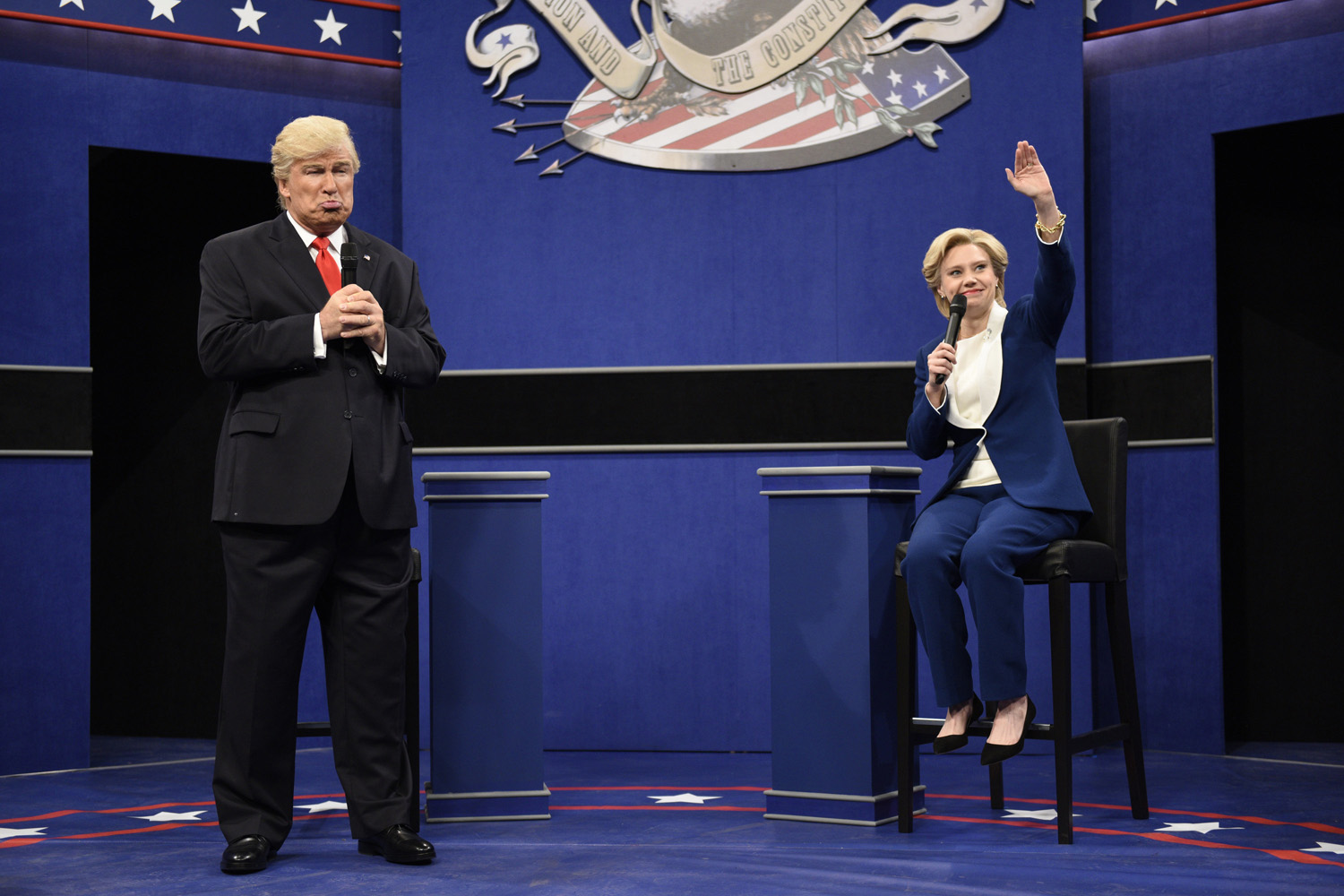 "Saturday Night Live" has been just killing it this election season. If you're not watching, you're missing some of the best political humor in years. Alec Baldwin playing, as Slate's Jamelle Bouie says, the fleshy id of Donald Trump. Sniffing. Pouting. Glowering  Kate McKinnon with the barely-repressed mania of Hillary Clinton, wild for victory. Larry David as Bernie Sanders. Tom Hanks and Black Jeopardy. Laughing to truth. This hour On Point, SNL's great season of political humor. — Tom Ashbrook
Guests
Ryan McGee, TV critic covering "Saturday Night Live" for Rolling Stone. Host of the "Not Ready for Primetime" podcast. (@TVMcGee)
Jamil Smith, senior national correspondent for MTV News. (@JamilSmith)
Joanna Robinson, senior writer and TV critic for Vanity Fair. (@jowrotethis)
From Tom's Reading List
Slate: The Most Astute Analysis of American Politics in 2016? SNL's "Black Jeopardy!" Sketch. — "For the past year, political journalists across the ideological spectrum have worked to understand Donald Trump and his voters. What drove their frustration and anger? Why did they gravitate toward Trump versus other political figures? A cottage industry sprang up around the drive to answer those questions, with stories that followed a kind of template: nuanced, empathic portraits of working-class whites living in former industrial towns and cities that have long since fallen from their former glory."
Rolling Stone: How 'SNL' Can Get Its Post-Trump Political Credibility Back -- "Just as the media has had a difficult time treating Donald Trump as a unique candidate, so too has SNL in treating him as a singular Presidential parody object. The usual protocol of finding equal-yet-different-flaws for both major-party candidates simply falls apart when one of the two is a man who suggests that racial profiling should be a de facto anti-terrorism policy and insinuates that Second-Amendment advocates could send Hilary a message regarding gun control."
Vanity Fair: Saturday Night Live Is Giving Alec Baldwin an Extra Chance to Mock Donald Trump — "In fact, S.N.L.'s political edge has been suffering for eight years because Obama is such a chill, low-key commander in chief. Something tells me Clinton (or Trump! It could still be Trump!) would give them more to work with. We'll get to re-visit Kate McKinnon's Clinton and perhaps the candidate's own self-effacing appearance from October of last year. But will NBC re-air any footage from its controversial November 7, 2015 episode, hosted by Trump?"
Political Satire From "Saturday Night Live"
"Black Jeopardy," with Tom Hanks (2016)
Hillary Clinton and Sarah Palin (2008)
An SNL 40th Anniversary Special Look At 40 Years Of Political Satire (2016)
This program aired on October 28, 2016.