The best books of 2016: "The Underground Railroad," "Swing Time," "Commonwealth." We'll crack the books.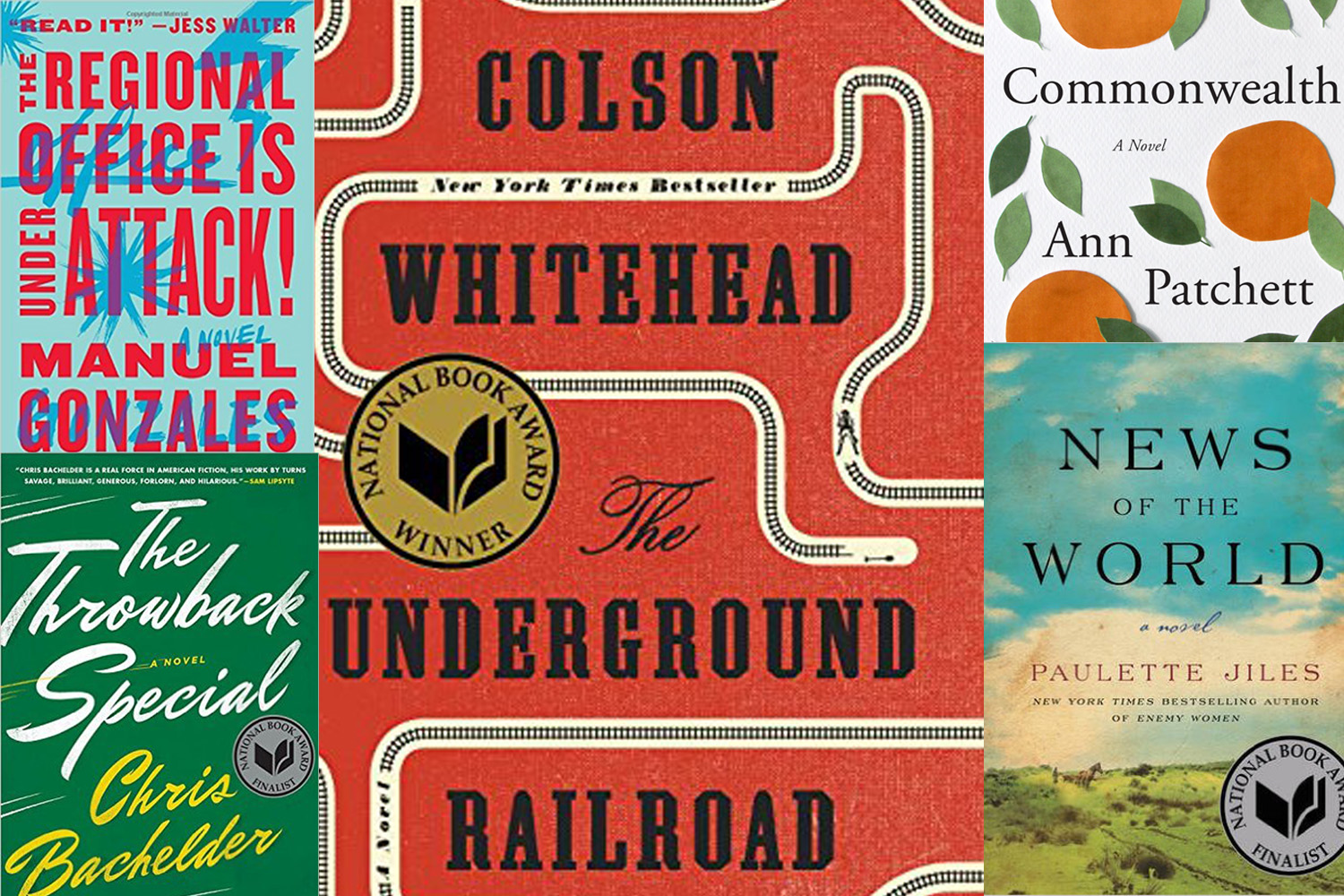 The days grow short, the nights grow long, the snow begins in the north, and many minds turn to the joys of a great book. For companionship, for enlightenment, for enchantment. We're looking today at the best books of 2016. For the reads you may want to devour, or share as gifts this year. Maybe "The Regional Office is Under Attack," by Manuel Gonzales.  Maybe "Barksins," by Annie Proulx. We've got great readers from across the country. And great books. This hour On Point: the best books of 2016. — Tom Ashbrook
Guests
Mary Ann Gwinn, book editor for the Seattle Times. (@gwinnma)
Jill Grunenwald, host of the Professional Book Nerds podcast and staff librarian at Overdrive, an e-book and audio book app for public libraries. (@jill_grun)
Ron Davis, co-owner of Wild Fig Books and Coffee in Lexington, KY and author of "Tangerine Tubman."
From Tom's Reading List
Seattle Times: The best books of 2016, from our critics -- "The first week of December is one of my favorite times of the year — not because of the holiday buzz, not because of the waning light (definitely not that), but because I get to compile The Seattle Times best-books list."
New York Times: 100 Notable Books of 2016 -- "The year's notable fiction, poetry and nonfiction, selected by the editors of The New York Times Book Review. This list represents books reviewed since Dec. 6, 2015, when we published our previous Notables list."
Washington Post: The Ten Best Books Of 2016 -- "In our annual survey of the best books, you'll find 10 that we think are exceptionally rewarding and 100 notable titles that you shouldn't miss. Also, look for our special recommendations for lovers of mysteries, graphic novels, audiobooks, romance, poetry, memoirs, and science fiction and fantasy."
Mary Ann's Picks
"The Throwback Special" by Chris Bachelder
"Imagine Me Gone" by Adam Haslett
"News of the World" by Paulette Jiles
"Thomas Jefferson Dreams of Sally Hemings" by Stephen O'Connor
"Commonwealth" by Ann Patchett
"The Underground Railroad" by Colson Whitehead
"Barkskins" by Annie Proulx
"Another Brooklyn" by Jacqueline Woodson
"Shirley Jackson: A Rather Haunted Life" by Ruth Franklin
"The Gene: An Intimate History" by Siddhartha Mukherjee
Jill's Picks
"Shrill: Notes from a Loud Woman" by Lindy West
"Dark Matter" by Blake Crouch
"The Darkness Knows" by Cheryl Honigford
"End of Watch" by Stephen King
"The Trespasser" by Tana French
"The Invisible Library" by Genevieve Cogman
"Harmony" by Carolyn Parkhurt
"Hillbilly Elegy" by JD Vance
"In a Different Key: The Story of Autism" by John Donvan and Caren Zucker
"Run Fast. Eat Slow." By Shalane Flanagan and Elyse Kopecky
Ron's Picks
"The Regional Office is Under Attack" by Manuel Gonzales
"Here Comes the Sun" by Nicole Dennis-Benn
"Your Inner Critic is a Big Jerk" by Danielle Krysa
"Know the Mother" by Desiree Cooper
"Patience" by Daniel Clowes
"Paper Girls" by Brian V. Vaughan and Cliff Chiang
"Rad Women Worldwide" by Kate Schatz
"Nearly Perfect Photograph" by Christopher McCurry
"The Birds of Opulence" by Crystal Wilkinson
Your Picks
"Born A Crime" by Trevor Noah
"The Chicken (or three weird tales)" by Hildred Rex
"Rescuing Your Local Economy" by Francis P. Koster
"Clamor of Crows" by Ray Merritt
"Small Great Things" by Jodi Picoult
"The Winter Fortress" by Neal Bascomb
"Today Will Be Different" by Maria Semple
"Kill 'Em and Leave: Searching for James Brown and the American Soul" by James McBride
"My Name Is Lucy Barton" by Elizabeth Strout
"The Mothers" by Brit Bennett
"The Infinite" by Nicholas Mainieri
"The Hike" by Drew Magary
"You Can't Touch My Hair" by Phoebe Robinson
"The Nix" by Nathan Hill
"Modern Romance" by Aziz Ansari
"To the Bright Edge of the World" by Eowyn Ivey
This program aired on December 5, 2016.