The Future Of Assad, Syria And The Region
Resume
Aleppo looks set to fall to Assad, a turning point in Syria's awful war. We'll ask if Assad now looks set to win, and what that means for Syria and the region.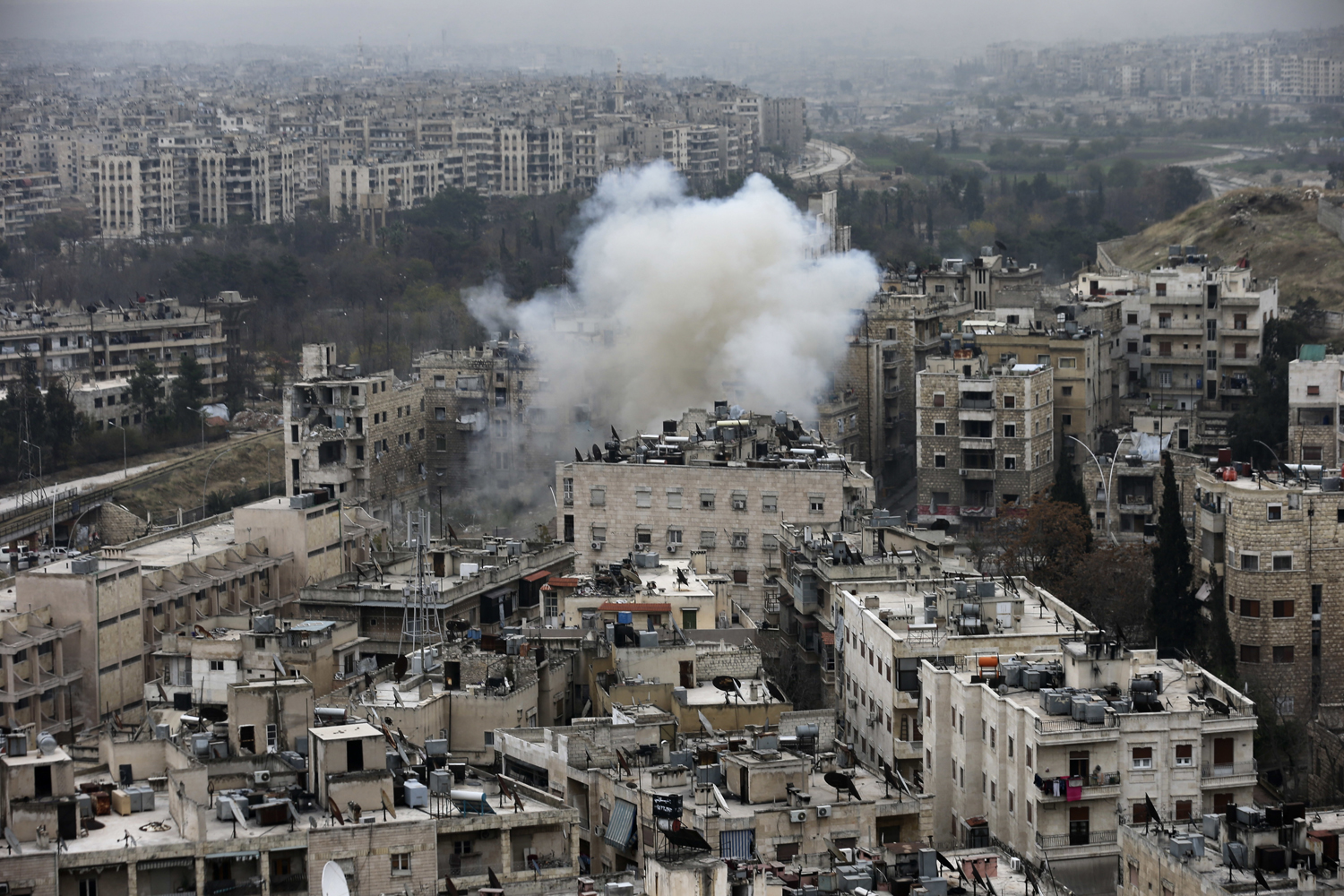 The suffering in Syria has been deep and long. Rebels and civilians dug in in Aleppo have captured the horrified attention of the world. But Bashar al-Assad, the ruler whose excesses sparked the rebellion, appears to be on the verge of retaking Aleppo and maybe on his way to winning – if you can say that – the civil war.  This was not Washington's plan. Or the rebels'. It is Russia's. And Iran's. This hour On Point, if Assad wins. We're looking at Syria, the region, the big powers, the people. — Tom Ashbrook
Guests
Debora Patta, CBS News foreign correspondent. (@Debora_Patta)
Robin Wright, contributing writer for the New Yorker and a joint fellow at the Wilson Center and the U.S. Institute of Peace. Author of "Rock the Casbah" and "Dreams and Shadows." (@wrightr)
Steven Simon, professor of history at Amherst College. Former senior director for the Middle East and North Africa at the National Security Council in the Obama Administration. Former director of global issues and senior director for transnational threats on the National Security Council in the Clinton Administration. Author of "The Long Goodbye." Co-author, with Dana Allin, of "Our Separate Ways: The Struggle for the Future of the U.S.-Israel Alliance."
Joshua Landis, Syria expert, director of the center of Middle East Studies at the University of Oklahoma and author of the daily newsletter "Syria Comment." (@joshua_landis)
From Tom's Reading List
The New Yorker: After The Islamic State — "As a physical entity, the Islamic State's conceit was probably never sustainable, at least at the pace and scope it attempted. Within eighteen months, it began to lose territory. Nevertheless, the quest for a modern caliphate continues. The brand is entrenched."
POLITICO Magazine: In Aleppo, I Saw Why Assad Is Winning — "Though he waged an unpitying counterinsurgency campaign that has contributed to the deaths of 430,000, displaced half of his country's population and leveled vast swaths of Syria's major cities, President Bashar al-Assad managed to maintain the allegiance of a good portion of his citizens by offering them a thin veneer of normalcy."
The Christian Science Monitor: With Aleppo poised to fall, Syria's Assad is set to rise — "Regaining the whole country – a publicly stated goal of Assad – may seem overly ambitious at this stage. But the declining levels of foreign support for the beleaguered rebels groups over the past year and the momentum created by the imminent fall of Aleppo places the regime in a potentially advantageous position to recapture the rest of the western half of the country, sometimes dubbed the 'essential Syria,' that holds the bulk of the population and urban areas."
This program aired on December 8, 2016.