Protests, Confusion For Executive Order On Refugees
Play
This article is more than 6 years old.
The huge uproar over refugees, American borders and national security policy-making under Donald Trump.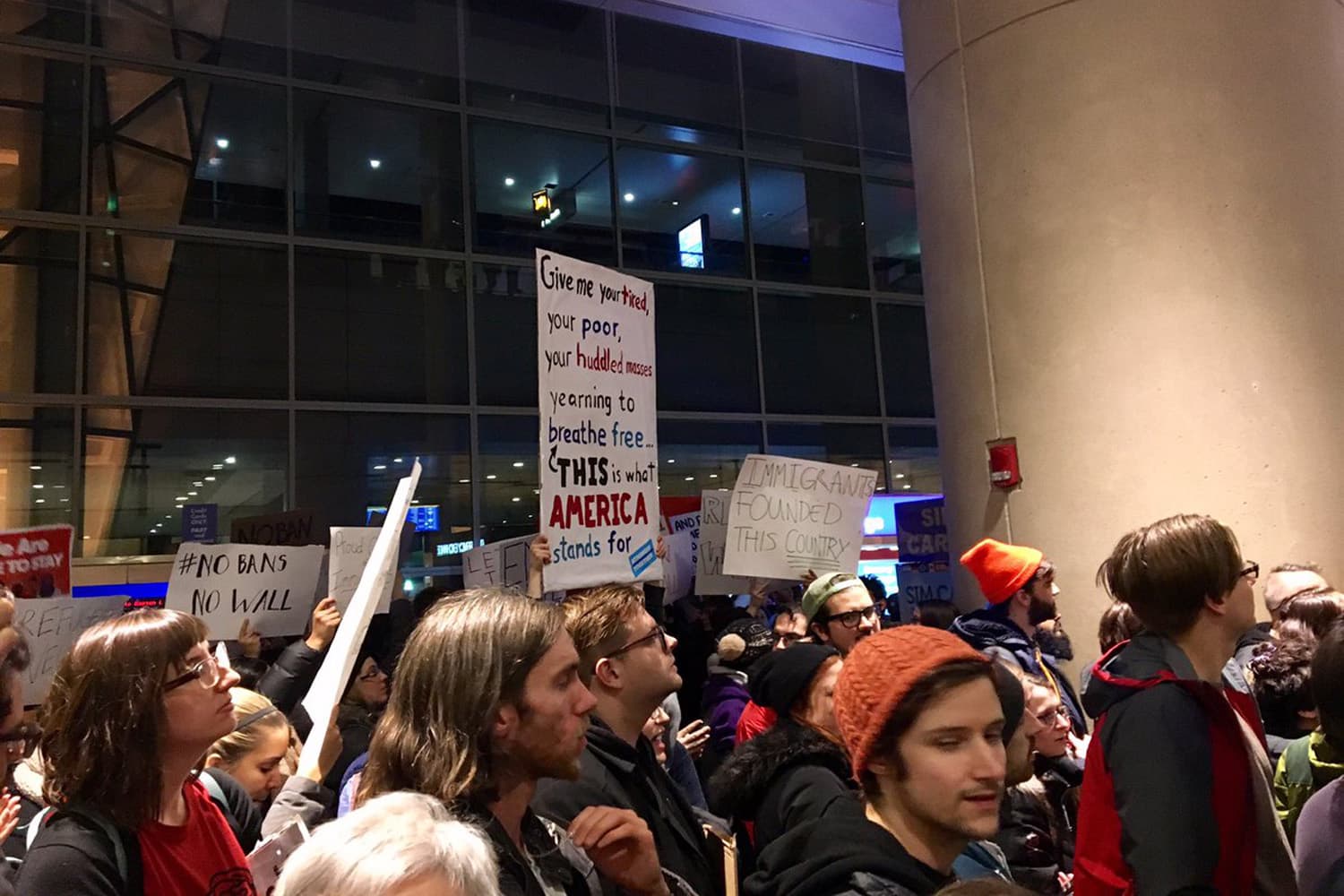 Not 10 days in to the Trump administration and it was uproar again this weekend. This time over refugees, American borders and the making of national security policy under Donald Trump. With the stroke of a pen, the president stopped all refugees coming in. Singled out seven Muslim-majority nations. Put Steve Bannon in the inner circle of the National Security Council. This hour in our On Point 100-Day Spotlight, American security, American values, and President Trump. — Tom Ashbrook
Guests
Nicholas Kulish, reporter and correspondent for the New York Times. (@nkulish)
David French, writer at the National Review. (@DavidAFrench)
Ian Lustik, professor of comparative politics and political science at the University of Pennsylvania. Author of "Trapped in the War on Terror."
From Tom's Reading List
New York Times: Judge Blocks Trump Order on Refugees Amid Chaos and Outcry Worldwide — "A federal judge in Brooklyn came to the aid of scores of refugees and others who were trapped at airports across the United States on Saturday after an executive order signed by President Trump, which sought to keep many foreigners from entering the country, led to chaotic scenes across the globe."
National Review: Trump's Executive Order on Refugees — Separating Fact from Hysteria -- "So, what did Trump do? Did he implement his promised Muslim ban? No, far from it. He backed down dramatically from his campaign promises and instead signed an executive order dominated mainly by moderate refugee restrictions and temporary provisions aimed directly at limiting immigration from jihadist conflict zones."
Washington Post: Amid protests and confusion, Trump defends executive order: 'This is not a Muslim ban' — "President Trump's executive order temporarily prohibiting entry into the United States for migrants from seven mostly Muslim countries and refugees from around the world fueled confusion, angst and a wave of protests across the country Sunday."
Countries Impacted By The Executive Order
-Syria
-Iran
-Iraq
-Sudan
-Yemen
-Somalia
-Libya
(via NPR News. See NPR News for a list of official responses from each of the impacted countries.)
This program aired on January 30, 2017.