Political Upheaval, By Design
Play
This article is more than 5 years old.
President Trump's top advisor Steve Bannon is a big fan of the book "The Fourth Turning" and its dark message of political upheaval. We'll check it out.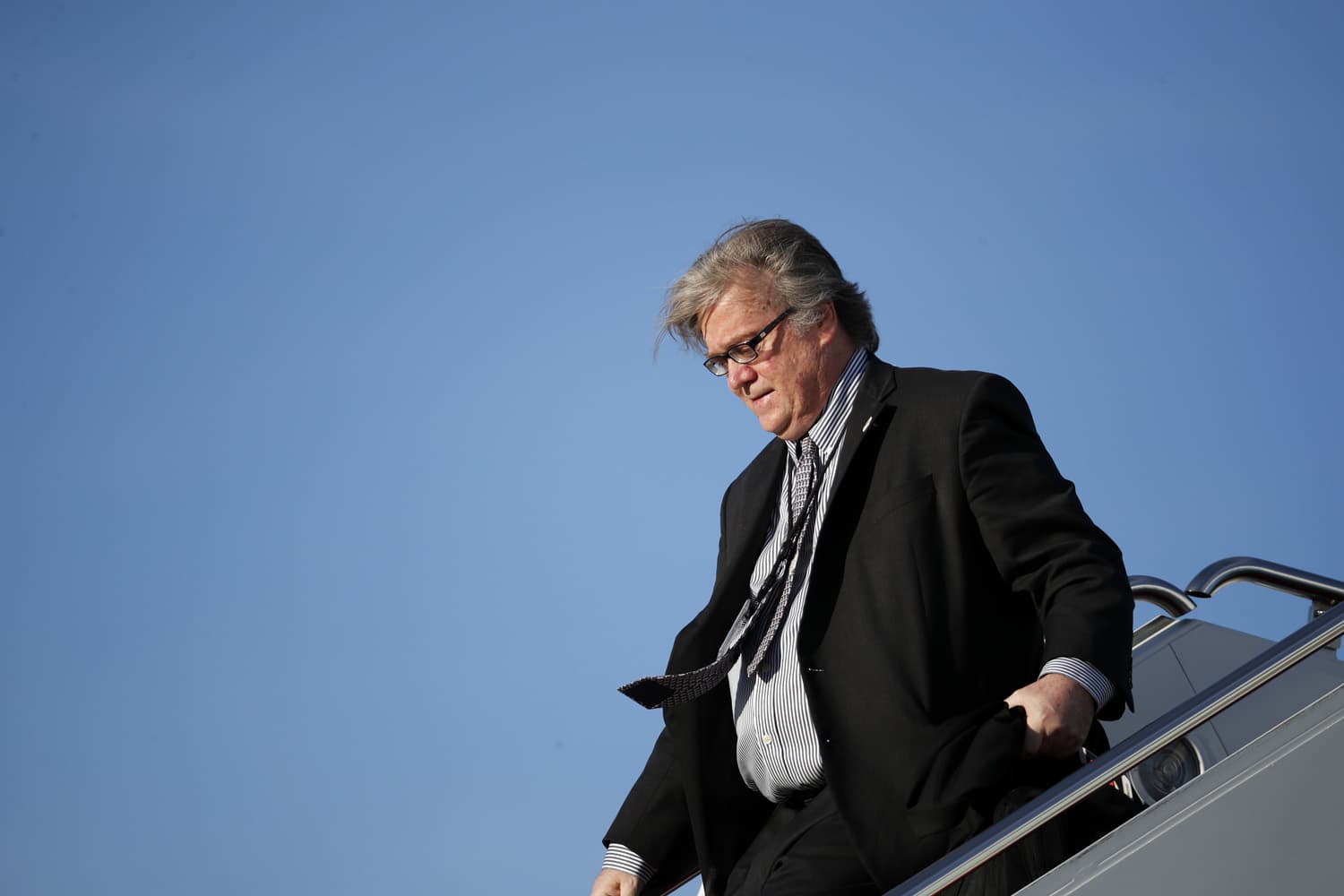 Steve Bannon and Donald Trump's son-in-law Jared Kushner appear to be battling it out for influence at the White House these days. Don't count Bannon out yet. He's a man on a mission. Inspired by a dire view of what's coming. Bannon's a big fan of the book "The Fourth Turning," which says it's time for a global catastrophe – war, economic collapse – to clear gridlock and start again. We've got the author, and a critic. This hour On Point, reading Steve Bannon's bible. — Tom Ashbrook
Guests
Jeremy Peters, reporter covering politics in the New York Times' Washington bureau. (@jwpetersNYT)
Neil Howe, author, historian, demographer and consultant. Co-author, with William Strauss, of "The Fourth Turning" and "Generations." Founding partner and president of LifeCourse Associates. Managing director of demography at the investment research firm Hedgeye and president of Saeculum. (@howegeneration)
Joseph Lowndes, associate professor of political science at the University of Oregon. Author of "From the New Deal to the New Right." (@joelowndes)
From Tom's Reading List
New York Times: Bannon's Views Can Be Traced to a Book That Warns, 'Winter Is Coming' --"The basis of his worldview — which has been described as everything from Leninist to alt-right, an extremist fringe movement associated with white nationalism — is still shrouded in mystery and conjecture. But by his own telling, much of the foundation for his political beliefs can be found in the book, which predicts that America is hurtling toward a crisis on par with the American Revolution, the Civil War and the Great Depression."
Washington Post: Where did Steve Bannon get his worldview? From my book. — "Reflecting on the decade we've just lived through, we can probably agree that the 1930s parallel works well. In the economy, both decades played out in the shadow of a global financial crash, and were characterized by slow and disappointing economic growth and chronic underemployment of labor and capital. Both saw tepid investment, deflation fears, growing inequality and the inability of central bankers to rekindle consumption."
TIME: Donald Trump, Stephen Bannon and the Coming Crisis in American National Life — "Strauss and Howe's major prediction has now obviously come true: Few would deny that the U.S. has been in a serious political crisis for some time, marked by intense partisan division, a very severe recession, war abroad and, above all, a breakdown in the ties between the country and its political establishment."
This program aired on April 11, 2017.