Higher Education And The Free Speech Debate
Play
This article is more than 5 years old.
The flap over Ann Coulter at Berkeley is just the latest in a slew. We'll look at free speech and college campuses.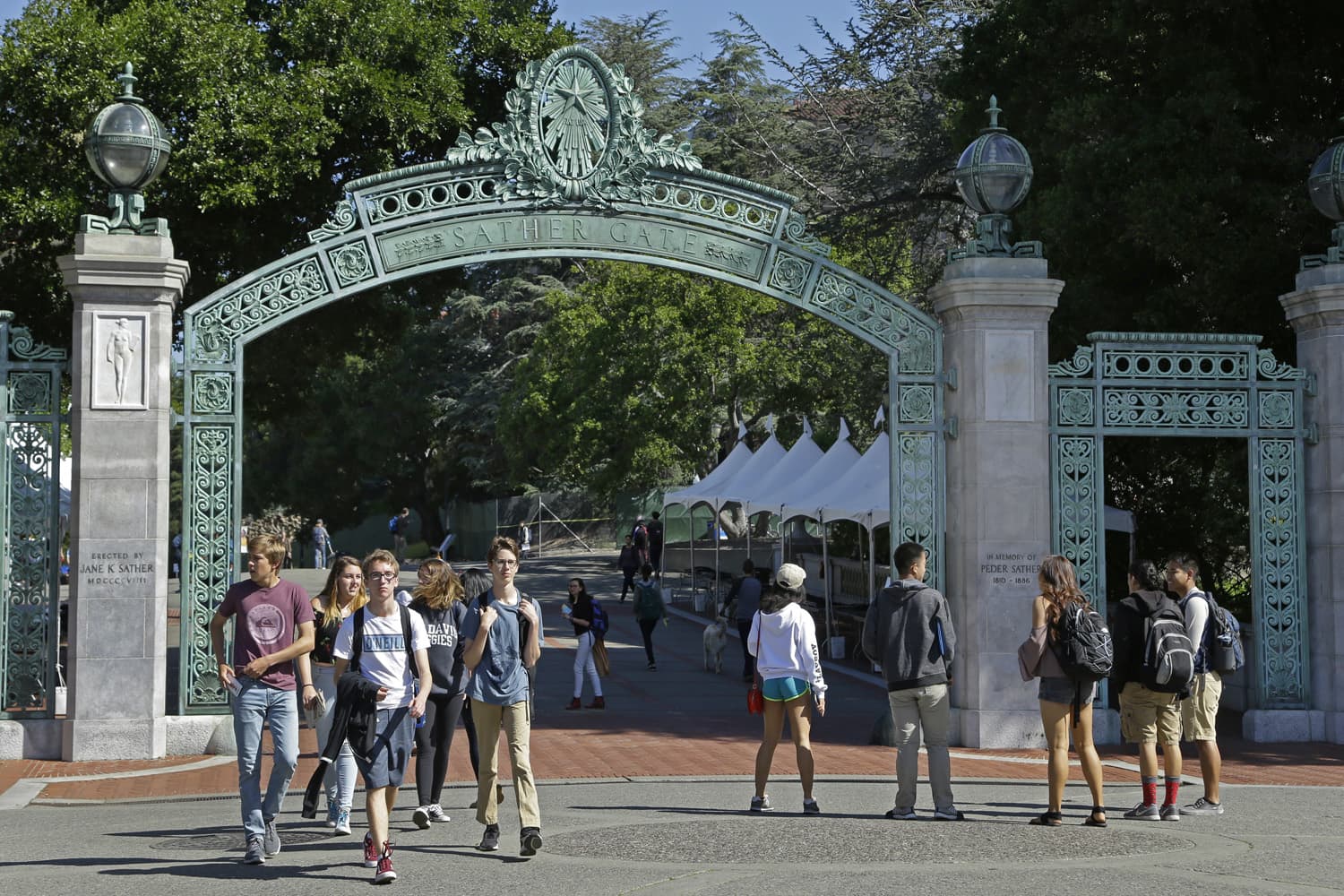 It's been a hot season around free speech and resistance on American college campuses. One by one, controversial conservative speakers have shown up, been scheduled, and been chased off or shouted down or resisted. Milo Yiannopoulos, Charles Murray, Ann Coulter, Richard Spencer. College protestors say they're defending campuses and society against dark, dangerous messages. Critics call them snowflakes afraid of free speech. This hour On Point: Free speech, resistance, and the American college campus. -- Tom Ashbrook
Guests
Steve Kolowich, senior education reporter for The Chronicle of Higher Education. (@stevekolowich)
Jonathan Chait, writer for New York Magazine. (@jonathanchait)
Heather Mac Donald, fellow at the Manhattan Institute. (@HMDatMI)
Mukund Rathi, student at the University of California Berkeley Law School. (@heylockthatdoor)
From Tom's Reading List
The Daily Californian: Berkeley Students Should Organize Against Milo Yiannopolous-- "Right-wingers have derided oppressed students standing up against bigotry as "special snowflakes." We give no quarter to this slander and remind all potential allies: It was precisely the mass student organizing against racism and imperialism in the 1960s on this campus which led to an administration crackdown on free speech, birthing the Free Speech Movement (FSM). The powers that be have always been hostile to unyielding struggle against oppression, preferring half-measures like Chancellor Dirks's recent statement, which offers lip service for values of inclusion and diversity."
Wall Street Journal: Those 'Snowflakes' Have Chilling Effects Even Beyond the Campus -- "Student thuggery against non-leftist viewpoints is in the news again. Agitators at Claremont McKenna College, Middlebury College, and the University of California's Berkeley and Los Angeles campuses have used threats, brute force and sometimes criminal violence over the past two months in efforts to prevent Milo Yiannopoulos, Charles Murray, Ann Coulter and me from speaking."
New York Times: What 'Snowflakes' Get Right About Free Speech-- "Freedom of expression is not an unchanging absolute. When its proponents forget that it requires the vigilant and continuing examination of its parameters, and instead invoke a pure model of free speech that has never existed, the dangers to our democracy are clear and present. We should thank the student protestors, the activists in Black Lives Matter and other "overly sensitive" souls for keeping watch over the soul of our republic."
This program aired on April 25, 2017.